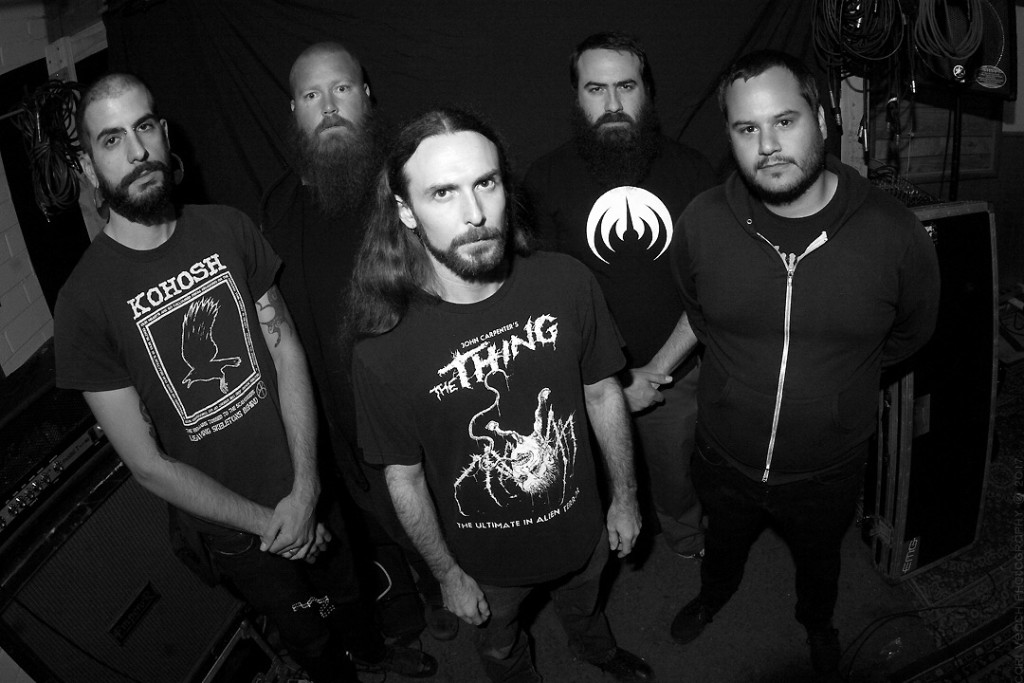 [photo by Cari Veach]
Metal Underground is now streaming "Hobocide," the new single from San Diego's grinding CAVE BASTARD. The track, pulled from the band's impending split LP with BLK OPS, is leaked in advance of the record's release next week through Accident Prone
Offers CAVE BASTARD of their brutalizing new single, "The name 'Hobocide' was actually created by a friend of mine fifteen years ago with no concept, except that it meant, 'the killing of hobos/homeless.' The lyrical inspiration came a couple of years ago when San Diego saw a string of murders among the homeless, many of which were committed by the local police. The song is written from the perspective of the killer, and dares to expose the listener to their own morals. Morbidity in art draws out the best and worst in us: those who are appalled by the lyrics do in fact have moral decency, and those whom agree with the lyrics ought to question their humanity."
Unload Cave Bastard's "Hobocide" at Metal Underground RIGHT HERE.
Hear the previously released BLK OPS track "Truth Fuckery" at No Clean Singing RIGHT HERE. BLK OPS' "Hallucinogenic Bomb Vest" and CAVE BASTARD's "Violent Perpetuator" can be heard at THIS LOCATION.
The BLK OPS / CAVE BASTARD split LP features more than twenty-five minutes of purely devastating grinding, explosive and experimental mayhem from two top-tier underground acts, with four tracks by BLK OPS on the A-Side and four tracks from CAVE BASTARD on Side B. Enshrouded with cover art by Varises Otak, the record will see an initial LP run of 300 copies – 200 on black vinyl and 100 on blue/orange vinyl – as well as all digital platforms on August 25th.
Find preorders at Accident Prone Records' webstore HERE and Bandcamp HERE.
Midnite Collective has plotted a nine-city tour through the Southwestern US states from August 24th through September 1st, with CAVE BASTARD on all dates and BLK OPS joining in on four of the shows. The confirmed dates include shows in Tucson, El Paso, San Antonio, Austin, Dallas, Lubbock, Albuquerque, Phoenix, and Moreno Valley, with additional live actions from both bands to be announced.
CAVE BASTARD / BLK OPS Tour Dates:
8/24/2017 Flycatcher – Tucson, AZ *
8/25/2017 Rockhouse Bar & Grill – El Paso, TX *
8/26/2017 Faust Tavern – San Antonio, TX #
8/27/2017 The Lost Well – Austin, TX #
8/28/2017 Reno's Chop Shop – Dallas, TX #
8/29/2017 Backstage – Lubbock, TX #
8/30/2017 Sunshine Theater – Albuquerque, NM *
8/31/2017 Masters Chambers – Phoenix, AZ *
9/01/2017 Omniscient Fest Vol. II – Moreno Valley, CA *
* CAVE BASTARD only
# CAVE BASTARD and BLK OPS
BLK OPS formed from the magma of the Austin, Texas metal scene in late 2015, comprised of Champ Morgan (ex-Kill The Client) on vocals, noise, and theremin, Mark Key on guitars and backing vocals, and Neil Barrett on drums, samples, and live visuals. Forging a path to a terrifying new sonic landscape drawing from noise metal, doom, grind, and otherworldly audiovisual hallucinations, the trio has already shared bills with the likes of High on Fire, Full Of Hell, The Body, Cattle Decapitation, Infest, Sumac, Yautja, and Magrudergrind. BLK OPS' side of the record was recorded and mixed by Travis Bonner (Venomous Maximus, Ancient VVisdom).
From beneath the slabs of the subterranean suburbs of San Diego emerges society's scum: CAVE BASTARD. Heavy, apocalyptic, and loud, the band was formed in 2014 by Troy Oftedal (ex-Cattle Decapitation, Piglife) and Nick Padron (ex-Bridge Jumper) out of a love for everything heavy and loud. They proceeded to search out the rest of the bastards needed to execute their vision of sonic devastation, soon adding rhythm guitarist Chase Ferguson (ex-Bridge Jumper), vocalist Steve Pearce (Gutrot, Ritual Torture), and drummer Steven Reed (Age Of Collapse). The band began writing and honing their tone creating a massively destructive soundscape in preparation for the coming of The Bastard. CAVE BASTARD's side of the split was recorded in San Diego at Audio Design, engineered and mixed by Billy Anderson and assistant engineer Jordan Andreen, produced by the band and Billy Anderson, and mastered at Trakworx by Justin Weiss.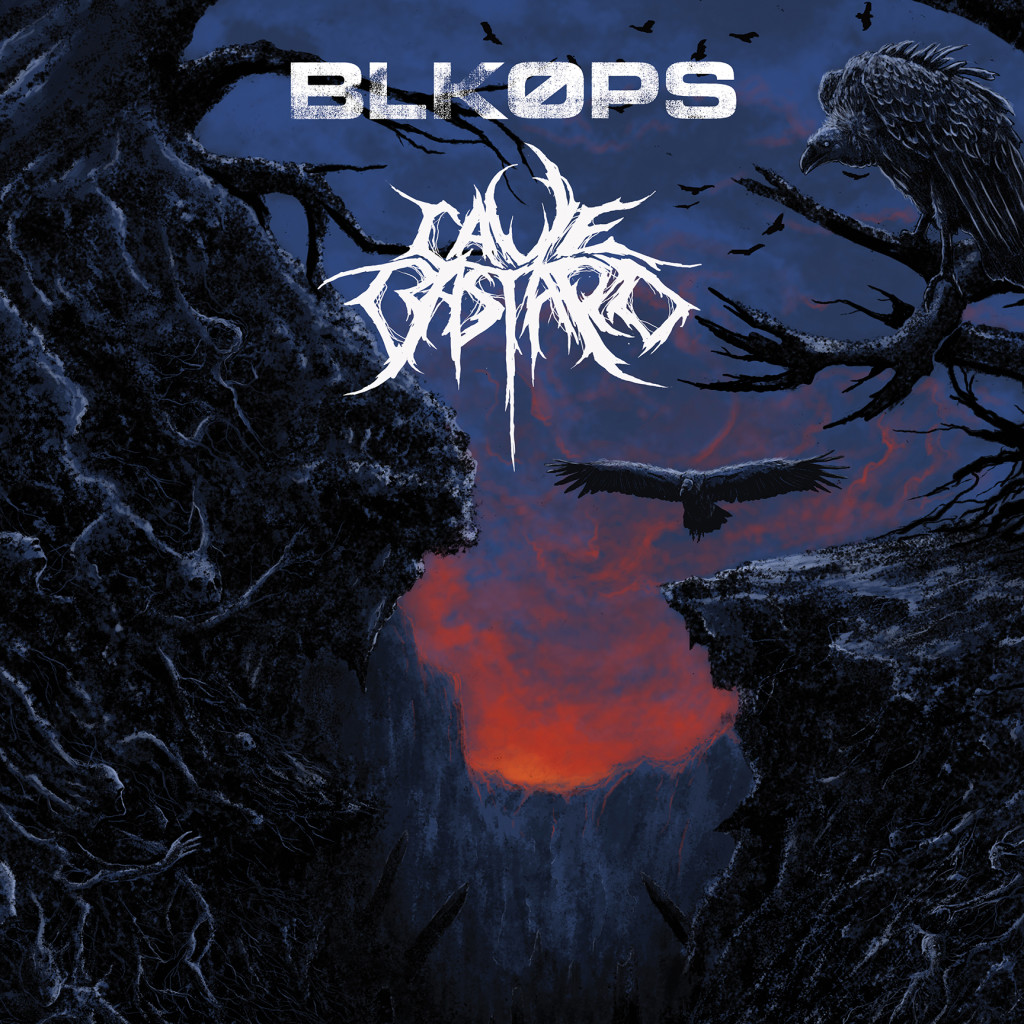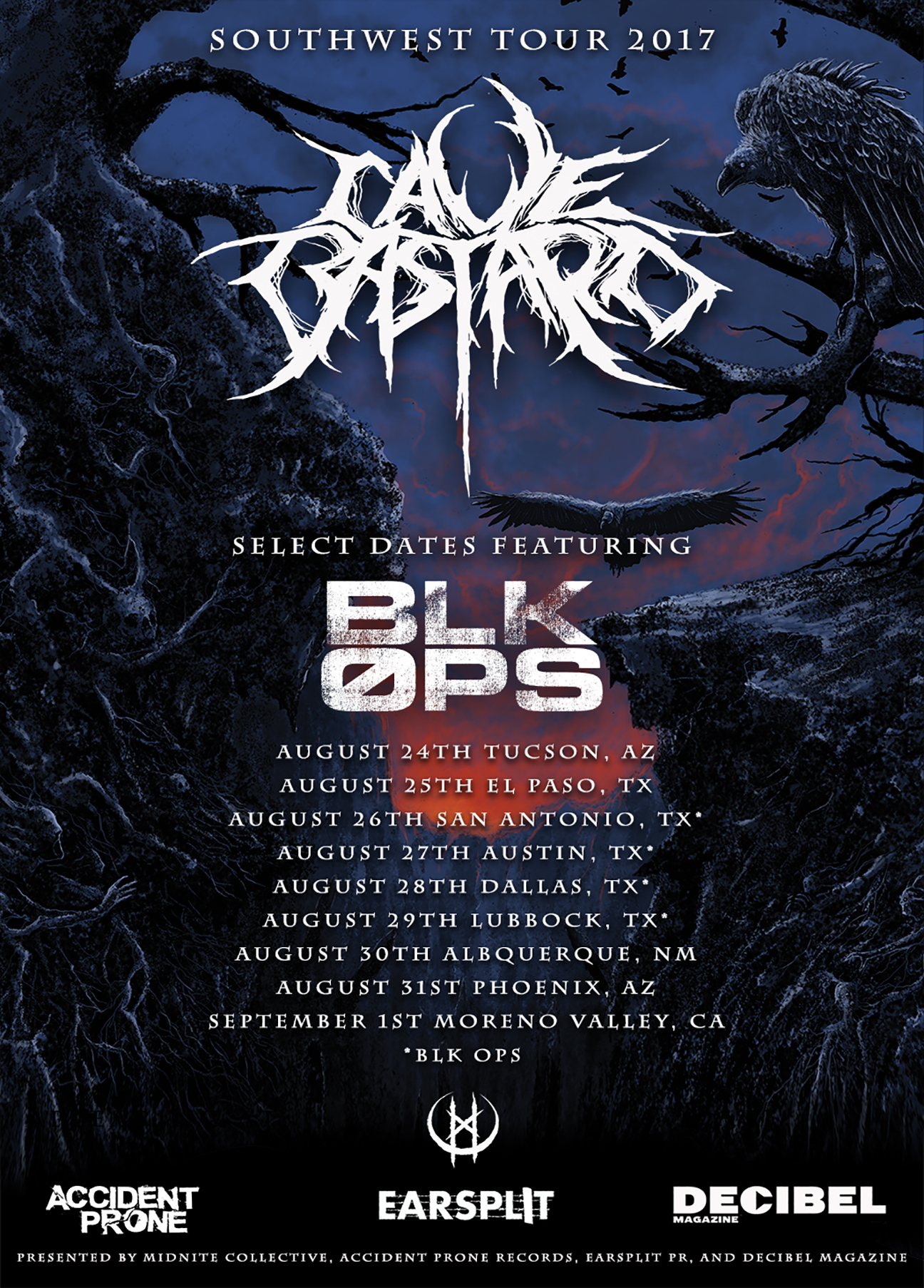 https://www.facebook.com/blkopspsywar
https://blkops.bandcamp.com
https://www.facebook.com/cavebastard
https://cavebastard.bandcamp.com
https://www.accidentprone.com
https://accidentpronerecords.bandcamp.com
https://www.facebook.com/accidentpronerecords