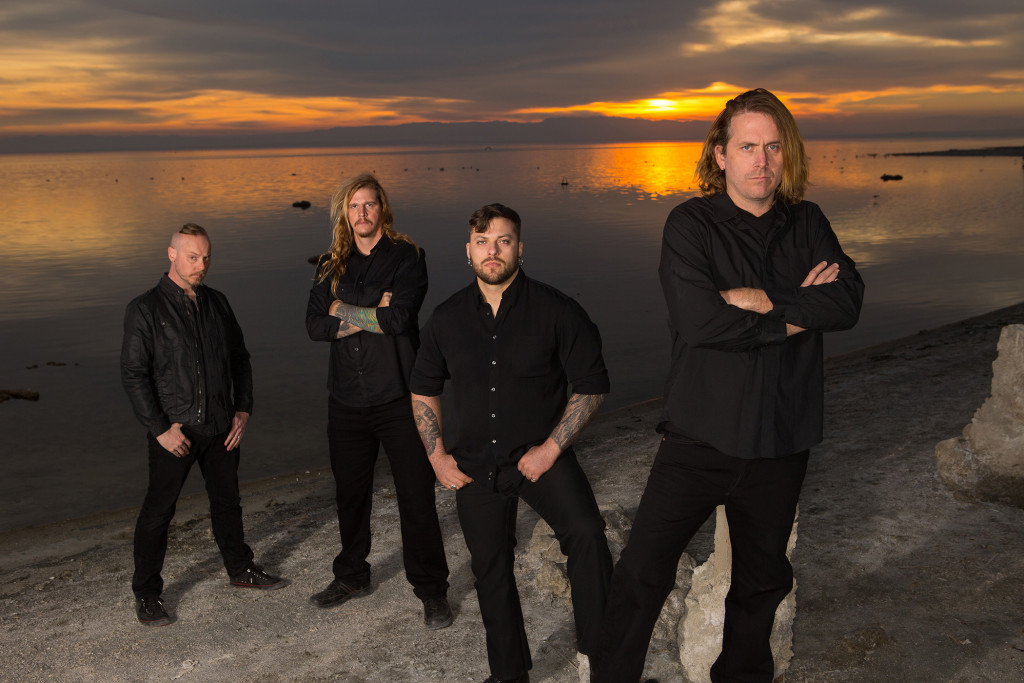 This Sunday, San Diego deathgrind unit CATTLE DECAPITATION will return to the road for a near-month-long US jaunt as part of the Metal Blade Records 35th Anniversary Tour with labelmates Whitechapel, Goatwhore, Allegaeon, and Necromancing The Stone. The band will begin their journey this Sunday, February 19th in Wichita, Kansas with Allegaeon before uniting with Goatwhore on February 21st in Pittsburgh, Pennsylvania. The official anniversary tour begins on February 22nd in Boston, Massachusetts and runs through March 18th in Albuquerque, New Mexico, with CATTLE DECAPITATION closing their expedition with a final headlining show on March 19th in Phoenix, Arizona. See confirmed dates below.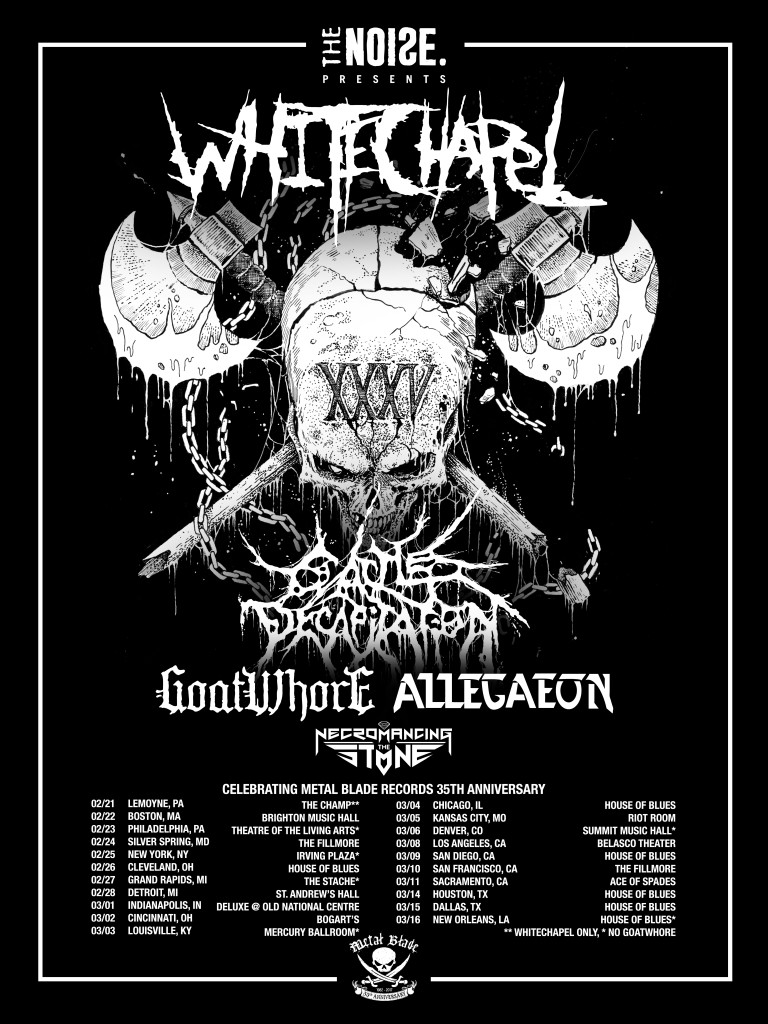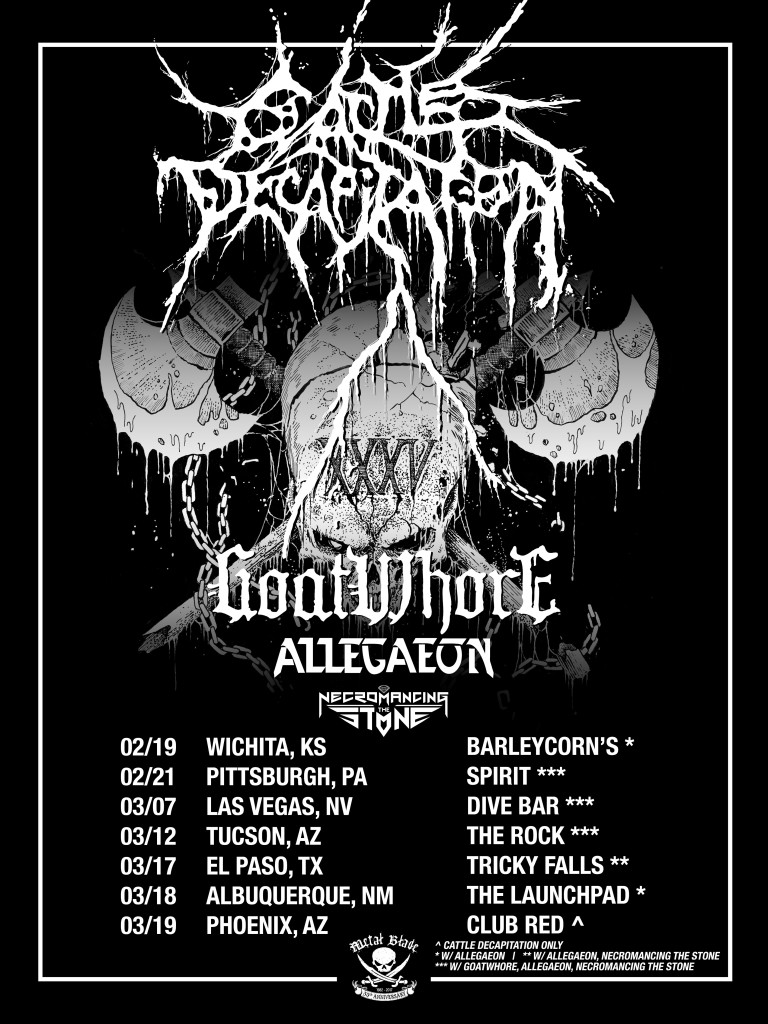 CATTLE DECAPITATION:
2/19/2017 Barleycorn's – Wichita, KS w/ Allegaeon
2/21/2017 Spirit Hall – Pittsburgh, PA w/ Goatwhore, Allegaeon,
w/ Whitechapel, Goatwhore, Allegaeon, Necromancing The Stone:
2/22/2017 Brighton Music Hall – Boston, MA
2/23/2017 Theatre Of Living Arts – Philadelphia, PA * no Goatwhore
2/24/2017 The Fillmore – Silver Spring, MD
2/25/2017 Irving Plaza – New York, NY * no Goatwhore
2/26/2017 House Of Blues – Cleveland, OH
2/27/2017 The Stache – Grand Rapids, MI * no Goatwhore
2/28/2017 St. Andrew's Hall – Detroit, MI
3/01/2017 Deluxe @ Old National Centre – Indianapolis, IN
3/02/2017 Bogart's – Cincinnati, OH
3/03/2017 Mercury Ballroom – Louisville, KY * no Goatwhore
3/04/2017 House Of Blues – Chicago, IL
3/05/2017 Riot Room – Kansas City, MO
3/06/2017 Summit Music Hall – Denver, CO* no Goatwhore
3/07/2017 Dive Bar – Las Vegas, NV * no Whitechapel
3/08/2017 Belasco Theater – Los Angeles, CA
3/09/2017 House Of Blues – San Diego, CA
3/10/2017 The Fillmore – San Francisco, CA
3/11/2017 Ace Of Spades – Sacramento, CA
3/12/2017 The Rock – Tucson, AZ * no Whitechapel
3/14/2017 House Of Blues – Houston, TX
3/15/2017 House Of Blues – Dallas, TX
3/16/2017 House Of Blues – New Orleans, LA * no Goatwhore
3/17/2017 Tricky Falls – El Paso, TX w/ Allegaeon, Necromancing The Stone
3/18/2017 Launchpad – Albuquerque, NM w/ Allegaeon
3/19/2017 Club Red – Phoenix, AZ *CATTLE DECAPITATION only
CATTLE DECAPITATION will be touring in support of their seventh full-length, The Anthropocene Extinction. Hailed as, "another stroke of genius by one of the best heavy bands of all time" by Exclaim, "the best CATTLE DECAPITATION album so far," by Metal Injection, and, "a furious blast of noise that takes absolutely no prisoners. It not only pounds its listeners into pulp, it also seems to be pounding its own concept of music as well," by No Clean Singing, The Anthropocene Extinction is the most sonically and thematically engrossing record of CATTLE DECAPITATION's maniacal discography. For their efforts, the record landed at #41 on the Top 200 Current Albums Chart, in addition to earning Album Of The Year accolades from Loudwire.com, MetalSucks.net, and MetalInjection.net, among many others. To preview and purchase the acclaimed The Anthropocene Extinction, visit: metalblade.com/cattledecapitation.
http://www.facebook.com/cattledecapitation
http://www.twitter.com/cattledecap
http://www.youtube.com/officialcattledecap