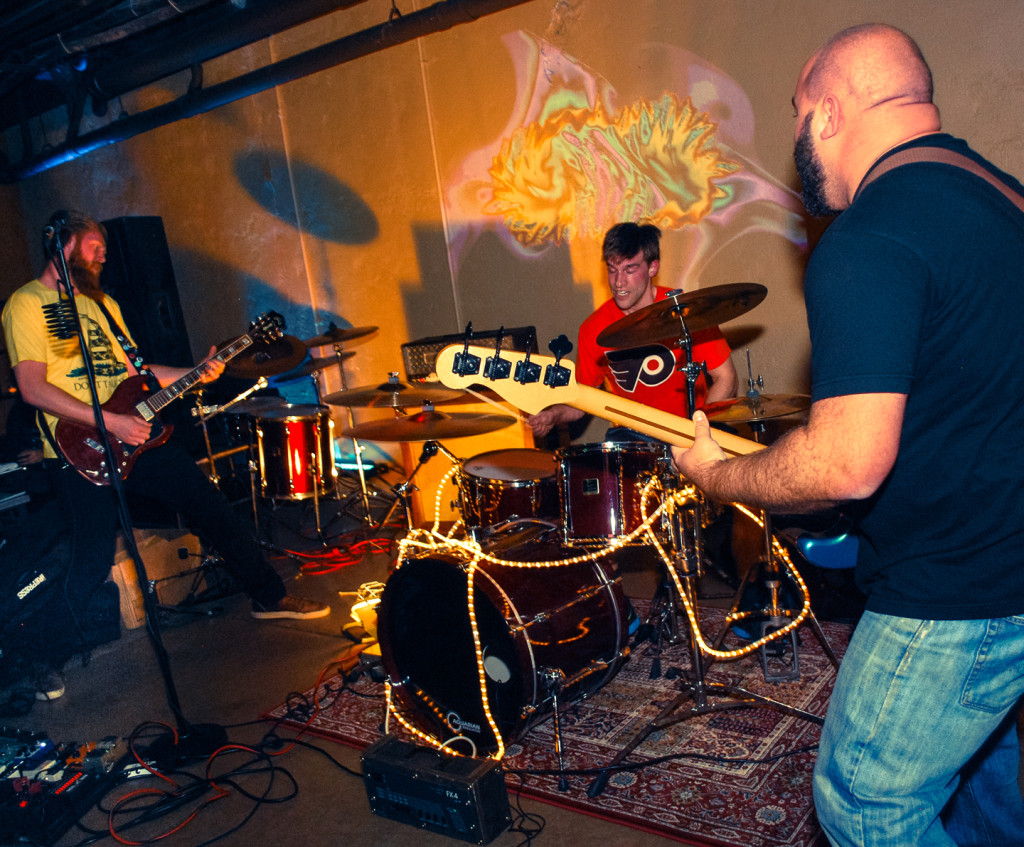 Southeastern Pennsylvania-based mega trio, CARVED UP, will release their debut full-length installation within their rapidly-expanding discography with Matador this November, and the first single from the rager has been deployed via Blow The Scene with an exclusive premiere of "Crevice/Crevasse."
The more than five-minute-long "Crevice/Crevasse" sits eighth in line on the ten track pummeling delivered on Matador, the ripper an excellent example of the diverse, high-energy CARVED UP style. Multiple scathing vocal attacks trample each other into the gnarly, layered riffing and pounding percussive lining, with melody and monstrosity battling each other to the death. Yet as scattered as this all sounds, the entire extensive track flows seamlessly by itself as well as within the context of the entire Matador LP.
Scope out the devastation CARVED UP offers on Matador with Blow The Scene's exclusive "Crevice/Crevasse" premiere at THIS LOCATION.
Matador is being pressed onto 140-160 gram 12″ vinyl with 150 on black and 100 on oxblood and will see release through Texas-based Crowquill Records on Friday, November 13th. Preorders for the wax have been posted at THIS LOCATION. Additionally, Crowquill has procured the majority of the CARVED UP back-catalog for official digital distribution and recently set three of the band's prior EPs through Spotify, iTunes and other digital outlets.
As CARVED UP prepares for Matador to trample into the public domain, the band has been booking new gigs for the weeks ahead. Watch as the band raids a plethora of towns throughout Pennsylvania with the likes of Wailin Storms, Seer, Sovereign, Godmaker, Moon Tooth, Bardus, and more, including a Halloween show covering Snapcase's Progression Through Unlearning LP, a radio station performance on the Lehigh Valley's WXLV FM, several shows with their cohorts in Die Choking in November including a double record release show for both bands and more. Other new tour dates for the remainder of the year and into 2016 are to be expected.
CARVED UP Live:
9/19/2015 Allentown Brew Work – Allentown, PA w/ Wailin Storms, Seer [info]
10/16/2015 Walsh's Tavern – Warminster, PA w/ Sovereign, Godmaker, Moon Tooth
10/23/2015 WXLV 90.3 FM session – Schnecksville, PA w/ Bardus [info]
10/30/2015 Burner's – Bethlehem, PA *Halloween show playing Snapcase's Progression Through Unlearning
11/13/2015 Burner's – Bethlehem, PA double record release show w/ Die Choking
11/14/2015 Voodoo Brewery – Meadville, PA w/ Die Choking
11/15/2015 TBA
With angular and jagged rocked-out hardcore structures channeled through a sludge-fueled wall of amplification, the aptly named CARVED UP produces a sound that is as cutting as it is inventive, the members slicing loose all bland fodder along the way through the independent release of several successful EPs and singles. While their intense and hook-laden sound is difficult to hammer down, amassing the members' primary and vast common influences actually does a decent job, citing Botch, Chavez, Sunny Day Real Estate, Shiner, Gospel, Young Widows, These Arms Are Snakes, and Jawbox. It's a cranked-up, knockdown affair, which now comes boiling over in its most mutinous form yet, with CARVED UP's impending debut LP, Matador. With nearly forty-five minutes of purely adrenalized but ultra slick kicked-out jams, Matador packs ten ripping CARVED UP tunes, with walls of vocals, guitars and bass all layered in by TJ Schilling and Nick Norvilas atop the percussive cavalcade of Josh Cooper. Record recorded and mixed at Skylight Studio by Vince Ratti (Circa Survive, Title Fight, Turmoil) with additional recording by Will Yip, Brad Wallace, Sam Pinola, and John Fachet, Matador also sees guest contributions of cello, violin, and other noise by Greg Bortnichak and Erin Murphy of Teach Me Equals.
http://www.carvedup.com
http://www.facebook.com/carvedupband
http://www.carvedup.bandcamp.com
http://www.twitter.com/carvedupband
http://www.crowquillrecords.com
http://www.twitter.com/crowquillrx
http://www.facebook.com/crowquillrecords