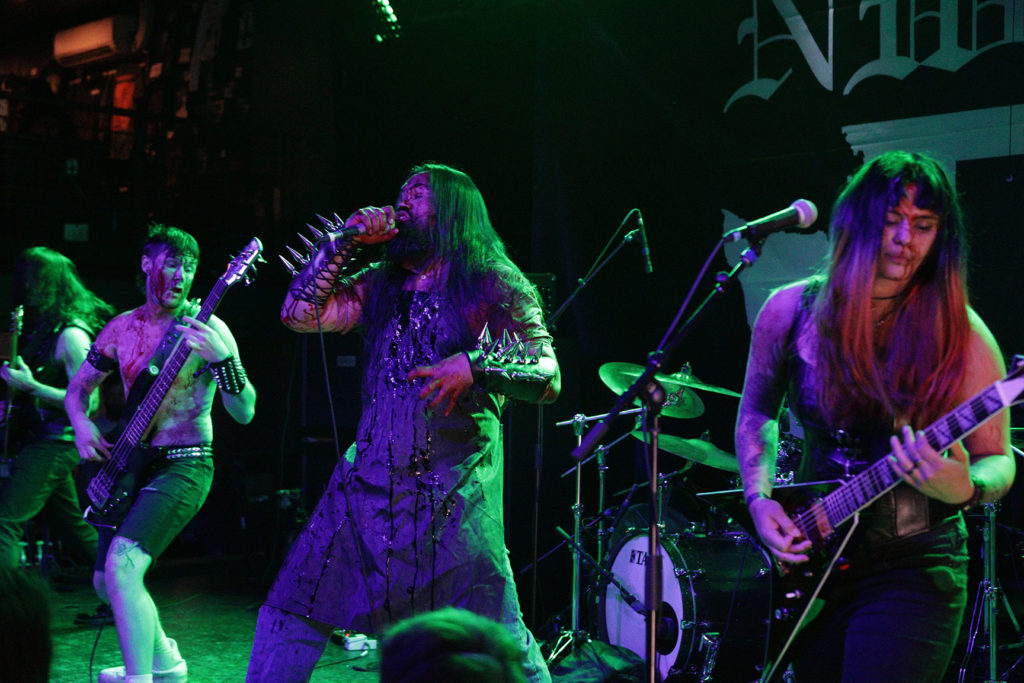 photos by J. Donovan Malley
San Francisco-based gore metal outfit CARTILAGE has announced a Fall tour across the Western US, supporting Gruesome with additional support provided by Immortal Bird. The tour begins September 29th in Portland and ends October 15th in Sacramento. See all dates below; tickets go on sale this Friday, August 26th at 1:00pm Eastern/10:00am Pacific.
CARTILAGE w/ Gruesome, Immortal Bird:
9/29/2022 Dante's – Portland, OR
9/30/2022 El Corazon – Seattle, WA
10/01/2022 The Shredder – Boise, ID
10/02/2022 Aces High Saloon – Salt Lake City, UT
10/03/2022 HQ – Denver, CO
10/05/2022 Amplified Live – Dallas, TX
10/06/2022 White Oak – Houston, TX
10/07/2022 Come And Take It – Austin, TX
10/08/2022 The Rockbox – San Antonio, TX
10/10/2022 The Launchpad – Albuquerque, NM
10/11/2022 Nile Underground – Phoenix, AZ
10/12/2022 Knucklehead – Los Angeles, CA
10/13/2022 Kensington Club – San Diego, CA
10/14/2022 Eli's Down Under – Oakland, CA
10/15/2022 Café Colonial – Sacramento, CA
Whether you call them deathgrind, goregrind, or gore metal, some things are certain: the Bay Area's CARTILAGE bleeds in blastbeats, rips out gut-twisting riffs, and spews idiomatic viscera with delight. Spawned from original members featuring sibling duo, guitarist/vocalist Ria and vocalist Mark Wallace along with guitarist Michael Flory (Logistic Slaughter) and drummer Adam Houmam (Terrorizer LA), came one that delighted in the flesh-searing death metal that the likes of Impaled and General Surgery claim as their own.
In 2019, the band added bassist Kienan Hamilton to their ranks and has held the low-end buzz since. Not content to rest on their blood-soaked laurels, CARTILAGE wrote, recorded, and independently released the Gore-Met EP as the morbid darkness of 2020 ended. And now, the quintet is primed and ready to unleash their second LP The Deader The Better via Creator-Destructor Records.
CARTILAGE's second album The Deader The Better was recorded by Alejandro Corredor (Pounder, ex-Nausea) in January 2020 at Darker Corners Studio in San Luis Obispo. The record all at once features friends, peers, and gore metal grandmasters, with guest vocals by Matt Harvey (Exhumed, Gruesome) who also helped produce the album, Ross Sewage (Impaled, Exhumed), Sean McGrath (Impaled), guest vocals and guitar solo from Leon del Muerte (Murder Construct, Terrorizer LA), and a guest solo from Tom Draper (Pounder, ex-Carcass), sharpening CARTILAGE's hemorrhaging stabs of grind for the masses. The Deader The Better is completed with cover art by Matt Slime, and includes a cover of Impetigo's "Boneyard."
Find The Deader The Better on vinyl – 200 on Doublemint/Purple Swirl, 200 on Bone w/ Blood Red Splatter, and 100 on Mustard w/ Magenta Splatter – as well as cassette and digital formats at the Creator-Destructor label webshop HERE and Bandcamp HERE. Also watch the video for the title track HERE.
"…blast beats, sideways riffs, and horrific descriptions of human depravity." – Decibel Magazine
"CARTILAGE also discharge songs that slash like serial killers, convulse in seizures, sear like an acetylene torch, maul like bulldozers, and lurch like zombies (the slow ones, not the fast ones), and as crazed and kaleidoscopic as the songs usually are, they're cleverly embedded with hook-y melodies. and head-moving grooves." – No Clean Singing
"…the group festers this admiration into punctual death grind. They adore gore-drenched theatrics, which is obvious with song titles like "Mallet Wielding Maniac" and 'Cellar Full Of Stiffs.'" – Heavy Music Headquarters
"…this is an album that is happy to bask in its own bile. And for added festering fun and freakish frolic of gore, then get yourself on the list for the splatter vinyl release for extra kaleidoscopic horror." – Metal Forces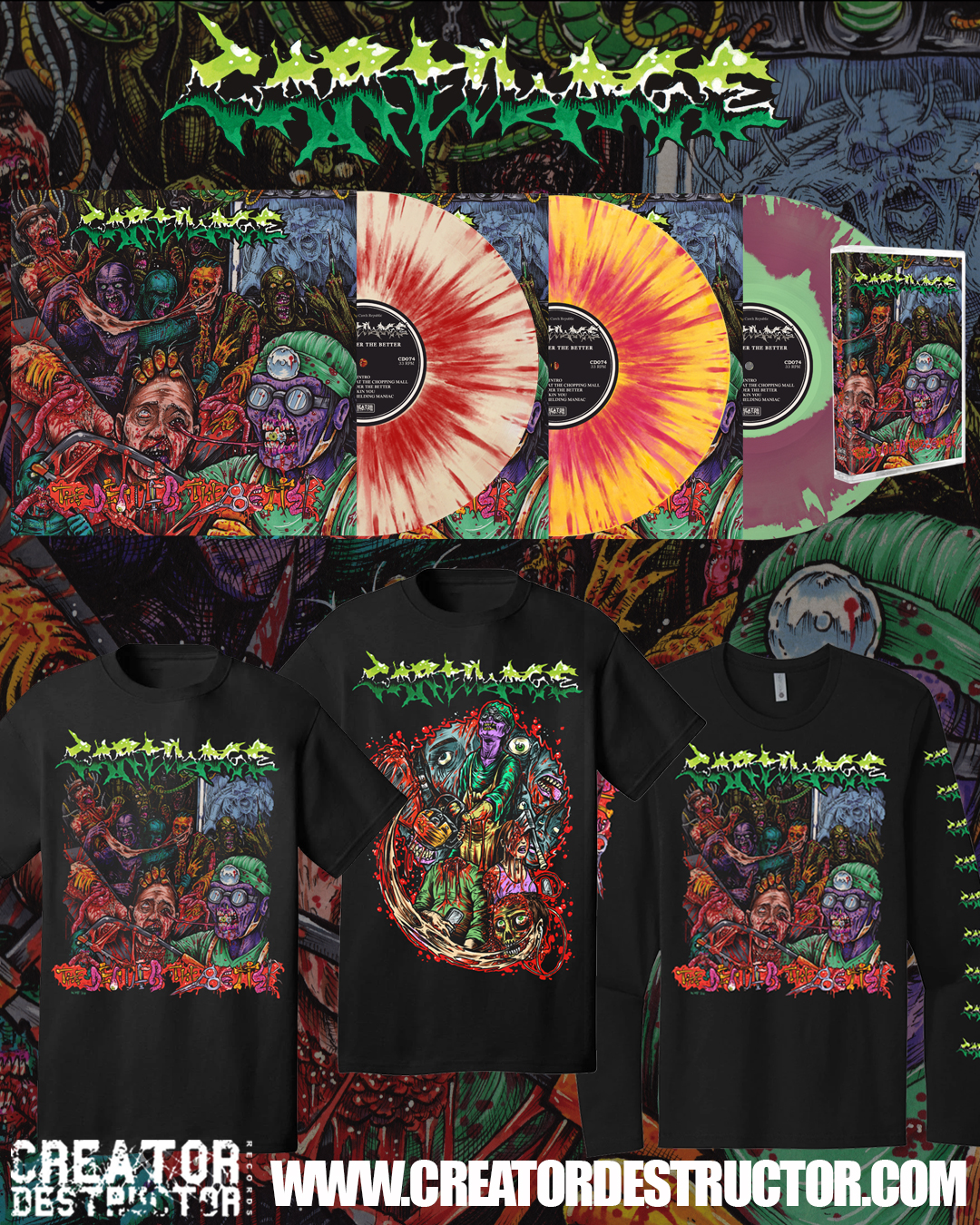 https://cartilagegore.bandcamp.com
https://www.facebook.com/CartilageSF
https://www.instagram.com/cartilage_gore
https://www.creator-destructor.com
https://www.facebook.com/creatordestructorrecords
https://www.twitter.com/CD_Records
https://www.creator-destructor.bandcamp.com
https://www.instagram.com/creator_destructor_records