British metal icons CARCASS will return to to North America for a headlining tour this November. Joining them are shoegaze-infused black metallers Deafheaven and doom merchants Inter Arma. Slated to commence on November 7th and run through November 27th, the band's latest journey follows the One Foot In The Grave headlining tour with Crowbar, Ghoul, and Night Demon this past Summer. Tickets are on sale now at all local ticket outlets.
CARCASS w/ Deafheaven, Inter Arma:
11/07/2016 The Varsity Theatre – Batone Rouge, LA
11/09/2016 Iron City – Birmingham, AL
11/10/2016 1904 – Jacksonville, FL
11/11/2016 States Theater – Tampa, FL
11/12/2016 North Side Festival – Monterrey, MX (CARCASS only)
11/14/2016 Ziggy's By The Sea – Wilmington, NC
11/15 /2016 The Orange Peel – Asheville, NC
11/17/2016 Stone Pony – Asbury Park, NJ
11/18/2016 Reverb – Reading, PA – Reverb
11/19/2016 Fete Music Hall – Providence, RI
11/20/2016 The Emporium – Patchogue, NY
11/21/2016 The Chance – Poughkeepsie, NY
11/22/2016 Rex Theater – Pittsburg, PA
11/23/2016 Agora Ballroom – Cleveland, OH
11/24/2016 Dallas – Kitchener, ON
11/25/2016 Big Shots – Valparaiso, IN
11/26/2016 The Blue Note – Columbia, MO
11/27/2016 Majestic Theatre – Madison, WI
CARCASS continues to tour in support of Surgical Steel, released in September 2013. The record came in at #41 on the US Billboard Top 200 Chart, just narrowly avoiding the dreaded "Top 40 Band" moniker. Even with their impressive back catalogue, Surgical Steel has given the band their highest charting and possibly most critically acclaimed record to date.

Surgical Steel was produced by Colin Richardson (Napalm Death, Bolt Thrower, Gorefest, Cannibal Corpse etc.) and mixed/mastered by Andy Sneap (Megadeth, Accept, Exodus, Testament). Joining guitarist Bill Steer and bassist/vocalist Jeff Walker in the band's current incarnation are new drummer Dan Wilding (Aborted, Trigger The Bloodshed) and guitarist Ben Ash (Pig Iron, Desolation, Liquefied Skeleton). Original sticksman Ken Owen contributed guest vocals as well.
CARCASS has released several classic albums over the years, including Decibel Magazine "Hall of Fame" inductees Heartwork and Necroticism – Descanting The Insalubrious, and their influence has changed the face of extreme metal with every consecutive release. Whether it was inventing gore-grind (see Reek Of Putrefaction, Symphonies Of Sickness) or creating the template for melodic death metal (see Heartwork), CARCASS has always made records by which bars were set and rules were broken. Upon the band's dismantling in 1996, fans mourned the loss of the seminal act and longed that the group would return again one day. In 2007, the metal world got its wish as CARCASS reformed to play several sold-out reunion shows around the globe. Once again re-motivated to administer a shot of cynicism and infectious riffs into the arm of a sickly metal scene, founding members Bill Steer and Jeff Walker began writing what would become the latest output of their highly influential career, Surgical Steel. Only the choicest of cuts were made, and blood sweat and tears were shed to bring us a record worthy of the CARCASS legacy. In short, Surgical Steel is just what the doctor ordered.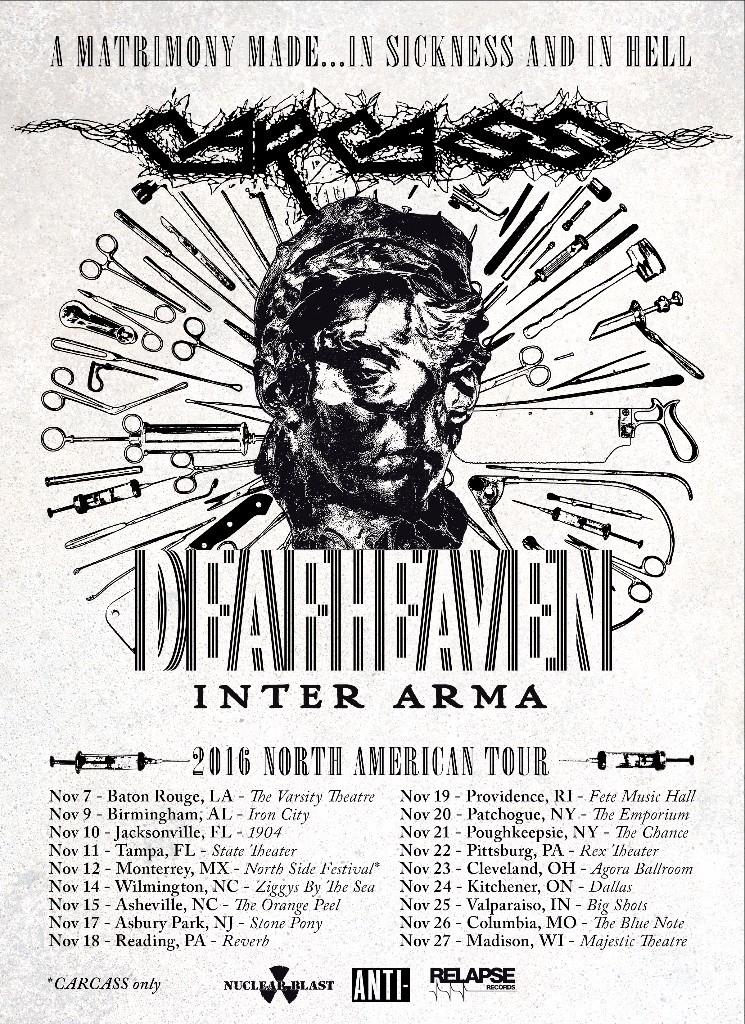 http://www.facebook.com/OfficialCarcass
http://www.twitter.com/CarcassBand
http://www.nuclearblast.com
http://www.facebook.com/nuclearblastusa