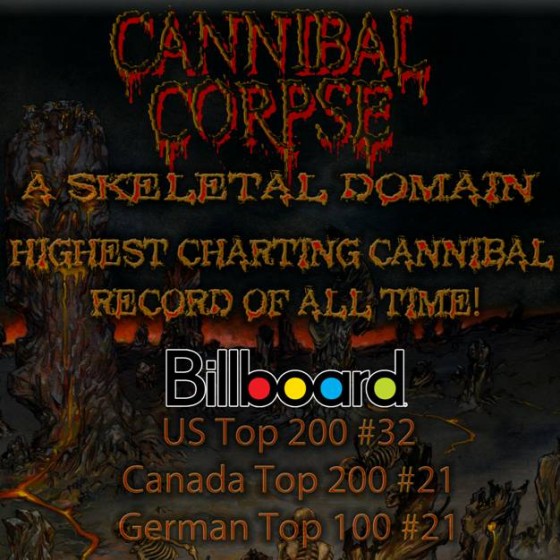 A Skeletal Domain, the latest full-length from American death metal icons, CANNIBAL CORPSE, debuted at an astounding #32 on Billboard's Top 200 chart, making it the highest charting record in the band's storied history! Additionally, A Skeletal Domain ranked in at #3 on the Hard Music chart, #5 on the Independent chart, #7 on Billboard's Rock chart, #21 on the Physical Albums chart, #31 on the Top Current Albums chart, #59 on the Digital Albums chart and #4 on iTunes Metal! In Canada, the record also broke CANNIBAL CORPSE's previous charting records landing at #21 on the Top 200 Current Albums chart, #4 on the Hard Music chart, #58 on Digital chart, #39 on iTunes' Top 200, #5 on iTunes' Rock chart and a flooring #2 on iTunes' Metal chart! The band pummeled in Germany as well with A Skeletal Domain rivaling all the band's prior positions peaking at #21 on the Top 100 Albums chart, #21 on the Media Control charts and position #19 on the Media Market charts. Elsewhere, the record debuted at #21 on the UK Rock/Metal charts, #39 on the UK Independent Albums charts, #28 in Austria and #50 in Switzerland.
A Skeletal Domain marks CANNIBAL CORPSE's thirteenth studio album. Produced by Mark Lewis (The Black Dahlia Murder, DevilDriver) at Audio Hammer Studios, the record boasts twelve ravenous tracks of confrontational, meticulously-executed, ill-omened brutality as only CANNIBAL CORPSE can deliver.
In related A Skeletal Domain news, today CANNIBAL CORPSE is pleased to unveil the official new video for third cut of depravity, "Kill Or Become." Shot at Kelly's Hideaway in Seffner, Florida and directed by critically-lauded videographer David Brodsky of MyGoodEye (Goatwhore, Hellyeah, Whitechapel, Municipal Waste et al), the zombie-strewn, nightmarishly awesome clip fluctuates from color and black and white and offers up a delicious visual inundation of blood, guts and gastric fluids.
A Skeletal Domain is out NOW via Metal Blade Records. Order yours today at THIS LOCATION and check out the band's newly launched website at http://www.cannibalcorpse.net!
"'Vector Of Cruelty' is a masterful combination of coruscating mid-pace burl and quirky thrash, 'The Murderer's Pact' pushes boundaries in the fields of lead work and atonality, while 'Kill Or Become' has a sizzling, infectious quality and the potential to be a set closer should they ever quit it with 'Hammer Smashed Face.'… the point is, there's material on lucky number thirteen that stands up to the classics." – Decibel
"A Skeletal Domain proves why CANNIBAL CORPSE are still such an integral part of the metal world." – Loudiwre
"…an absolute must have for any lover of anything brutal…" – Metal Injection
"…one of CANNIBAL CORPSE's most absorbing records in years." – The Guardian
"CANNIBAL CORPSE have pushed the technicality of their songs without forgetting the brutality or speed that fans have come to expect…with A Skeletal Domain there is even more of a reason for people to give CANNIBAL CORPSE a listen." – Sputnik Music
"..it's impressive that a group approaching its third decade can still bring the noise… and songs like the muscular title cut, the frenetic 'Icepick Lobotomy,' and the lurching and doomy 'Kill Or Become' deliver their dark wares with the subtlety of a morning star to the head." – All Music
"[CANNIBAL CORPSE] fucking rule their fucking roost with talons of fucking steel." – MetalSucks
http://www.metalblade.com/cannibalcorpse
http://www.cannibalcorpse.net
http://www.facebook.com/cannibalcorpse