Preview and purchase CANNIBAL CORPSE's Chaos Horrific HERE.
Chaos Horrific, the latest full-length from death metal icons CANNIBAL CORPSE, slaughtered Billboard charts upon its first week of release, earning the #7 position on the Billboard Album Sales chart, #2 on the Hard Music Albums chart, #3 on the Rock Albums chart, #5 on the Independent Label Albums chart, and more! Additional global chart positions include:
US/Billboard:
#2 Hard Music Albums
#3 Rock Albums
#5 Independent Current Albums
#6 Internet Albums
#7 Billboard Album Sales
#7 Top Current Albums
#11 Vinyl Albums
Canada/Billboard:
#1 Hard Music Albums
#4 Top Current Albums
#4 Vinyl Albums
#5 Digital Albums
Finland:
#3 Physical Albums
#22 Top Albums
Denmark:
#17 Top 40 Vinyl Albums
United Kingdom:
#1 Rock & Metal Albums
#8 Independent Albums
#22 Vinyl Chart
#185 UK Top 200
Germany:
#6 Top 100 Albums
Switzerland:
#10 Top 100 Albums
Sweden:
#5 Vinyl Albums
#6 Physical Albums
#6 Hardrock Albums
Austria:
#13 Top 75 Albums
Netherlands:
#97 Top 100 Albums
Since 1988, CANNIBAL CORPSE has remained at the forefront of death metal, shaping and defining the genre. In 2021, they raised the stakes again with their Violence Unimagined. This year, they return with its successor, the equally monstrous Chaos Horrific, consequently beginning the next chapter in their legacy. Produced again by guitarist Erik Rutan, who has now produced six of the band's albums, Chaos Horrific is, without question, a full-on, CANNIBAL-style death metal outing, straight down to the themes, which include zombie warfare, resetting the human race through mass mutilations, and the violent revenge of victims of human trafficking, and its cover art by longtime collaborator Vince Locke.
Chaos Horrific is available on digipak CD, deluxe box set (Dried Blood Marbled vinyl, 24p 12" booklet, puzzle, pin, poster and art print – limited to 1500 copies), cassette (limited to 500 copies), digitally, and on vinyl in multiple limited color variants.
Secure your copy today at the CANNIBAL CORPSE store at: cannibalcorpse.store and Metal Blade at: metalblade.com/cannibalcorpse.
Watch CANNIBAL CORPSE videos for "Chaos Horrific" video HERE, "Blood Blind" HERE, and "Summoned For Sacrifice" HERE.
CANNIBAL CORPSE is midway through their month-long North American co-headlining tour with Mayhem. The trek commenced in Nashville, Tennessee on September 22nd and will run through October 21st in Louisville, Kentucky. Support is being provided by special guests, Gorguts and Blood Incantation! Tickets are on sale now HERE. See all remaining dates below.
CANNIBAL CORPSE w/ Mayhem, Gorguts, Blood Incantation [remaining dates]:
10/06/2023 Mission Ballroom – Denver, CO
10/07/2023 The Complex Salt – Lake City, UT
10/09/2023 Temple Theatre – Tacoma, WA
10/10/2023 Knitting Factory – Spokane, WA
10/11/2023 Knitting Factory – Boise, ID
10/13/2023 The Warfield – San Francisco, CA
10/14/2023 SOMA – San Diego, CA
10/17/2023 The Aztec Theatre – San Antonio, TX
10/18/2023 The Factory – Dallas, TX
10/20/2023 The Eastern – Atlanta, GA
10/21/2023 Paristown Hall – Louisville, KY
"Chaos Horrific manages to be easily digestible while also being honeycombed with nuance and is a nearly perfect record." – Decibel Magazine
"Chaos Horrific is a better, more diverse and memorable version of its predecessor…CANNIBAL CORPSE won't release the scabrous crown any time soon…They are still the best of the best." – Blabbermouth
"It's as if the chords and arrangement were calculated specifically to keep the moshpits churning, with breakdowns and tempo changes piggy-backing off one another in a cascade of brutality."  – Consequence on "Summoned For Sacrifice" (Heavy Song Of The Week) 
"They're one of the hardest working bands in the game, their sound has never gotten a drop less brutal, and their coolness factor has never waned." – Revolver (Top Six Death Metal Bands Right Now)
"It's simply amazing how HEAVY this record is. I know that sounds superficial, I mean … come on, it's a death metal record. But seriously, the way Erik dials in the guitar tone and syncs it up with Alex's bass and Paul's kick drum and snare just makes for a totally lethal combination." – Metal Injection
"And with a slate of new tracks that will leave you feeling like the victim of the worst acts of psychopathy, CANNIBAL CORPSE proves that they remain the top of the death metal food chain after 35 years." – MetalSucks
"This band is an imperious, tweaked-to-perfection wrecking machine at this point… as they prove again, within the opening seconds of 'Overlords Of Violence,' CANNIBAL CORPSE are still the hardest hitters in the business." – Metal Hammer
"You don't ask a master butcher to start baking cakes. Like Motörhead, the Ramones, AC/DC or, indeed, Friday The 13th, it's CANNIBAL CORPSE's CANNIBAL CORPSE-y ness that keeps them at the top of their game. Far from starting to decompose, killing is still CANNIBAL CORPSE's business. And business remains very good – and macabre – indeed." – Kerrang!
"Chaos Horrific is meat and potatoes death metal, only the potatoes have been thrown away and replaced with more meat. It's a battered, broken-toothed, gore-drenched album that ends in a predictably horrible fashion, the closing 'Drain You Empty' being utterly filthy." – Distorted Sound
CANNIBAL CORPSE:
George "Corpsegrinder" Fisher – vocals
Erik Rutan – guitar
Rob Barrett – guitar
Alex Webster – bass
Paul Mazurkiewicz – drums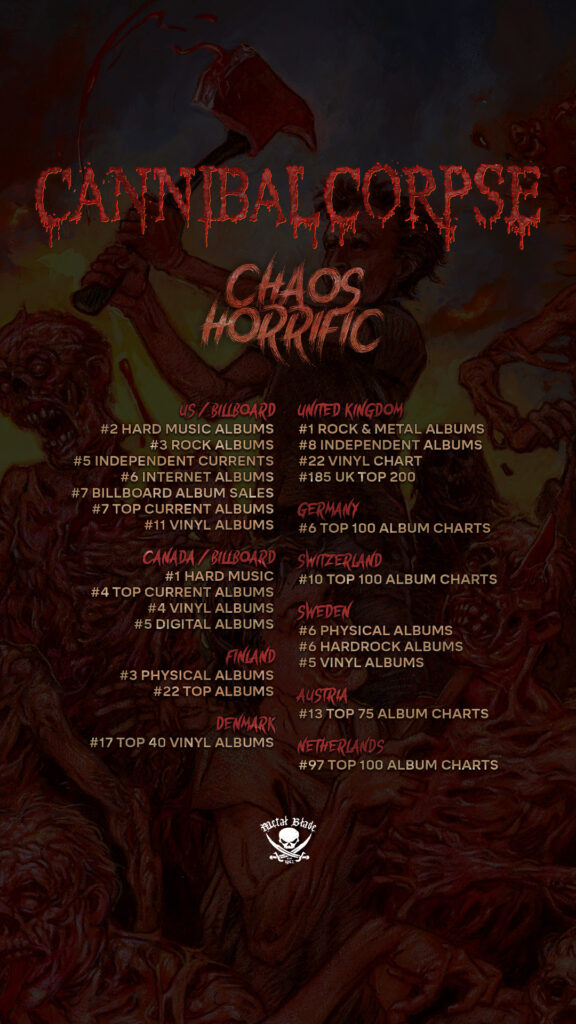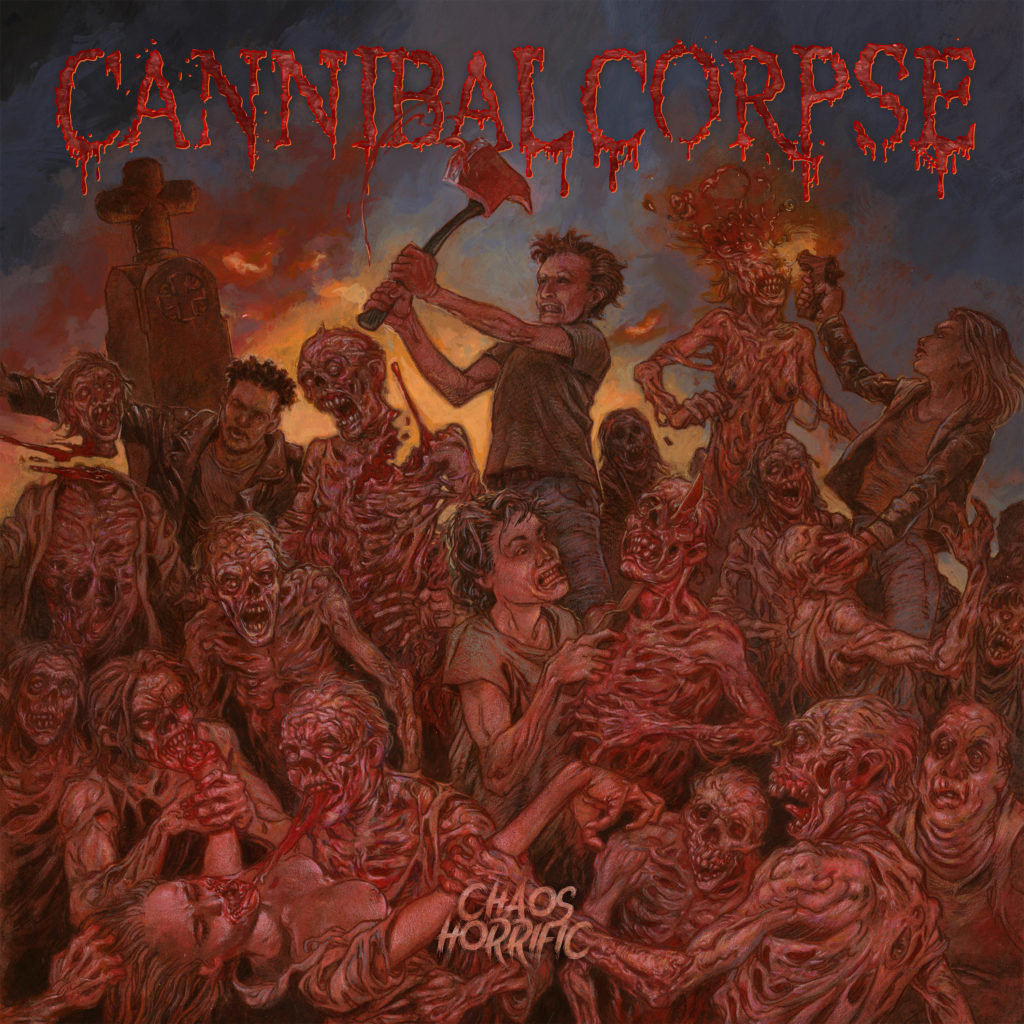 http://www.cannibalcorpse.net
http://www.facebook.com/cannibalcorpse
http://www.twitter.com/CorpseOfficial
http://www.instagram.com/cannibalcorpseofficial
http://www.metalblade.com
http://www.facebook.com/metalbladerecords
http://www.twitter.com/MetalBlade
http://www.instagram.com/metalbladerecords