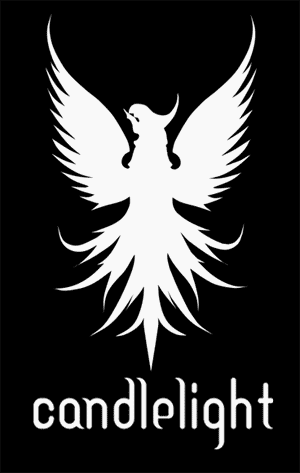 Candlelight Records have released an array of high quality albums this Autumn. Below is a brief wrap-up of the current new releases available for coverage now, and some of the amazing media reactions on each.
The second album from Philadelphia's WOE has been finding solid early interest. Stereogum says, "Woe's excellent Quietly, Undramatically" sounds like what black metal from Philly should sound like, i.e. rough, dirty, dangerous, ballsy, no-bullshit." MetalSucks says, "Woe have managed to craft something that gives you a good sense of the possibilities still existent in the genre. Undramatic my ass. This is the sound of black metal to come." Released on October 12, the album is one fans of black metal (new and old) should not miss. WOE just completed a series of performances on the east coast (with friends/label mates Krieg). More shows will be announced shortly. Interviews with Chris Grigg are available on request
[http://quietly.woeunholy.com]
KRIEG return after a four-year hiatus with the release of The Isolationist. Noisecreep notes "Krieg have been terrorizing audiences and throwing a defiant middle finger in the air to all that oppose their nihilistic, anti-human views and vicious take on the blackened art since 1995." Roadburn says the album has, "got all the black metal hallmarks tweaked to provide maximum effectiveness… The mood is suffocating and bleak. It's relentless hideousness is truly a thing to behold, and with it, Krieg ably prove themselves as major contributors to US black metal." KRIEG are finalizing plans for performances on the West Coast in early 2011; state tuned for details. Band founder Imperial is available for interviews on request.
[http://www.myspace.com/officialkrieg]
Fans have waited more than a decade to see if Sweden's OCTOBER TIDE would craft another doom masterpiece. With A Thin Shell their wish has been granted. Blistering.com says, "A Thin Shell is an emotional pummeler; the type of album that leaves you out in the cold, but makes you come back for more. Brilliant." Metal Review adds, "this seven-track doom/death metal trek through downtrodden atmosphere takes a chance or two, and it results in a very current and invigorating collection of songs." Featuring former Katatonia guitarist Fredrik Norrman, OCTOBER TIDE is a record perfect for those dark autumn nights.
[http://www.octobertide.net]
WINTERFYLLETH are set to perform as part of the upcoming CandleFest in London on November 20. Their second album, The Mercian Sphere has been impressing European audiences and now its charm is available for American metalheads. Metal Underground says, "The Mercian Sphere succeeds in many ways as a record that can mesh the genre of folk with the extreme nature of black metal in a way that comes of sounding very British." About.com adds, "Winterfylleth's folk-ish black metal is performed with a meticulous attention to detail on their gripping second album." It is definitely a record to seek out for a listen. Vocalist/guitarist Chris Naughton and drummer Simon Lucas are available for interviews on request.
[http://www.myspace.com/winterfylleth]
Reviewing Engage the Mechanicality, the new album from Kansas-based DISKREET, TheNewReview writes, "Diskreet has created an absolutely punishing album filled to the brim with technical musicianship skillfully balanced with enough brute strength to keep the listener suspended by the throat for the entire ride. No frills, no fluff, just straight up audible obliteration." Released on October 26, Engage the Mechanicality follows the band's popular 2007 EP, Infernal Rise. Metal Register says, "Diskreet somehow manages the unlikely blend of blinding intensity, disguised melodies, and awe-inspiring riffage into a unique style of death metal." Interviews with drummer Andy Taylor are available on request.
[http://www.myspace.com/diskreet]
Ominous is the debut album from Norway's THE WRETCHED END. Featuring guitarist Samoth (Emperor/Zyklon), Cosmo (Mindgrinder/Scum) and Nils Fjellstrom (In Battle/Dark Funeral), the band has chiseled out a punishing album of intensely brutal metal. Apeshit.org jumped out early on review of the album saying, "Ominous embodies the qualities that (extreme) metal should possess: fierceness, technical prowess, great riffs, and a fist in the face delivery." Metal Register adds, "Ominous is an amalgamation of both new and old styles of metal. From raw, driving vocals to shredding guitars to blast-beat drums, fans of thrash, death, and black metal will appreciate this album in the fact that is created on an unbiased template, though all three styles remain distinct." Samoth is available for interviews on request.
[http://www.myspace.com/thewretchedend]
In 2011, CANDLELIGHT celebrates its 10-Year Anniversary in the US! We kick off the year with releases from several new label artists.
There is nobody like England's THE MEADS OF ASPHODEL. Their label debut, The Murder of Jesus the Jew, has been making incredible waves with European media on its most recent release. Americans are in for quite a treat with this album. Chronicles of Chaos says, "The Meads of Asphodel have forged a path that can only be described as unorthodox, fusing together a multitude of genres flawlessly." Live 4 Metal adds, "their quirky Englishness, mixed with their flirtation with black metal and of course their crusty punk underbelly never fails to both amuse and impress." If you are up for the challenge, The Murder of Jesus the Jew will hit US and Canadian stores on January 11.
[http://www.myspace.com/theofficialthemeadsofasphodel]
Storm Manifesto is a special box set that spans the career of Norway's ZYKLON. Featuring Emperor guitarist Samoth and drummer Trym with Myrkskog vocalist Secthdamon and guitarist Destructhor, Storm Manifesto contains all three of the band's amazing albums plus previously unavailable material. Mark a reminder on your calendar to head to your favorite record shop on January 11.
Also coming in January we have label debuts from England's EASTERN FRONT, Holland's OBSIDIAN, and India's DEMONIC RESURRECTION. January will also see the release of KRYOBURN's second album, Three Years Eclipsed.
http://www.candlelightrecords.usa.com
http://www.myspace.com/candlelightrecordsusa