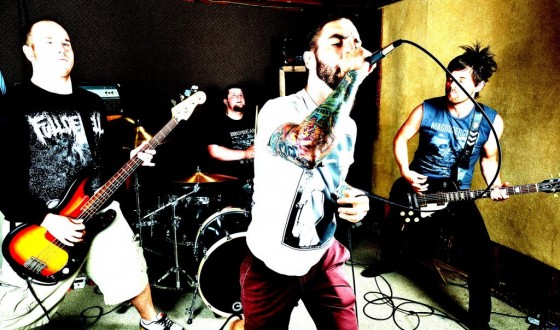 Today MetalSucks wants to reposition your facial features with a video premiere of "Bottom Feeder" by Denver deviants CALL OF THE VOID. Directed and edited by Frank Huang the tune comes from the band's recently dispersed Dragged Down A Dead End Path full-length and adds a flow of blinding hues to their menacing brand of confrontational audio hate.
Notes MetalSucks of the clip: "The video's frenetic editing and chromacolour palette represent a fine approximation of what it's like to get face-fucked by CALL OF THE VOID live."
Grab a pair of shades and watch "Bottom Feeder" HERE.
Fittingly dubbed "powerful, harsh crust grind at its fucking finest," by American Aftermath, and commended for their "legitimate, misanthropic emotion," by Popmatters, CALL OF THE VOID's filth-ridden rash of powerviolence-stained hardcore continues to earn critical hails and ruptured spleens nationwide with its 25+ minute display of soul-tearing disgust. Recorded at the Boar's Nest in Salt Lake City, Utah by Andy Patterson, mastered by Chris Mcnaughton, Dragged Down A Dead End Path delivers a merciless fusion of grind, crust and broken spirits.
CALL OF THE VOID will rape the stages of this year's Scion Rock Fest set to take place in Memphis, Tennessee June 1st. The band will be performing alongside an illustrious lineup that includes Arsis, Municipal Waste, Melvins, Royal Thunder, Pallbearer, Corrosion Of Conformity, Whitechapel, The Shrine, Six Feet Under, A Life Once Lost, The Casualties, The Gates of Slumber, Impaled, Vision of Disorder, Code Orange Kids, Subrosa, Ice Dragon, Indian Handcrafts, Anciients, Testament, Vektor, Gigan, Complete Failure, Inter Arma, Touché Amoré and Hot Lunch. For more info point your browser to THIS LOCATION. The band will then hit Salt Lake City and two shows on their home turf with additional shows to be announced in the coming weeks.
CALL OF THE VOID Tour Dates 2013:
6/01/2013 Scion Rock Fest – Memphis, TN
6/08/2013 Lucifest – Salt Lake City, UT
6/11/2013 7th Circle Music Collective – Denver, CO w/ Discourse, Orphans, Perspective
6/30/2013 Rhinoceropolis – Denver, CO w/ Burning Love, Reproacher, Of Feather & Bone, Catholic Girls
Dragged Down A Dead End Path was recorded at the Boar's Nest in Salt Lake City, Utah by Andy Patterson and mastered by Chris Mcnaughton. Order a physical copy of Dragged Down A Dead End Path HERE or a digital version via iTunes HERE. Additionally, the record is streaming in full courtesy of Lambgoat.com at THIS LOCATION.
And don't forget to check out CALL OF THE VOID's Decibrity playlist compiled by guitarist Patrick Alberts HERE!
"With a raw, messy sound drenched in over-amped guitars and driven by pure bile, they channel grindcore and Iron Monkey-esque sludgy unpleasantness and with each track – the longest topping out at 3:44 – they go off in a half dozen directions without ever losing their focus on destroying everything close by." – Outburn
"CALL OF THE VOID [are] proving that Denver is a hotbed of serious vitriol and passion." – Pitchfork
"…one of the best aggressive releases of the year." – Exclaim!
"…an intense and hard hitting CD, with some of the sickest guitar playing heard since Death's Spiritual Healing…" – Wicked Channel
https://www.facebook.com/CalloftheVoid303
http://www.CallofTheVoid303.bandcamp.com
http://www.CallofThevoid.bigcartel.com
http://www.relapse.com
http://relapserecords.bandcamp.com
http://www.facebook.com/RelapseRecords