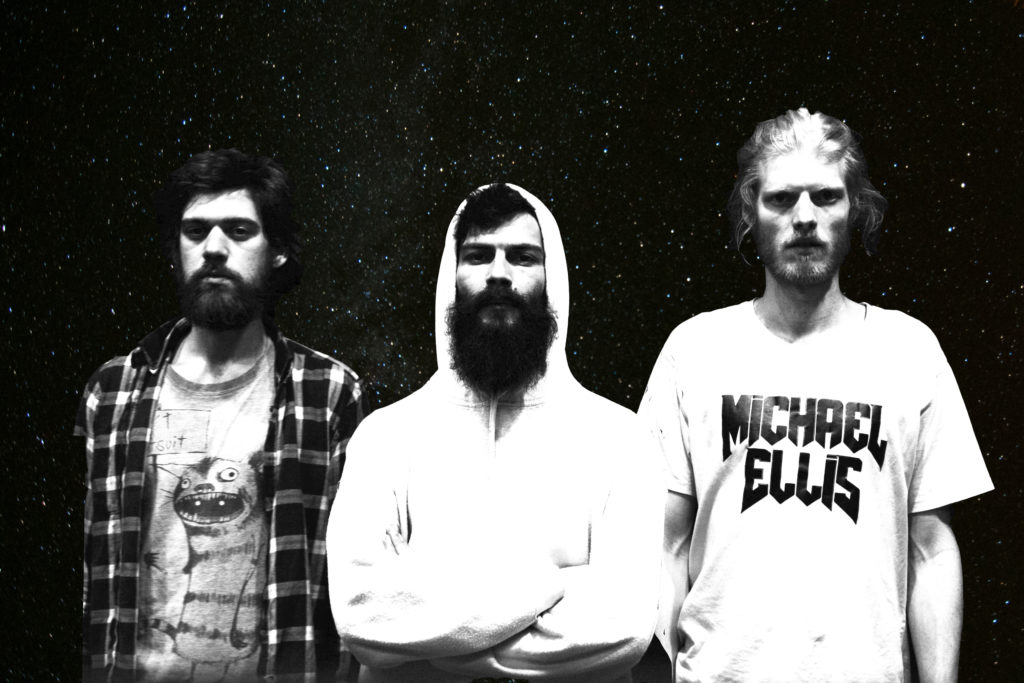 photo by Aurelijus Užameckis
Decibel Magazine is hosting the premiere of "Holdin' Banana Spiders Through The Folds Of Time/Space," the newest single from Copenhagen-based experimental trio, BYE BYE TSUNAMI. The song is found on the band's eponymous debut EP, slated for January release through Nefarious Industries.
BYE BYE TSUNAMI's experi-metal/post-mental sounds hail from planet 無, by way of Denmark. The group is formed by three sick individuals who thrive in uncertainty and find delight in the entropy of noise, employing disrupted rhythms, unique/self-built futuristic wind instruments, and heartbreaking cyborg screams to expand the musical language beyond its wildest horizons. Scavenging the distressing remnants of a future no one wished for, the band is redefining the new era of post-real. The members first met in pre-pandemic era Copenhagen after being respectively active in the noise/experimental/jazz/metal scenes of Berlin, Copenhagen, and Amsterdam. Willing to realize their life dream of forming a dysfunctional boy band, in 2020 they finally give birth to BYE BYE TSUNAMI: monsters giving birth to other monsters.
The band – Lorenzo Colocci (flute, flaubosax, electronics), Søren Høi (drums), and Uldis Vitols (bass) – immediately captured the attention of the public with its unique sound imprint, their compositions based on the Flaubosax: a unique self-built futuristic wind instrument conceived by Colocci's twisted mind. Generating new soundscapes with the use of a personal asymmetrical tonal system and interacting with complex powerful drum rhythms, they lead the music through disrupted absurd forms and post-industrial spiritual textures. The aesthetic and video works, curated by fictional audiovisual artist Nathan L., merge meticulously in a truly visionary dystopian universe, which, despite its frenetic nature, possesses a paradoxical sense of poetic and emotional sensibility, raising highly relevant questions about the role of social media, advertisement, and gender in contemporary society.
Recorded in Copenhagen in September 2020, the debut EP Bye Bye Tsunami sees the core trio joined by guest vocalist Praytell, the record mixed by Marco Colocci and completed with art by Nathan L.
BYE BYE TSUNAMI discloses with the EP's new single, "From Winter 2019, L started an extreme diet consisting exclusively of raw bananas: the experiment went on for eight months, the daily amount of bananas consumed would oscillate between fifteen to twenty-five, reaching peaks of thirty-eigh pieces. Eventually, this provoked a violent adverse reaction, causing a strong stomach ache, delirium, and vivid hallucinations: it was at that moment, lying on the floor of his room, that L saw the yellow fruit (which he was continuing to eat) come to life, assuming new mesmerizing forms taking him through an intense psychophysical trip described in the song 'Holdin' Banana Spiders Through The Folds Of Time/Space.'"
Writes Decibel, "In addition to the usual extremely extreme sounds we prefer to subject ourselves to, we also like to get our skronk on from time to time, maybe a little something free-form and noisy. Copenhagen-based trio, Bye Bye Tsunami offer up an earful of all of that…," describing the music as, "…chaos with a clashing mix of electronics, percussion, and experimental wind instruments. It's not so much heavy as it is frenetic and primal, in a weirdly futuristic way."
Overdose on radioactive potassium to BYE BYE TSUNAMI's "Holdin' Banana Spiders Through The Folds Of Time/Space" through the Decibel Magazine online portal RIGHT HERE.
Bye Bye Tsunami will see release across all digital platforms and in a limited run of cassettes via Nefarious Industries on January 28th. Find preorders including merch now at the label landing page where the NSFW "Pornceptual" video is playing HERE.
Watch for additional videos and more to be disseminated surrounding the EP's release.
https://byebyetsunami.bandcamp.com
https://www.nefariousindustries.com
https://www.instagram.com/nefarious_industries
http://www.facebook.com/nefariousIndustries
http://www.twitter.com/nefariousInd
https://nefariousindustries.bandcamp.com