Industrial metal's pioneering vocalist BURTON C. BELL will unveil his "Paradise Found" photography series at the Vincent Castiglia Gallery in Fort Lauderdale, Florida next month.
The series features twenty original, full-color photographs of abandoned industrial buildings taken in darkness and fog from 2002-2003. BELL's images are printed on aluminum using the Dye Sublimation process – an approach BELL calls "celluloid impressionism." The photographs are representational of BELL's industrial and science fiction aesthetic.
The Vincent Castiglia Gallery, which opened in 2022 to showcase Castiglia's tattoo designs and selection of limited-edition painting prints, will be premiering BURTON C. BELL's work on March 11th. The exhibit will run through May 23rd.
BURTON C. BELL is renowned for his thirty-year career as the frontman and vocalist in the groundbreaking industrial metal band Fear Factory. His vocal style became the template for a genre of music that became a mainstay of the metal music scene. BELL's fascination with science fiction and his love for industrial buildings and machinery inspired his dystopian lyrical concepts. These themes evolved into focal points for his photography, in particular the abandoned and derelict structures of a post-industrial society that have become obsolete.
In 2002, while recording new music in a studio surrounded by forest, it was in the borough of Milton, Pennsylvania that BELL found paradise within the small town that was once the heart of manufacturing in the Susquehanna Valley. Milton's days of industry are long gone; however, the factories and buildings remain dormant and empty, inspiring BELL's music and vision.
Comments BELL, "I am grateful to have this opportunity to show 'Paradise Found' at the Vincent Castiglia Gallery so that I can share the beauty I saw during those few seconds of exposure. These prints have not been photoshopped. This is exactly what I was seeing."
The event is part of BELL's grander vision as he pursues his next chapter as a multi-faceted artist. For further inquiry please visit VincentCastigliaGallery.com.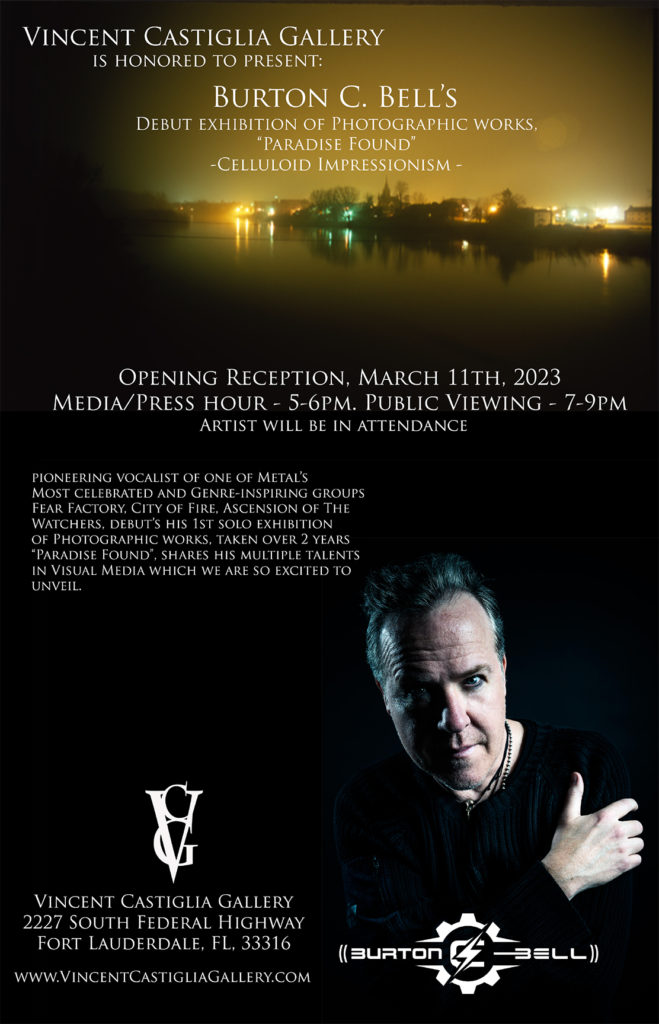 http://www.vincentcastigliagallery.com
http://www.burtoncbell.com
http://www.facebook.com/BurtonCBell
http://www.twitter.com/Burton_C_Bell
http://www.instagram.com/burtoncbell_official