Sworn to come back harder and more hateful than ever in 2013, and already proving it, Huntington, Long Island grindcore faction BUCKSHOT FACELIFT have delivered their latest auditory assault on the scum of the Earth with their self-released Elder's Rasp LP.
Since 2004 these henchmen have infiltrated the underground with an abortive and explosive death/grind//hardcore hybrid, ripping through D.I.Y. venues throughout the Long Island and NYC region. Following a demo in 2005 demo, BUCKSHOT FACELIFT — vocalist William Smith (Artificial Brain, ex-Biolich), guitarist Dan Baranello, bassist Tom Anderer (Thirsty) and drummer Sal Gregory (Grey Skies Fallen) — released their debut LP Universal Goat Tilt with local label Burn it Down/Rebuild Records. The label subsequently folded, so in 2009 the band went back to their D.I.Y. basics and self-released their follow-up LP Anchors of the Armless Gods on limited, etched vinyl.
In 2012, BUCKSHOT FACELIFT hit the studio to create their third album, in the process revamping the longtime lineup and replacing guitarist Dan Baranello with Paulo Paguntalan of NYC death/gore outfit Copremesis. The results of these torturous, booze-soaked sessions would see the band diversifying their range with more discordant metallic hardcore/doom-influenced riffage, culminating their most putrid output yet, as the sixteen-track Elder's Rasp. Directly after recording, Paulo left to pursue other projects, the band then doubling their axe attack and inducting Rick Habeeb (Grey Skies Fallen) and Terrel Granum.
Elder's Rasp is out now directly through BUCKSHOT FACELIFT, produced, recorded, mixed, & mastered by Keith Moore at Audio Playground in Ronkonkoma, Long Island. The band pressed this beast on 11″ vinyl in a vast array of color/splatter schemes, all hand-numbered, limited to 300 copies, as well as digital download.
Unleash Elder's Rasp in its disgusting, bestial entirety — tunes that "directly reflect the turmoil and stress of being a blue collar grindcore band marred by a dismal past of dead friends, alcohol, and distant women" — RIGHT HERE.
BUCKSHOT FACELIFT is currently bringing their circus of rage to every stage, basement and floor they can, including a show with Department of Correction, Sender/Receiver, Strong Intention and more in Copiague, Long Island this Saturday, March 2nd. View the confirmed shows below and watch for continuous updates through the rest of the year.
BUCKSHOT FACELIFT Live Actions:
3/02/2013 Zebra Club – Copiague, NY w/ Department of Correction, Sender/Receiver, Strong Intention
3/22/2013 O'briens Pub – Coram, NY w/ Plague of Faith, more
3/25/2013 The Place – Brooklyn, NY w/ Call of the Void, Ambassador Gun
Elder's Rasp Track Listing:
1. Elder's Rasp
2. Lambs Pee Blood
3. Fergus the Engorger
4. Boi Boi
5. Monday Morning Scumbag
6. Skull Drum Urinal
7. Across Dead Oceans
8. 522 Rest
9. Salt Milk
10. Touch the Monolith
11. Giving Acid to a Gorilla Who Knows Sign Language 2012
12. Carolyst
13. Vulture Mistress
14. Pimple Cheese
15. What Would Lee Do?
16. Unforgiving Seas of Quetzalcoatl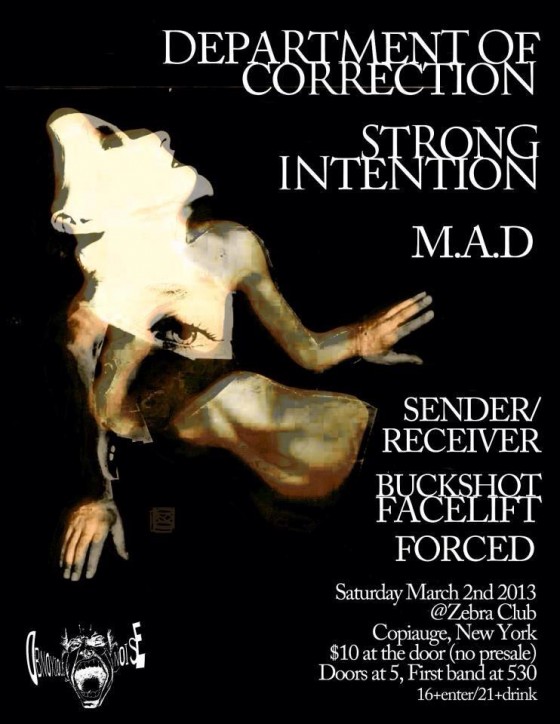 http://buckshotfacelift.blogspot.com
http://buckshotfacelift.bandcamp.com
http://http//www.facebook.com/pages/Buckshot-Facelift/143530762363929
http://http//www.last.fm/listen/artist/buckshot%2Bfacelift