With the release of Through Light To Night, the debut LP by Swedish lo-fi punk/hardcore solo outfit, BROKEN CROSS, rapidly approaching, Noisey has unleashed a punishing new track from the impending album through an exclusive premiere of "World Demolition."
BROKEN CROSS' Through Light To Night LP delivers ten new anthems for the end of times, the unhinged vibe of the album's gutter punk approach driven with merciless divebomb guitar leads, d-beat manglings and blackened punk might, all fueled by a razor-lined vocal tirade. Enshrouded in a gloomy fog of eerie effects and samples, steeping the entire concoction in a horror/sci-fi Cannibal Holocaust vibe, the perilous back-alley sensation one endures with Through Light To Night is as unholy and unnerving as it is crucially compelling. Visually portraying this rapture, the cover art and layout for Through Light To Night, were created by Dwid Hellion (Integrity, Vermapyre, Holy Terror Records), the creator of the majority of the band's releases.
Rupturing forth from the crypts comes "World Demolition," the third cut from Through Light To Night. The plodding hardcore stomp leads into a soaring, epic guitar solo, priming the track for all playlists for the apocalypse. The new BROKEN CROSS track invades the airwaves now through Vice Magazine's music channel, Noisey, who issues of its delivery, "the band worships at the altar of G.I.S.M., Integrity, Gehenna, Zouo, and more, bringing a super lo-fi aesthetic with overtones of industrial and noise to those hateful and nihilistic sounds. This is primitive stuff, but the songwriting shines through, as do the very Integrity dive-bombs."
Witness the "World Demolition" of BROKEN CROSS via Noisey RIGHT HERE.
Through Light To Night's second track, "Forsaken Existence," is also playing at THIS LOCATION.
Seekers of ill-omened, depraved extreme music far from the polished shores of the mainstream should pay heed to the calling of Through Light To Night. The creator of BROKEN CROSS will unveil Through Light To Night through his own Apocalyptic Visions cult on May 8th. Digital and vinyl preorders and packages are available HERE.
Since 2011 the solo Swedish architect who issues his unholy creations under the moniker BROKEN CROSS has infiltrated the population with an intense brew of lo-fi punk/hardcore iniquity and a caustic metallic shell, citing G.I.S.M., Septic Death, Gehenna and unquestionable devotion to Integrity. Through an impressive discography of EPs and singles to date, titles like New World Soldier, Anti-Human Life and Secret Destruction have reared their heads against humanity through independent releases, as well as part of the Holy Terror Records movement and various underworld sects.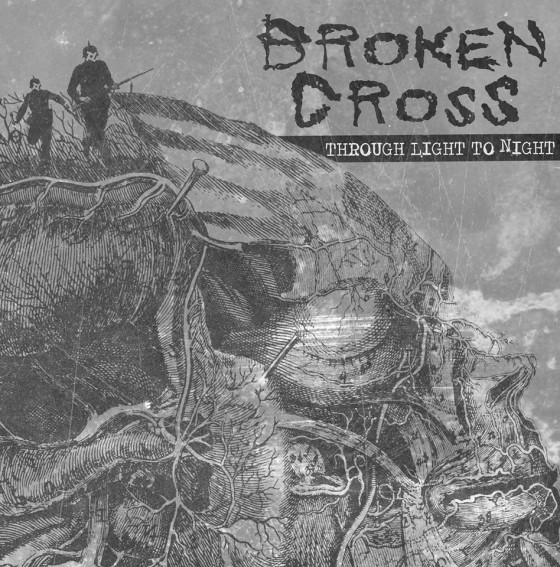 http://brokencross.bandcamp.com
http://www.facebook.com/brokencross
http://apocalypticvisions.bigcartel.com