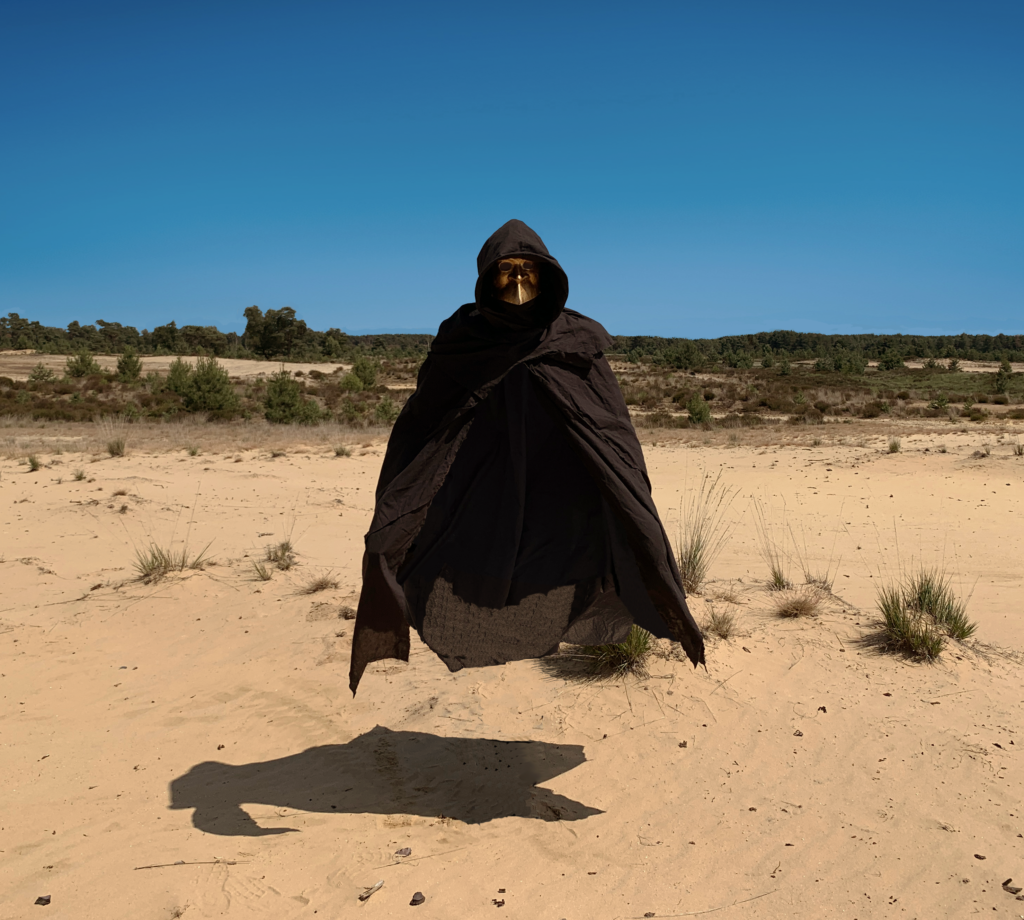 BrooklynVegan is pleased to unveil live performance footage from Belgium-based enigmatic post-metal collective BRIQUEVILLE. Filmed in Antwerp as part of a livestream late last year, the clip features "Akte VIII" and "Akte IX," taken from the band's Quelle full-length, out now on Pelagic Records.
Issues the band, "The ten minutes prior to the start of the live stream, we spent holding our instruments on stage in absolute silence. With only a faint blue light and the/ /presence of our sixth member as a spectator behind us, this felt as a lead curtain draped over us. This contributed immensely to the overall atmosphere we pursue in our live show. Using the beautiful venue as a part of the show, playing with our backs to it and staring into a black empty void contributed a lot towards achieving the catharsis we seek in our live experience as members of BRIQUEVILLE. A different but satisfying experience that is certainly worth repetition."
View BRIQUEVILLE "Akte VIII" and "Akte IX," courtesy of BrooklynVegan, at THIS LOCATION.
Find BRIQUEVILLE's previously released video for "Akte XV" HERE.
Following 2017's dazzling instrumental opus II, BRIQUEVILLE's Quelle is the band's third studio album and one of the first real pandemic-albums to be released on Pelagic. The band members completed the album in separation, working out better than initially expected. They were forced to take distance not only from each other, but also towards their own song material. Some pieces grew larger than originally intended; others were stripped down to the essentials and reinvented. The end result is a staggering album that is sophisticated and smothering at the same time, made up of altogether shorter songs as compared to the previous release, and there is a more prominent focus on those tasty electronics, which have always been an integral part of BRIQUEVILLE's sound.
Quelle shows that BRIQUEVILLE individually and collectively have a big heart for the gritty, dark, psychedelic, heavy, and other-worldly, as much as a love for beauty and melody. It's a soundtrack to the pandemic, written and recorded not before, but during isolation and a testimony that isolation can spawn the greatest creativity. Fans of Goat, Oranssi Pazuzu, Sleep, Bong, Isis, Pelican, Mogwai, Sunn O))), Godspeed You! Black Emperor, Amenra, Breach, and the like, pay heed.
Quelle is out now on CD, vinyl, and digital formats. Find ordering options at THIS LOCATION.
The contemporary Belgian heavy music scene continues to spawn some truly enigmatic bands, and BRIQUEVILLE are among the most intriguing of them all. The meditative heaviness of their sound and the careful engineering of the visual aspects of their mesmerizing live performance rituals are awe-inspiring and challenging in equal measure. A band shrouded in mystery, the black Nazgûl-robes and golden masks that all members wear on stage give their presence the air of an occult ritual, but the band is not chasing (a) Ghost; in fact they've been masked for over a decade and even do so during rehearsals. The anonymity is meant to create equality and prevents a cult of personality.
"…as creepy and dark and heavy as you'd expect from a band who look like this one does on stage." — BrooklynVegan
"Blending doom and black metal with ethereal waves, the band constructs pieces with a jazz-like ability to alter tone and direction quickly, leading to wildly unique and unpredictable journeys." — Jersey Beat
"…a true time capsule for a year that none of us will forget. It's eerie and harsh, and at the same time comforting and uplifting – a perfect soundtrack for a year that's brought us utter destruction and death…" — Cvlt Nation
"…an atmospheric trip in every sense of the term. Ambiance alongside industrial, drone alongside progression, this is an album that simply feels like early winter in the rust-belt cities I've grown to love. Equal parts beautiful and jarring, it is entrancing in a curiously urban way." — Nine Circles
"Dynamic, mind-churning, abstract soundscapes lay within…" — Invisible Oranges
"Quelle sounds gorgeous, for all the hopeless misery that drenches the music…" — Angry Metal Guy
http://www.briqueville.com
http://www.facebook.com/briqueville
http://www.instagram.com/briqueville
http://www.pelagic-records.com/
http://www.facebook.com/pelagicrecords
http://www.instagram.com/pelagic_records