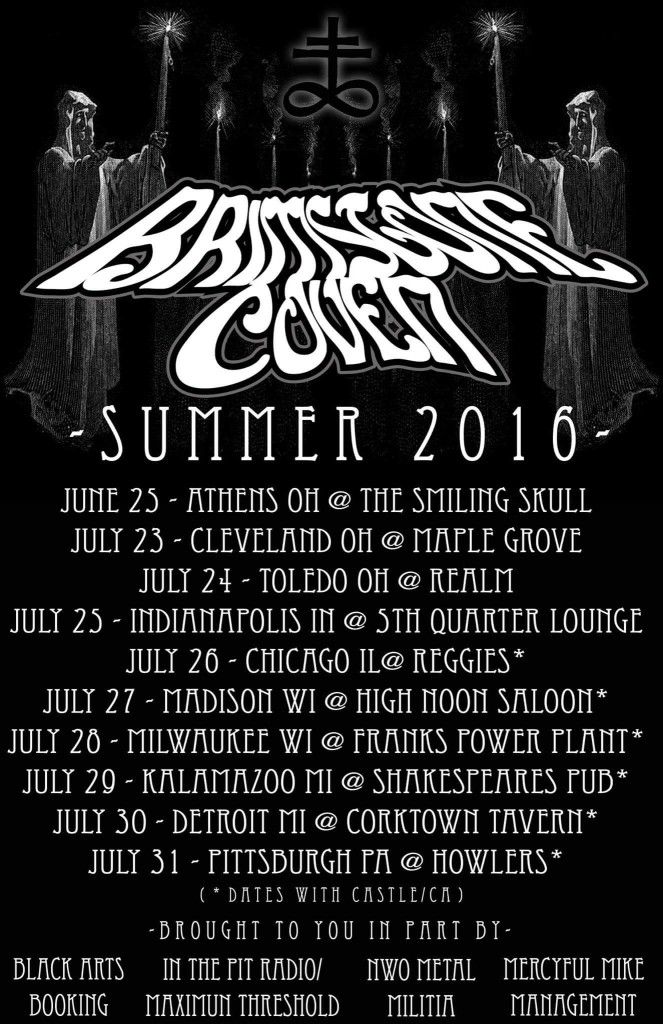 West Virginia-based dark occult rockers, BRIMSTONE COVEN, have confirmed their Summer tour plans which include a one off show in Athens, Ohio on June 25 before kicking off a nine-date mini tour from July 23rd through July 31st alongside Castle on select dates.
Bassist Andrew D'Cagna comments: "The response we've received since the release of Black Magic has been phenomenal. Our Coven is growing, but our mission is never ending. We can't wait to hit the road and spread the word of the Coven to those who've not yet witnessed our live ritual…See you this Summer! Behold! Believe!"
BRIMSTONE COVEN:
6/25/2016 The Smiling Skull – Athens, OH
7/23/2016 Maple Grove – Cleveland, OH
7/24/2016 Realm – Toledo, OH
7/25/2016 5th Quarter Lounge – Indianapolis, IN
7/26/2016 Reggies – Chicago, IL **
7/27/2016 High Noon Saloon – Madison, WI **
7/28/2016 Frank's Power Plant – Milwaukee, WI **
7/29/2016 Shakespeare's Pub – Kalamazoo, MI **
7/30/2016 Corktown Tavern – Detroit, MI **
7/31/2016 Howler's – Pittsburgh, PA **
** w/ Castle
BRIMSTONE COVEN will be touring in support of their recently released album, Black Magic. Boasting gritty, groovy riffs a la Black Sabbath, Pentagram and Led Zeppelin with Pink Floydian psychedelic movements, and three-part vocal harmonies reminiscent of The Mamas & The Papas, Yes, and The Byrds, Black Magic was appropriately crowned, "…kick-ass dark occult rock," by Pure Grain Audio. To preview and purchase the record, visit: metalblade.com/brimstonecoven.
http://www.facebook.com/brimstonecoven
http://www.metalblade.com/brimstonecoven