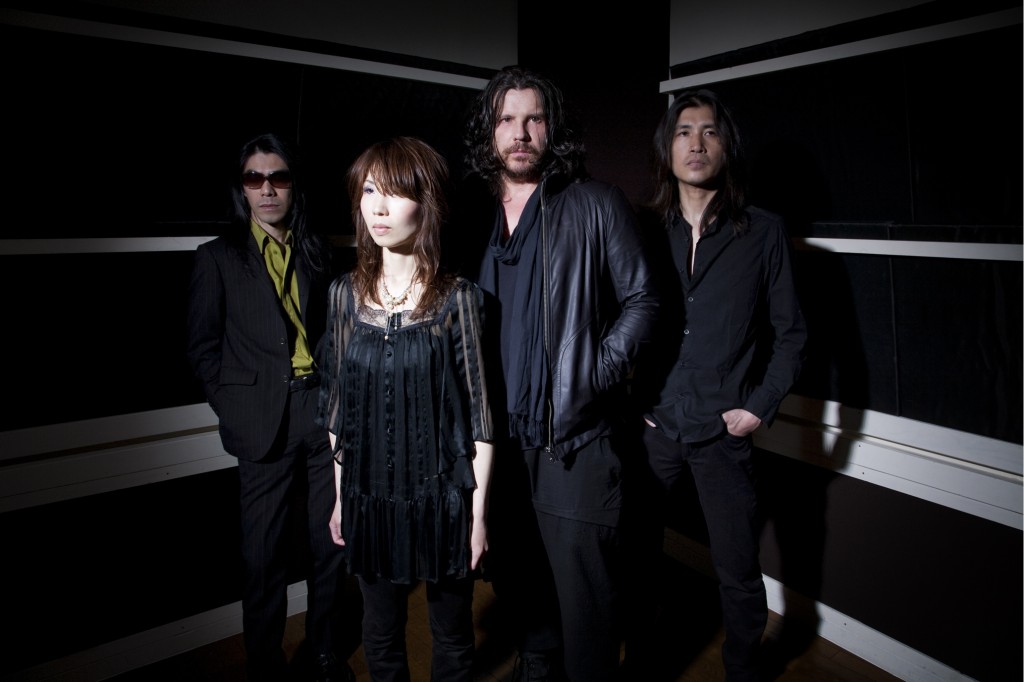 Southern Lord proudly announces an incredible collaboration between label artists Boris and Ian Astbury of The Cult and The Doors! This finely-crafted four-song mini release, simply entitled BXI, was tracked and mixed in Tokyo in late April. Astbury's vocals are a perfect match for Boris's straightforward, laid-back, but still raw and imaginative songwriting constructed for the EP; another intriguing display within the band's ever-morphing, extensive résumé of releases, tours and collaborations.
To see official CD, LP and digital release this September via Southern Lord, BXI will showcase the already unclassifiable rock of Boris in an entirely new light, and shows a new side one of rock and roll's most notorious singers. The release features three new original tracks, as well as a cover of The Cult's song "Rain", ethereally vocalized by Boris guitarist Wata. Art and design for the release was commissioned to Stephen O'Malley (Ideologic.org, SUNNO))), etc.).
Pitchfork briefly interrogated Boris drummer Atsuo about this collaboration this week. Check out this exclusive piece on the EP and find out how this collaboration came to light: http://pitchfork.com/news/39000-boris-team-with-the-cults-ian-astbury/
This past weekend, Ian Astbury made an unannounced appearance with Boris at the band's performance at Sydney, Australia's Vivid LIVE appearance, blowing fans away with this unexpected set which showcased some of the material from BXI as well as a cover of the classic "The End", by The Doors.
BXI EP Track Listing:
1. Teeth and Claws
2. We are the Witches
3. Rain
4. Magickal Child
As previously announced, Boris will rock North America once again this summer alongside Russian Circles for half of the tour and Red Sparrowes for the latter. The usual Boris lineup of Wata (guitar, vocals), Atsuo (drums, vocals) and Takeshi (bass, guitar, main vocals) will once again be joined by additional guitarist, companion Michio Kurihara, as on several previous live and studio ventures together.

BORIS North American Summer Excursion 2010:
7/24/2010 The Casbah – San Diego, CA
7/25/2010 Plush – Tucson, AZ
7/27/2010 The Loft @ Palladium Ballroom – Dallas, TX w/ Russian Circles
7/28/2010 The Mohawk – Austin, TX w/ Russian Circles
7/30/2010 Spanish Moon – Baton Rouge, LA w/ Russian Circles
7/31/2010 The Engine Room – Tallahassee, FL w/ Russian Circles
8/01/2010 The Masquerade – Atlanta, GA w/ Russian Circles
8/02/2010 Cat's Cradle – Carrboro, NC w/ Russian Circles
8/03/2010 930 Club – Washington DC w/ Russian Circles
8/04/2010 Starlight Ballroom – Philadelphia, PA w/ Russian Circles
8/07/2010 The Middle East – Cambridge, MA w/ Russian Circles, Cave In
8/08/2010 Le Tulipe – Montreal, QC w/ Russian Circles
8/09/2010 Lee's Place – Toronto, ON w/ Russian Circles
8/10/2010 Magic Stick – Detroit, MI w/ Russian Circles
8/11/2010 Southgate House – Newport, KY w/ Russian Circles
8/13/2010 Metro – Chicago, IL w/ Russian Circles
8/14/2010 Firebird – St. Louis, MO w/ Russian Circles
8/15/2010 Granada Theatre – Lawrence, KS w/ Russian Circles
8/16/2010 Marquis Theater – Denver, CO w/ Red Sparrowes
8/17/2010 *TBA – Salt Lake City, UT w/ Red Sparowes
8/19/2010 Republik – Calgary, AB w/ Red Sparowes
8/20/2010 The Starlite – Edmonton, AB w/ Red Sparowes
8/22/2010 Rickshaw Theater – Vancouver, BC w/ Red Sparowes
8/23/2010 Neumo's – Seattle, WA w/ Red Sparowes
8/24/2010 Hawthorne Theatre – Portland, OR w/ Red Sparowes
8/26/2010 Great American Music Hall – San Francisco, CA w/ Red Sparowes
8/27/2010 El Rey – Los Angeles, CA w/ Red Sparowes
8/28/2010 The Glass House – Pomona, CA w/ Red Sparowes
9/05/2010 Kutsher's Country Club – Monticello, NY @ ATP Fest – "Altar set" w/ SUNNO)))
More info on the BXI EP, additional US live aktions, and additional Boris news is forthcoming. Please stay tuned.
http://homepage1.nifty.com/boris
http://www.myspace.com/borisdronevil
http://www.southernlord.com
http://blog.southernlord.com
http://www.myspace.com/southernlordrecordings
http://twitter.com/twatterlord