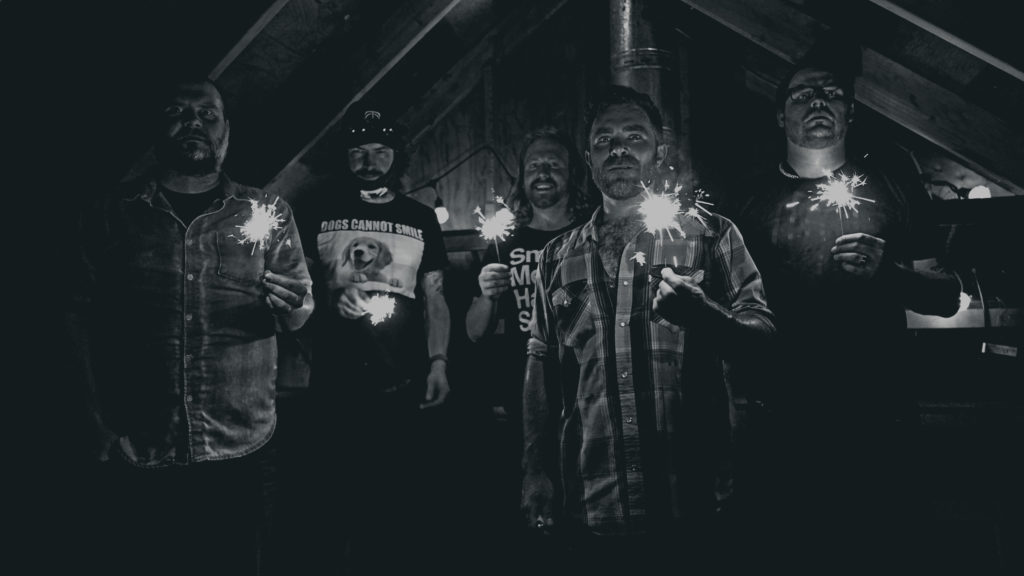 photos by Adam Tucker
Decibel Magazine is hosting the exclusive video premiere for "Lesser Gods And The Science Of Superstition," by Minnesota-based metallic hardcore outfit BLUE OX, former members of Dead To Fall, Devilinside, Ambassador Gun, Coma Eternal, and more. The track is found on the band's third LP, Holy Vore, which saw release in early April.
The third full-length BLUE OX LP Holy Vore showcases a thundering union of metallic hardcore, d-beat punk, catchy mid-paced chugging, mosh bursts, and fervent howling vocals, embodied by lyrical themes of despair and self-sabotage. The album was recorded, mixed, and mastered at Signaturetone Recording by Adam Tucker and completed with art and design by the band's Luke Olson and Dennis Hanson.
The "Lesser Gods And The Science Of Superstition" video was filmed by Tim Java, Ira Rogers, and Justin Spirala, and edited by Ira Rogers and Luke Olson. Writes Olson, "This song is arguably the fastest tune we've ever written. Once it gets going, Dan's drumming never lets up and makes an honest challenge for us to stay locked up and execute it right. The video footage is a Frankenstein of in-studio pre-pro, in-studio recording, some live action, and combing through hours of B-roll horror footage and live rodeo videos from way back. Lyrically, Dennis summed it up simply as, 'The best love is unrequited.'"
Decibel offers, "An ass-beating fusion of metalcore, D-beat, nasty sludge, and howled vocals, Holy Vore cuts ahead of the hardcore pack because of BLUE OX's recognizable sound."
Watch BLUE OX's "Lesser Gods And The Science Of Superstition" video first through Decibel Magazine now at THIS LOCATION.
Holy Vore is out now digitally and on limited runs of vinyl and cassette RIGHT HERE. Also watch the previously issued "Left To The Drift" video HERE.
Stand by for details on the impending BLUE OX album release livestream video performance from Signaturetone Recording in Minneapolis where Holy Vore was recorded.
https://blueoxmpls.bandcamp.com
https://www.instagram.com/blueox_mpls
https://www.youtube.com/channel/UCRojoEJjZ7p_y0Xkq1CP4kA
https://www.facebook.com/blueoxmn