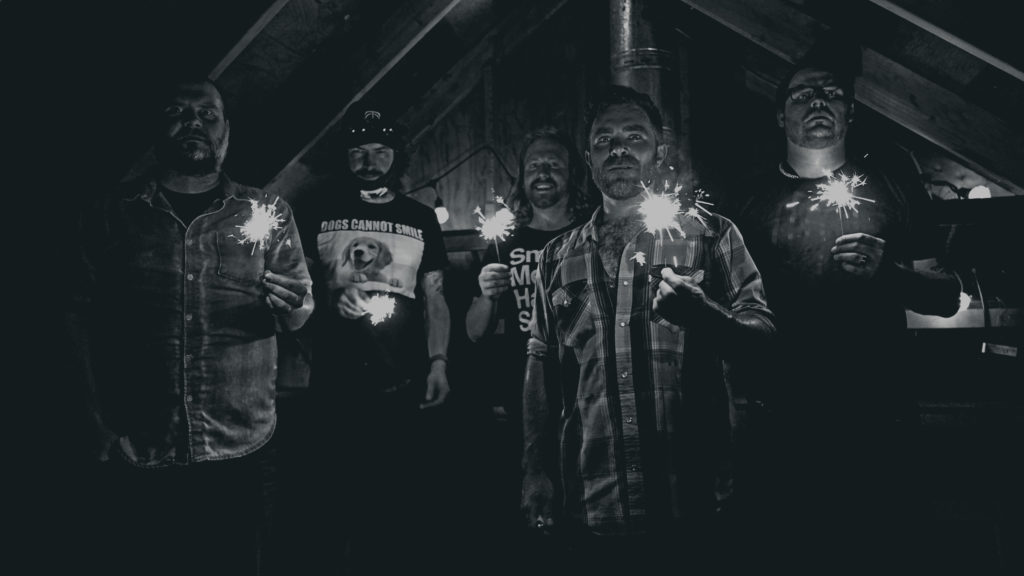 photos by Adam Tucker
As Minnesota's BLUE OX – formed by former members of Dead To Fall, Devilinside, Ambassador Gun, Coma Eternal, and more – prepares to release their Holy Vore LP in early April, BrooklynVegan is hosting an exclusive premiere of the ripping new track "Nostrum Bomb."
The third full-length BLUE OX LP Holy Vore showcases a thundering union of metallic hardcore, d-beat punk, catchy mid-paced chugging, mosh bursts, and fervent howling vocals, embodied by lyrical themes of despair and self-sabotage. The album was recorded, mixed, and mastered at Signaturetone Recording by Adam Tucker and completed with art and design by the band's Luke Olson and Dennis Hanson.
BLUE OX vocalist Dennis Hanson delves into the new single, "Definitive answers for small questions are elusive and mercurial. Even more so without the presence of a higher power and promises that water will eventually find its level at the end of the road. The human condition is subjective and finite but a worthwhile pursuit and albeit wavering compass that shifts in polarity between blindly warm and silhouetting without substance. No one is watching. Nothing is counting. Sometimes wreckage worship is the is the only recourse."
BrooklynVegan calls the band's output, "raw, teeth-grinding, metallic hardcore."
Endure BLUE OX's devastating "Nostrum Bomb" now at BrooklynVegan RIGHT HERE.
BLUE OX will release Holy Vore digitally and on limited vinyl and cassette runs on April 2nd. Find preorders where "It Doesn't Work" and "Left To The Drift" are streaming RIGHT HERE, and see the "Left To The Drift" video HERE.
BLUE OX has also confirmed a livestream set to be broadcasted from Signaturetone Recording in Minneapolis where they recorded Holy Vore. Stand by for an exact time, link, and other details to post in the days ahead.
Formed in Minneapolis in 2005, BLUE OX instantly became recognized for their pummeling and wild performances as they grabbed the attention of heavy music fans across several genres and like-minded bands to share stages with. In 2007, Lost Archives Records released their debut album, Wet Dreams & Nightmares, the record delivering a balance of hardcore, bluesy stoner riffing, tribal beatings, and drifting feedback voids.
Following lineup changes, BLUE OX began writing and demoing their second album in 2009 and once again hooked up with Minneapolis local studio owner and operator Adam Tucker in 2010 to record their second LP, Stray Dogs On Pity Party Island. This album saw the band expanding their sound with more elements of thrash, grind and punk while weaving in subtleties of psychedelic elements, and delivered all-out moshers, solid hardcore, and slow burners to satisfy any heavy music fan who demands a bit more. The album was self-released in 2011 and followed by a handful of US Summer shows in 2012.
More lineup changes in early 2014 saw BLUE OX once again taking their tone and delivery to the next level, with a revamped rhythm section and the expansion into ardent d-beat drumming and triplet-picking expanding their sound with more dynamics than ever.
https://blueoxmpls.bandcamp.com
https://www.instagram.com/blueox_mpls
https://www.youtube.com/channel/UCRojoEJjZ7p_y0Xkq1CP4kA
https://www.facebook.com/blueoxmn