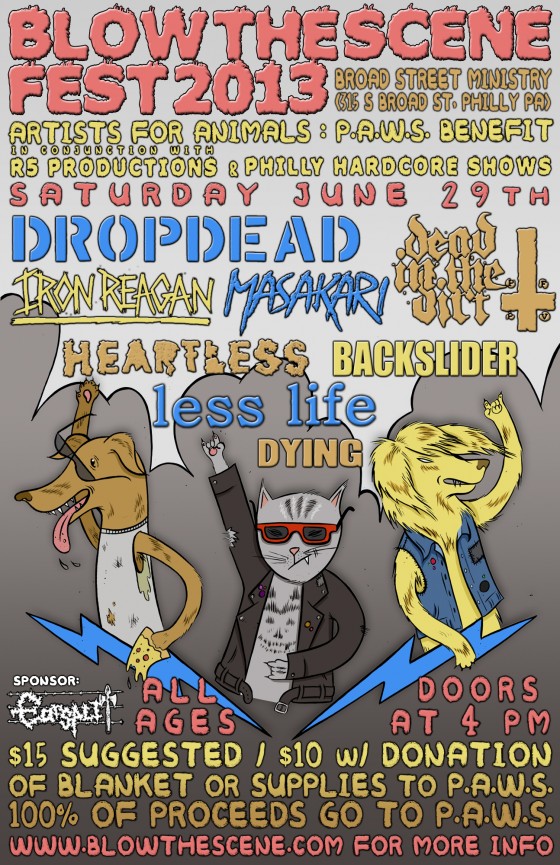 The first official BLOW THE SCENE FEST 2013: Artists For Animals music fest takes place in Philadelphia this Saturday, June 29th at Broad Street Ministry. The gathering is part of a massive benefit drive in funding a no-kill animal shelter and rescue for PAWS. (Philadelphia Animal Welfare Society), and will include sets from motivated artists DROPDEAD, DEAD IN THE DIRT, IRON REAGAN, MASAKARI, HEARTLESS, BACKSLIDER, LESS LIFE and DYING. The gathering will also feature tabling info by PAWS, DIY bookstores, distros, and art from the adjacent Homeward Bound Art Show and more, with additional sponsorship support from Earsplit. Admission to the all-ages event will be $15, or $10 with a donation of blankets or supplies for PAWS. A most-needed item list is available at the Facebook event page.
To help raise more awesomeness to promoting this event, Blow The Scene is coordinating world premieres with several of the bands taking part in the fest this week. Now available is an exclusive post with two never-before-heard tracks from political grind kingpins DROPDEAD — "Foundation" and "The Final Chapter," taken from the band's forthcoming Fighting For Life split EP with Systematic Death — alongside an interview with the band. CHECK IT OUT HERE.
Additionally, another exclusive stream of a brand new BACKSLIDER track, "I Won't Stop Hurting You," — taken from the band's forthcoming Consequences 10″ on Six Weeks Records, is blasting RIGHT HERE.
New premieres from both LESS LIFE and DYING will also be posted this week as the show on Saturday will also serve as a record release show for the pending split release between the two bands, as well as for BACKSLIDER's new release.
The additional fundraiser is also still happening, where folks can purchase some of the excellent live band photography Blow The Scene is known for, printed on METAL, so they look incredible and last forever, while still helping to fund the whole benefit drive. See more info on the ongoing fundraiser HERE.
BLOW THE SCENE FEST 2013: Artists For Animals
6/29/2013 Broad Street Ministry – Philadelphia, PA [tickets]
w/ Dropdead, Dead In The Dirt, Iron Reagan, Masakari, Heartless, Backslider, Less Life, Dying
Blow The Scene editor-in-chief Joshua T. Cohen and Richard Stockton College art professor Ryann Casey have teamed up to host both the Homeward Bounds Art Benefit Show as well as the first annual Blow The Scene Fest 2013: Artists For Animals, with Earsplit now the official sponsor of the two-part funds drive. 100% of the proceeds from these fundraisers will go to PAWS, and if you do not live in the area and plan on attending either Philly-based event donations can be made online now.
http://blowthescene.com
http://www.phillypaws.org
https://www.earsplitcompound.com