Long-running electronic noise collective BLOODYMINDED – featuring members of Anatomy Of Habit, Indian, and more — will close out the year with two very special shows.
The first will take place Saturday November 23rd at the International Museum Of Surgical Science. Located in a landmark Chicago mansion operated by The International College Of Surgeons, the museum maintains over 10,000 square feet of public galleries committed to the history of surgery, and an exquisite permanent collection of art and artifacts from the history of medicine. Already sold out, the show will see BLOODYMINDED sharing the eclectic bill with Burial Hex and Nika (Zola Jesus).
Next month, BLOODYMINDED will make their way to Brooklyn's Apartment 202 to play their first NYC-area show in eight long years. The band will be joined by Chicago heavyweights Rectal Hygienics as well as Pharmakon, Shredded Nerve, and DJ Nikki Sneakers.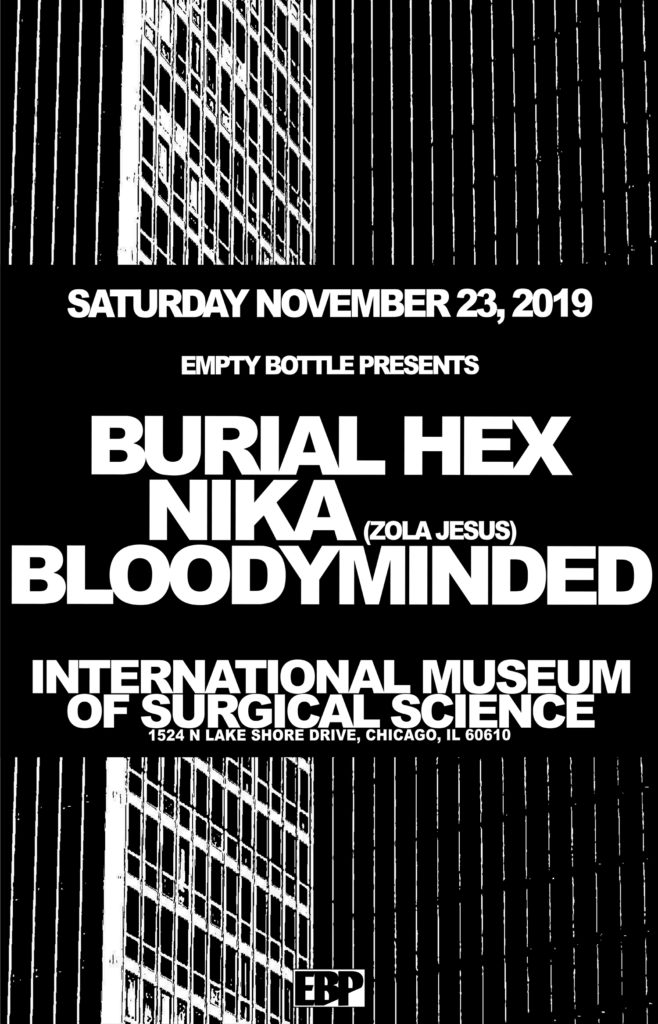 BLOODYMINDED Live:
11/23/2019 International Museum of Surgical Science – Chicago, IL w/ Burial Hex,
Nika (Zola Jesus) SOLD OUT [info]
12/14/2019 Apartment 202 – Brooklyn, NY w/ Rectal Hygienics, Pharmakon, Shredded Nerve
DJ Nikki Sneakers [info]
BLOODYMINDED released their self-titled sixth full-length earlier this year via BloodLust! The follow-up to 2013's Within The Walls marks the first time ever all six current BLOODYMINDED band members – Xavier Laradji, Will Lindsay (Indian), James Moy (Anal Hearse, Machismo, Ferro Mortem), Isidro Reyes (Anatomy Of Habit, The Fortieth Day), Pieter Schoolwerth, and founder Mark Solotroff (Anatomy Of Habit, The Fortieth Day) – recorded together in the same room at the same time.
Captured by engineer/producer Sanford Parker (Buried At Sea, Minsk, Mirrors For Psychic Warfare, Corrections House), mixed by Solotroff's former Anatomy Of Habit bandmate John McEntire (Tortoise), and mastered by Collin Jordan, the disquieting thirteen track BLOODYMINDED centers itself on the death of human interaction in an age of digital abstraction and disconnection.
BLOODYMINDED is out now on 180-gram double-LP in a gatefold jacket, eight-panel digipak CD, and digital formats. For orders, go to THIS LOCATION where the record can be streamed in full.
BLOODYMINDED is a heavy electronic band that was formed in New York, in 1995, after the dissolution of the pioneering American post-industrial noise group Intrinsic Action, which was founded by Mark Solotroff, in Chicago, in 1984. BLOODYMINDED's live shows are exceptionally energetic and are characterized by physical engagement, layers of abrasive analog synthesizer, aggressive vocals, and abundant feedback. In a live context, BLOODYMINDED celebrate and deconstruct the rock and roll performance.
While BLOODYMINDED most obviously operate within the contemporary noise scene, their sound is broadly informed by their early industrial forbearers, NYC pre-punk and noise rock, and British hardcore and grindcore. BLOODYMINDED has performed with diverse artists covering noise, power electronics, experimental, avant garde, deathrock, industrial, hardcore, metal, and punk.
"The thirteen-track offering… is nothing less than totally unforgiving for the duration, featuring antisocial, cacophonous squalls that shift and retract on a moment's notice." – Revolver Magazine
"They create kind of fucked cerebral soundscapes that get me hyped to be alive." — Cvlt Nation
"I can think of no better audio examples of social disorganization than BLOODYMINDED, which makes it a fascinating work that bridges the gap between sound art and sociological theory. Easily a masterpiece of noise and experimental music that not only is the band's greatest work to date, but also among the most fully realized albums of the genre." – Brainwashed
http://www.facebook.com/BLOODYMINDED
http://www.instagram.com/bloodymindedchi/
http://bloodyminded.bandcamp.com/
http://bloodlust.blogspot.com/
http://bloodshop.bigcartel.com/