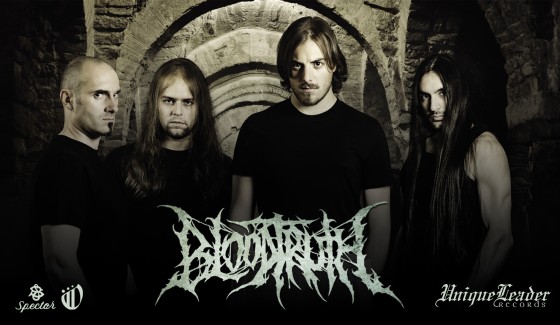 Italian death metal miscreants, BLOODTRUTH, will levy the auditory punishment of their debut album, Obedience, upon the ears of the living this coming Tuesday. Flaunting ten blazing anthems of unadulterated lyrical hatred released through incinerating waves of limb-removing, guttural metal, Obedience was engineered by Francesco Paoli and Cristiano Trionfera (both of Fleshgod Apocalypse) at Sonic Hammer Studios, mixed and mastered by Italian death metal producer and legend Stefano Morabito of 16th Cellars Studios (Hour of Penance, Fleshgod Apocalypse, Eyeconoclast, Inherit Disease), and is enshrouded with some of the most intense artwork to date by Colin Marks of Rain Song Design (Exodus, Fleshgod Apocalypse, Kataklysm). Says Dead Rhetoric in an 8/10 review of the record, "despite the blitzkrieg that is invoked through these nine tracks (the album opens to some cool chanting), there is a flow and careful precision to the album and the fusion of the vocals and guitar riffs will keep you quite intrigued. 'Quench Your Thirst,' 'Firesworn,' and 'Surrounded By Blind Bigots' should all convey this message effectively: riff fast and furious, but with purpose (and tasteful solos)."
In advance of its impending release, today Gear Gods brings fans and soon-to-be BLOODTRUTH converts a "Surrounded By Blind Bigots" playthrough video that'll probably make you wish you practiced more. Notes the doers of Gear Gods, "There's something to be said for making things look easy. Wait; let me rephrase that. You could know fuck all about playing an instrument and it would still be obvious that nothing happening in BLOODTRUTH's 'Surrounded By Blind Bigots' playthrough is easy. The word I'm looking for is 'effortless.' Guitarist Stefano Rossi Ciucci in particular looks like he's waiting for a bus. He seems vaguely aware of the guitar on his knee, and would likely be surprised that it's his hands flying around at light speed on that fretboard. I suppose that drummer Giacomo Torti can probably tell that his legs are flailing around to pull of that heel/toe double kick wizard shit he has going on, but he doesn't seem particularly winded by it."
And while you're at it, check out the band's lyric video for "Foresworn" still playing at Metal Assault RIGHT HERE.
Initially forged in 2009 as the side project of Fleshgod Apocalypse members Francesco Paoli and Paolo Rossi and now featuring the updated lineup of vocalist Luigi Valenti, guitarist Stefano Rossi Ciucci, bassist Riccardo Rogari and drummer Giacomo Torti, BLOODTRUTH heaves forth a sonic fireball of speed, brutality and unadulterated hate. Fusing the cryptic atmosphere of early '90s death metal and evocative Gregorian chant, representing the band's homeland and history, with methodical technicality, BLOODTRUTH are ceaseless in their ear-lacerating capabilities. A visual teaser for Obedience was previously released HERE.
Unique Leader Records will release Obedience on September 16th, 2014. Order your copy at THIS LOCATION.
http://www.facebook.com/pages/Bloodtruth/205949072801419
http://twitter.com/#!/BloodtruthBand
http://bloodtruth.bandcamp.com
http://www.youtube.com/user/bloodtruthband
http://www.uniqueleader.com
http://www.facebook.com/UniqueLeaderRecords