Treble is currently streaming Blood Moon Wedding: An American Nightmare, the debut full-length from BLOOD MOON WEDDING in its stunning entirety. The premiere comes in advance of the record's official unveiling this Friday, April 7th via Mobilization Recordings.
BLOOD MOON WEDDING is an international project uniting legendary English punk rocker Steve Lake (Zounds) and American singer Mia Dean. Their Blood Moon Wedding: An American Nightmare offering unfolds like a gothic-noir, road trip, folktale. Incorporating elements of post-punk, death rock, and dark melodies, and shrouded under a veil of forbidden love and forbidding doom, BLOOD MOON WEDDING casts its spell and captures an atmosphere that is intimate, otherworldly, and ultimately uplifting. Set in the sprawling deserts of the United States, Lake and Dean find themselves trapped in an alternate reality, where death and love are the only way through the gates of space and time.
Writes Treble, "the album is a heavy, eclectic blend of psychedelia, post-punk and stoner rock. As much a reflection of Lake's own history in punk rock as a step into new sounds and directions, BLOOD MOON WEDDING is rich in haunted atmosphere and dark moods, even as Dean guides their songs through more melodic terrain."
Elaborates Lake, "Making the record was an exciting musical and lyrical adventure for me because it moved me out of my comfort zone and allowed me to experiment with ideas I have previously shied away from. In the end I was overjoyed with what we did."
Adds Dean, "This is ultimately an album about love and human connection, and making it was a portal out of our own pain."
Stream BLOOD MOON WEDDING's Blood Moon Wedding: An American Nightmare exclusively at Treble at THIS LOCATION.
Watch BLOOD MOON WEDDING's previously released videos for "Spell" HERE, "Wanted" HERE, and "Hey Mia Do You Remember" HERE.

Blood Moon Wedding: An American Nightmare was written by Lake and Dean and brought to life with the support of Oakland composer Tom Dean (Antler Family, Code Of The West, Oakland Opera) on keys and bass, Jason Willer (Jello Biafra And The Guantanamo School Of Medicine, Charger, Acid King, UK Subs) on drums, and multi-instrumentalist David Coulter (The Pogues, Tom Waits, Test Department) on musical saw, violin, and Leslie piano.
The record was produced by Dean and Lake in Oakland, California and Bath, UK. Additional recording assistance was provided by Skot Brown (Altar de Fey, Esses, Phantom Limbs) and Salvador Raya (Ails, Asunder, Laudanum). The record was mixed in Los Angeles, California by Alex DeGroot (Zola Jesus, Sondra Sun Odeon), mastered by Justin Weis at Trakworx in San Francisco, California and is adorned by the ethereal cover art of Shannon Taylor.
Blood Moon Wedding: An American Nightmare will be released on CD, LP, and digital formats. Find preorder options at THIS LOCATION.
Steve Lake is a member of the influential English alt-rock group Zounds. He has recorded for many great labels including Rough Trade, PIAS, Cooking Vinyl, and Crass Records. Lake still tours regularly, both as a solo artist, and with his group. Lake's work is expansive and experimental. Beyond Zounds, he has produced and performed a number of spoken word and multimedia events throughout Europe, including the Edinburgh Festival and a highly successful residency at London's prestigious Whitechapel Art Gallery.
Mia Dean is a writer and singer for the Oakland band Antler Family. She studied classical opera and performance in San Francisco with the great Metropolitan Opera mezzo-soprano, Blanche Thebom, and abroad. She sang opera on the stages of Italy and Austria before returning to California to focus on composition and production. She is co-founder of the iconic punk and metal venue the Oakland Metro Operahouse, where the duo met in 2017. "We were lost in the uncertainty of the pandemic, trying to find our way back to ourselves as performers, notes Dean. "Somehow the road led directly to each other."
"Filled with dramatic songs, atmospheric soundscapes and magical-realist spoken word, the album is a dramatic commentary on the violence in American society." – Echoes And Dust
"There are miracles of heaven that show their face by sticking inside a song, as a gesture of absolute value, because music can still be a message from the gods. And they have chosen two souls who live physically distant but absolutely intimate artistically, prompting them to write an intense, truthful song, pregnant with conscious particles, to let us know that there is much to be done for those who want to inhabit life and its places." – Music Shock World
"A mesmerizing introduction to an exciting sonic journey through a land peopled by the damaged, the fragile, and the mythic." – Post-punk.com
"Lake and Dean's voices – the one serviceable at best, the other downright Angelic – were clearly made to work together, despite the pair being a world away from one another in their past creative lives, and it really feels like a privilege to be invited into this world they've created. Come one, come all – it doesn't matter what sort of music you like normally, this is something you really need to hear." – Sentinel Daily
"…a beautiful work of art…My experience listening to the album has been one of pure elation and bliss." – Darker Side Of Music
BLOOD MOON WEDDING:
Mia Dean – vocals, guitars
Steve Lake – vocals, guitars
Tom Dean – keys, bass
Jason Willer – drums
David Coulter – musical saw, violin, Leslie piano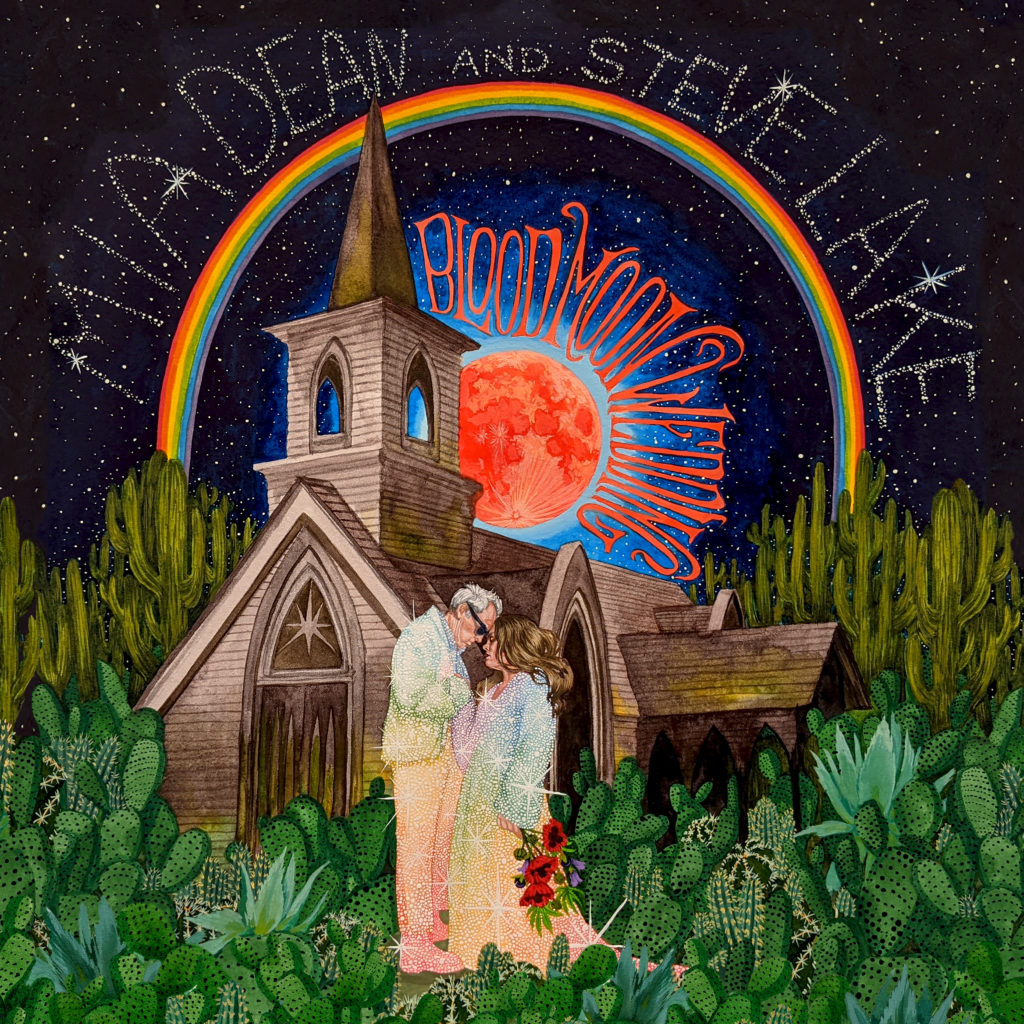 http://www.bloodmoonwedding.com
http://www.facebook.com/bloodmoonwedding
http://www.instagram.com/bloodmoonwedding
http://bloodmoonwedding.bandcamp.com
http://www.youtube.com/@bloodmoonwedding