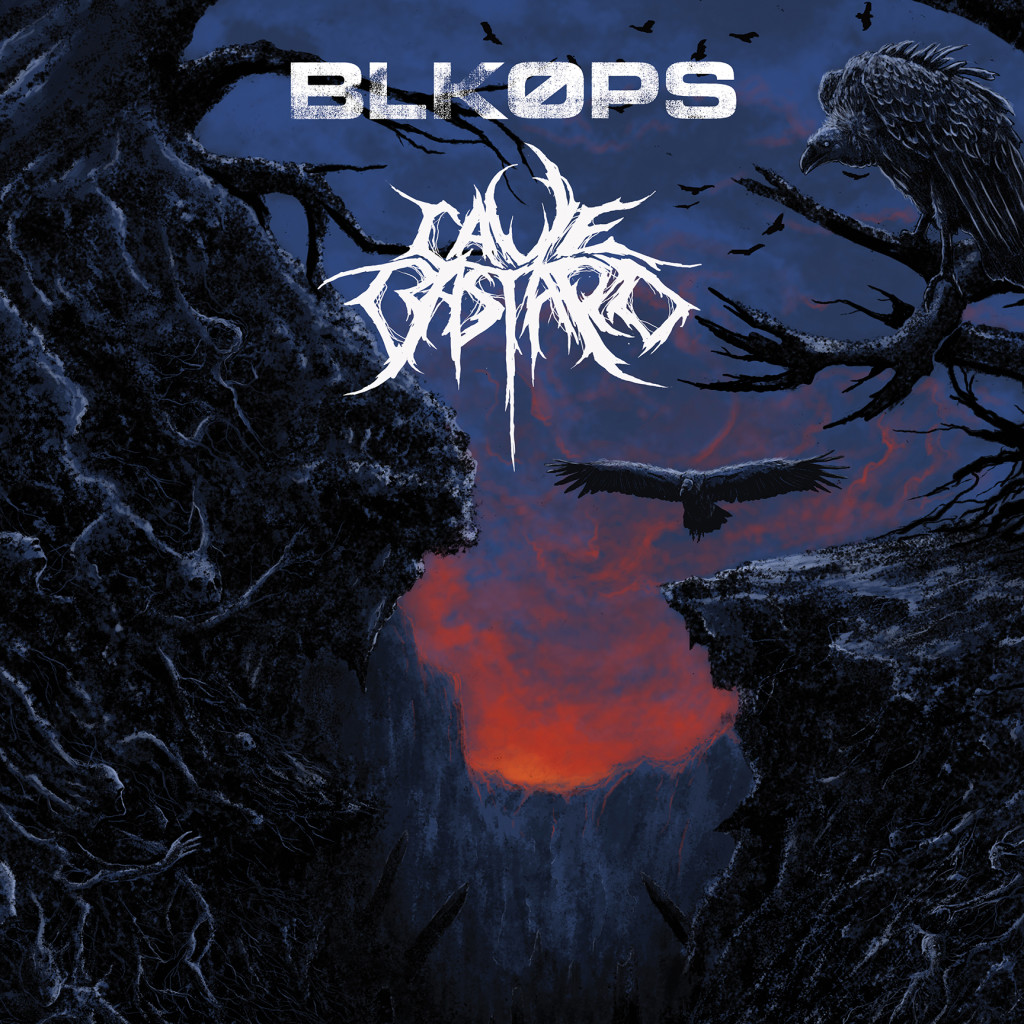 Decibel Magazine is now streaming the damaging split LP between Texas' BLK OPS (ex-Kill The Client) and California's CAVE BASTARD (ex-Cattle Decapitation). The record boasts a dominating pairing of extreme acts, unloading a barrage of purely devastating grinding, explosive and experimental mayhem, with four tracks from each band, completed with cover art by Varises Otak. The album is set to erupt through Accident Prone Records this Friday, as both bands take to the streets on tour in support of its release.
Alongside their precursory stream of the record, Decibel Magazine issues, "The split LP from BLK OPS and CAVE BASTARD is eight tracks of extreme mayhem. Combining grindcore, traces of death metal, noise and other extreme ingredients they could find, the split sees both bands playing high-speed brutalizers in addition to slower, almost doomed-out tracks."
Tune in and unload the split early RIGHT HERE.
The BLK OPS / CAVE BASTARD split will see release this Friday, August 25th, both digitally and in an initial LP run of 300 copies – 200 on black vinyl and 100 on blue/orange vinyl; find preorders at the label's webstore HERE and Bandcamp HERE.
In conjunction with the album's release, CAVE BASTARD is embarking on a nine-date tour through the Southwest, with shows in Tucson, El Paso, San Antonio, Austin, Dallas, Lubbock, Albuquerque, Phoenix, and Moreno Valley. BLK OPS will join the tour for four dates as well, sharing the stages in San Antonio, Austin, Dallas, and Lubbock.
CAVE BASTARD / BLK OPS Tour Dates:
8/24/2017 Flycatcher – Tucson, AZ *
8/25/2017 Rockhouse Bar & Grill – El Paso, TX *
8/26/2017 Faust Tavern – San Antonio, TX #
8/27/2017 The Lost Well – Austin, TX #
8/28/2017 Reno's Chop Shop – Dallas, TX #
8/29/2017 Backstage – Lubbock, TX #
8/30/2017 Sunshine Theater – Albuquerque, NM *
8/31/2017 Masters Chambers – Phoenix, AZ *
9/01/2017 Omniscient Fest Vol. II – Moreno Valley, CA *
* CAVE BASTARD only
# CAVE BASTARD and BLK OPS
Both BLK OPS and CAVE BASTARD are working on completing new LP's; watch for more details in the months ahead.
BLK OPS formed from the magma of the Austin, Texas metal scene in late 2015, comprised of Champ Morgan (ex-Kill The Client) on vocals, noise, and theremin, Mark Key on guitars and backing vocals, and Neil Barrett on drums, samples, and live visuals. Forging a path to a terrifying new sonic landscape drawing from noise metal, doom, grind, and otherworldly audiovisual hallucinations, the trio has already shared bills with the likes of High on Fire, Full Of Hell, The Body, Cattle Decapitation, Infest, Sumac, Yautja, and Magrudergrind. BLK OPS' side of the record was recorded and mixed by Travis Bonner (Venomous Maximus, Ancient VVisdom).
From beneath the slabs of the subterranean suburbs of San Diego emerges society's scum: CAVE BASTARD. Heavy, apocalyptic, and loud, the band was formed in 2014 by Troy Oftedal (ex-Cattle Decapitation, Piglife) and Nick Padron (ex-Bridge Jumper) out of a love for everything heavy and loud. They proceeded to search out the rest of the bastards needed to execute their vision of sonic devastation, soon adding rhythm guitarist Chase Ferguson (ex-Bridge Jumper), vocalist Steve Pearce (Gutrot, Ritual Torture), and drummer Steven Reed (Age Of Collapse). The band began writing and honing their tone creating a massively destructive soundscape in preparation for the coming of The Bastard. CAVE BASTARD's side of the split was recorded in San Diego at Audio Design, engineered and mixed by Billy Anderson and assistant engineer Jordan Andreen, produced by the band and Billy Anderson, and mastered at Trakworx by Justin Weiss.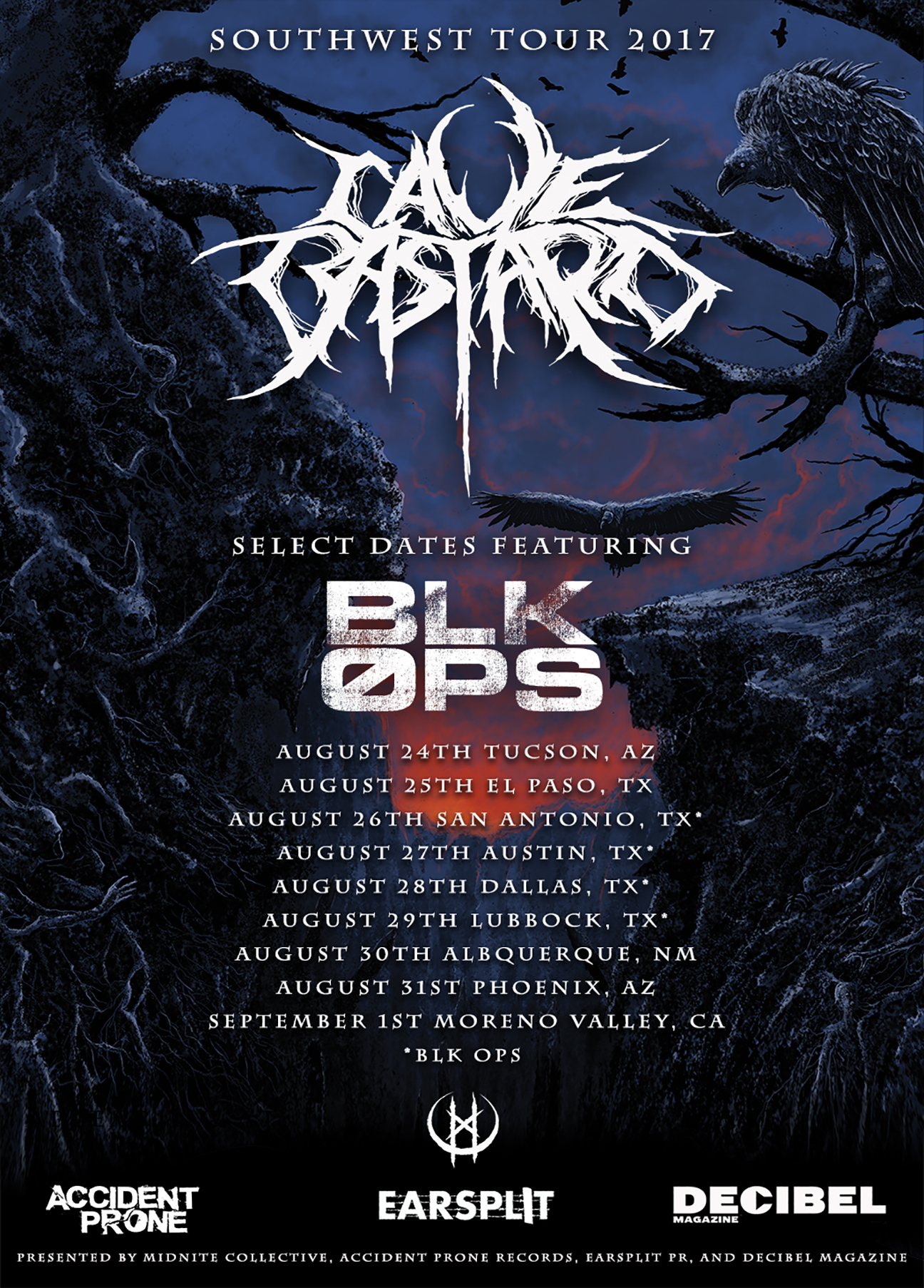 https://www.facebook.com/blkopspsywar
https://blkops.bandcamp.com
https://www.facebook.com/cavebastard
https://cavebastard.bandcamp.com
https://www.accidentprone.com
https://accidentpronerecords.bandcamp.com
https://www.facebook.com/accidentpronerecords