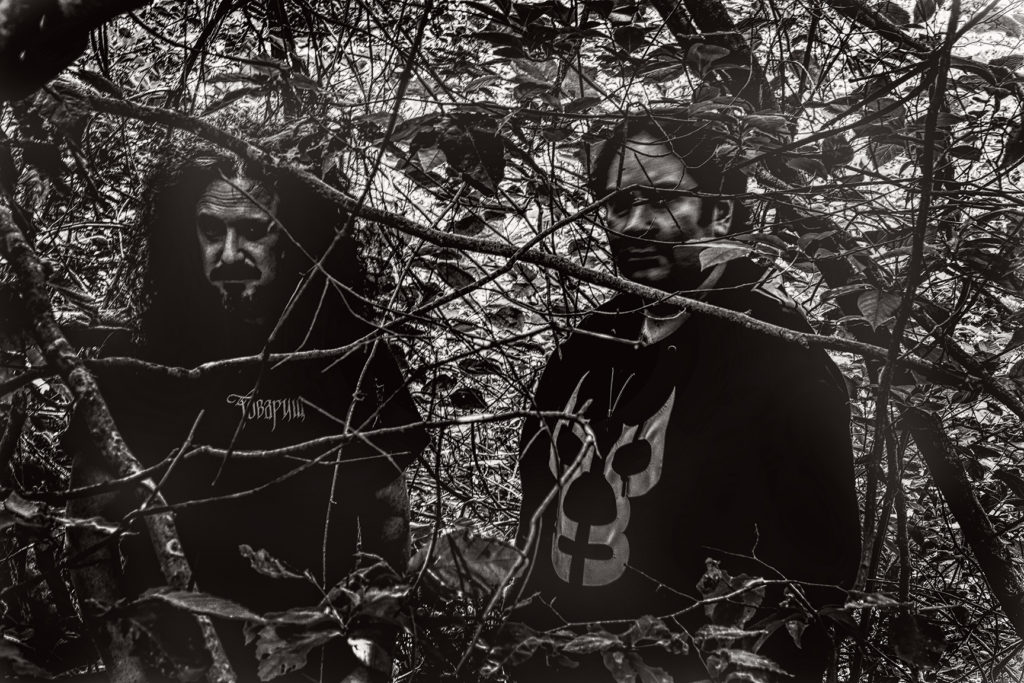 photos by Doc Darkwood
The shrouded ghouls in Charlestown, Rhode Island's demented grind/death duo, BLIGHT HOUSE, crawl forth from the musty recesses of their gore-strewn cellar to put their first record in five years on the slab. Blight The Way is confirmed for August release through their cohorts at Syrup Moose Records, who today unveils the cover art, track listing, preorders, and lead single, "Cryptid Cutie."
Since 2014, BLIGHT HOUSE worked under a malaise of dementia born of illness and isolation. The very name of the band is an homage to this. Yet as the rest of the world was forced into these same conditions, BLIGHT HOUSE experienced heretofore unknown heights of vitality thanks to their new regime of locally sourced Adrenochrome infusions. After setting fire to their enormous collection of horror VHS tapes and stepping outside of their basement for the first time in nearly a decade, the duo of Frank Lloyd Blight and Frank Owen Gorey set to work on their third full-length album, Blight The Way. Of their Nefarious Industries-released debut album, Summer Camp Sex Party Massacre, Toilet Ov Hell published, "I can't tell if this is the coolest, sickest, or dumbest death metal record I've heard this year. I can confidently go with 'most unsettling' though, and that in itself has proven rather intriguing."
Blight The Way expands on the themes of love, desire, intimacy, and completely unhinged, incomprehensible derangement introduced on their previous material. While many metal bands speak the unspeakable, BLIGHT HOUSE continues to show that they can do better still. From lecherous perspectives on cryptozoology to deconstructions of undead family planning, the band thinks the unthinkable and delivers it as a sloppy pile of gurgling, shrieking, slamming, and grinding death metal guaranteed to nauseate. When BLIGHT HOUSE promises "gross death metal," they are not bluffing. Blight The Way is a truly nasty piece of work, and it delivers the gross from start to finish.
Recorded at Great Swamp, the record's ten tracks see BLIGHT HOUSE's Frank Lloyd Blight handling all vocals and Frank Owen Gorey handling all instruments and recording duties, with mastering handled by Mark Alan Miller at Sonelab, cover art and logo by Misha Mono, and photography by Doc Darkwood. The duo is also joined by Ron Varod (Sabbath Assembly, Zvi) who provides additional lead guitar by on "Too Ugly To Live, Too Dumb To Die," and additional vocals by Glumi UwUhammer on "Too Ugly To Live, Too Dumb To Die" and "Acephalophilia III.
The band reports with the lead single, "'Cryptid Cutie' was the song that brought this album into focus for us. We wanted to write about more relatable topics this time around, and who hasn't seen The Loch Ness Monster and felt some things that are difficult to put into words? Musically, too, we're aiming to be more accessible, integrating some classic rock tropes to center our style of overwhelming, dense, and chaotic production to create memorable moments that will leave people thinking about those complicated cryptid feelings they've been having long after the song is done."
Stream BLIGHT HOUSE's first Blight The Way single, "Cryptid Cutie," RIGHT HERE.
Blight The Way will be available on August 4th. As with all Syrup Moose releases, the physical release will have an accompanying Tarot card and cassette release. Find preorders HERE.
Stand by for additional updates, audio previews, bloody stumps, terrible puns, and more to be issued shortly.
Blight The Way Track Listing:
1. Dismembers Only
2. Cryptid Cutie
3. Florida Man Hails Satan
4. Too Ugly To Live, Too Dumb To Die
5. Moms Away II: Dad's Bod
6. Bible-Belt Baby Buffet
7. Death Will Not Be Enough
8. Grassquatch
9. Walpurgis Date-Night
10. Acephalophilia III: Hopelessly Headless For You
https://www.facebook.com/blighthouse
https://blighthouse.bandcamp.com
https://syrupmooserecords.bandcamp.com
https://www.instagram.com/syrupmooserecords
https://twitter.com/thesyrupmoose
https://www.facebook.com/people/Syrup-Moose-Records/100090295992935/