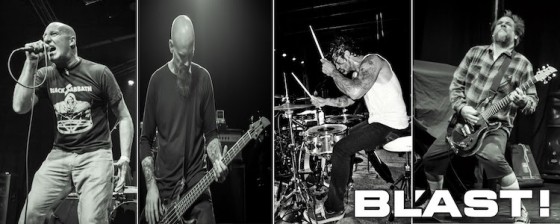 Iconic Santa Cruz heavy fusion act, BL'AST!, has confirmed a string of European tour dates this June, surrounded by widespread North American performances in May and July, in addition to a revamped live lineup. Original BL'AST! alumni, vocalist Clifford Dinsmore (also of Dusted Angel, Gargantula) and guitarist Mike Neider (LAB) will be joined by Nick Oliveri (Kyuss, Queens of the Stone Age, Mondo Generator) on bass and Joey Castillo (Queens Of The Stone Age, Danzig, Eagles Of Death Metal & Wasted Youth) on drums for the upcoming multi-continental run of upcoming tour dates, which will see the band invading multiple major festivals including Scion Rock Fest, Rain Fest, Hellfest, Roskilde and This Is Hardcore.
On the subject of touring Europe, Mike Neider comments, "We couldn't have asked for a more perfect fit. Joey and Nick have shown tons of respect to the music and have added their blood to make even more manic and heavy! BL'AST! Is in full sound assault mode! We are looking forward to the upcoming dates, honestly, it feels never better! And to come over for the first time at this point in time will be a great display of heavy!" Vocalist Cliff Dinsmore adds, "We have such an amazing band chemistry going on right now…it's beyond anything I've experienced in all my years of playing with BL'AST! Nick and Joey's contribution to the band has brought it to a level of tightness and intensity that is totally insane!"
Oliveri and Castillo haven't played together since Queens Of The Stone Age over ten years ago. Joey C has this to say about being part of BL'AST!: "Very Stoked to be playing with BL'AST! for a couple reasons: I go way back with the guys, be it when I was a kid playing in Wasted Youth, we did shows together, and I was always a fan. And obviously playing again with Nick Oliveri, my other old friend from our days in QOTSA together, makes it even that much greater and fun! Can't wait to get overseas to show what BL'AST! is all about, see ya soon!" Finally, Nick Oliveri sums things up perfectly, stating, "BL'AST! is like getting your ass kicked and liking it. I saw them play when I was younger with Exploited. Bands like these change lives. It is an honor to play with Mike, Clifford, and I'm really stoked to be playing with Joey C again. We are gonna kill it."
BL'AST! Tour Dates:
5/17/2014 The Glass House – Pomona, CA @ Scion Rock Fest
5/23/2014 Star Theatre – Portland, OR
5/24/2014 Neumo`s – Seattle, WA @ Rain Fest
5/25/2014 Highline – Seattle, WA
6/21/2014 Hellfest – Clisson, France
6/23/2014 Stick Mikes – Brighton, UK
6/24/2014 The Fleece – Bristol, UK
6/25/2014 Star and Garter – Manchester, UK
6/26/2014 Audio – Glasgow, UK
6/27/2014 Underworld – London, UK
6/28/2014 Schlachthof – Wiesbaden, Germany
6/29/2014 PMK – Innsbruck, Austria
6/30/2014 Freakout Club – Bologna, Italy
7/01/2014 Lo Fi Club – Milano, Italy
7/02/2014 Vipor Room – Wien, Austria
7/03/2014 Magnet – Berlin, Germany
7/04/2014 Roskilde Festival 2014 – Roskilde, Denmark
7/24-27/2014 Electric Factory – Philadelphia, PA @ This Is Hardcore Fest
In 2013 Southern Lord released the newly-revamped vintage recordings from BL'AST! in the form of the Blood! LP, the recording mixed by Dave Grohl at his 606 Studios on the legendary Neve console as featured in the recent Grohl-produced documentary Sound City. Then in March of this year the label released The Expression Of Power, including several different sessions/recordings of the band's seminal debut LP, The Power of Expression. The new issue features fully remastered audio by Brad Boatright at Audiosiege and includes a twenty-eight page booklet with tons of BL'AST! photos from the mid-'80s.
BL'AST!'s boundary-pushing form of hardcore, advanced musicianship, unstoppable energy and intense perseverance is as prominent now as it ever was.
https://www.facebook.com/pages/Blast/44354206391
http://www.blastofficial.com
http://www.southernlord.com
http://twitter.com/twatterlord
http://southernlord.bandcamp.com
http://www.facebook.com/SLadmin