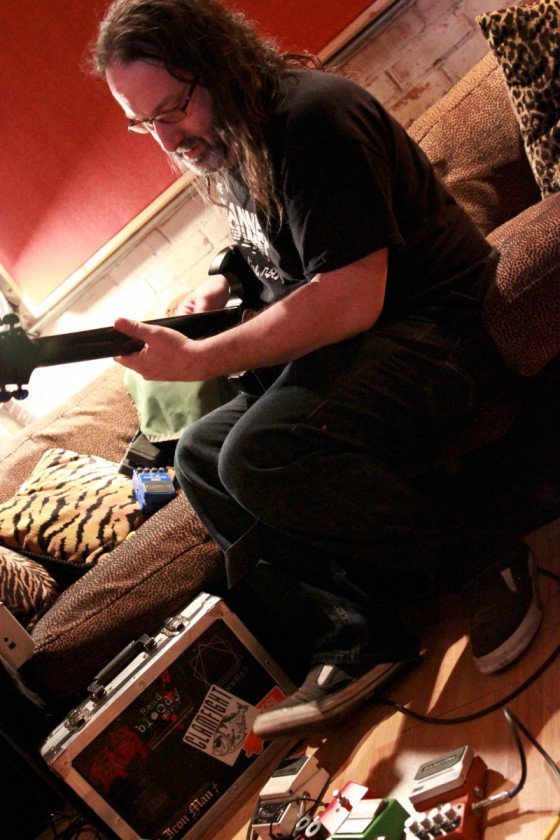 Progressive drone project, BLACKWOLFGOAT is the solo vessel of guitarist Darryl Shepard (Black Pyramid, The Scimitar, Hackman, Milligram, Roadsaw) specializing in looped guitar movements, building and layering upon each other to create compositions of dense distortion and delicate lines, as well as purely ambient pieces. Shepard's BLACKWOLFGOAT will unleash a brand new full-length entitled Drone Maintenance later this month via Small Stone.
As a precursor to its unveiling, Cvlt Nation is currently streaming second track, "Notausgang." Comments Shepard, "'Notausgang' is a psychedelic guitar freak-out, definitely different from anything BLACKWOLFGOAT has done before. It was inspired by bands like Guru Guru and Ash Ra Tempel, German bands from the late '60s and early '70s who had lots of crazy guitar stuff going on in their songs. And Jimi Hendrix too, there's definitely some Hendrix influence in there as well. It's basically just a straight up guitar freak-out."
Adds Cvlt Nation, "Drone Maintenance invites us into an alternate, futuristic dimension, where we see life through the eyes of a drone repairman, and the music invokes a strange feeling, one of being the last human job on a mechanized planet, but not necessarily in a dystopic way."
Engineered and mixed by Glenn Smith (Tired Old Bones Ehnahre, Ichabod et al) at his Amps vs. Ohms studios in Cambridge, Massachusetts, the ten-track Drone Maintenance is a quasi-concept album that sends Shepard into the future as a drone repairman, fixing and servicing rogue drones. Musically, BLACKWOLFGOAT's palette has expanded to include acoustic guitar and judiciously applied vocal parts, but the main focus remains the electric guitar itself – without any other instrumentation or ulterior motives, and frequently captured live in one take with minimal overdubs of carefully considered embellishments added to the base layer. Inspired by early-'70s fusion, Krautrock, (Randy Holden's Population II) and suffocating doom, each song could serve as a soundtrack for an as-yet-unrealized film, yet they stand on their own and transduce their own moods. Drone Maintenance urges listeners to leave all preconceptions of traditional music at the door and take an audio journey to places both bathed in sunlight and cloaked in darkness. Additionally, Drone Maintenance boasts another otherworldly creation from renowned artist Alexander von Wieding (Karma To Burn, Monster Magnet, Trouble, etc.).
BLACKWOLFGOAT's Drone Maintenance will be released via Small Stone Recordings August 26th, 2014. Preorder your copy today at THIS LOCATION where you can also sample closing track, "Cyclopian Utopia."
http://www.facebook.com/blackwolfgoat
http://www.smallstone.com
http://www.facebook.com/smallstonerecords?fref=ts