"…a hard-hitting, late '70s heavy metal concoction of Thin Lizzy-style double lead guitar harmonic assaults alongside the elemental proto-thrash of Celtic Frost, played in the supercharged vein of High On Fire and rounded off with some satisfying '70s Sabbathy swing…" — Team Rock
Livin' Oblivion is the latest full-length from vintage heavy metal titans BLACK WIZARD. Out now in Europe, the nine-track offering will see US release on March 16th via Listenable Records. Livin' Oblivion centers itself on the obliteration or slow decay of one's self, morals, and life as we know it. "We are living in an age where the powers of the world are taking steps backwards and moving away from a positive future," elaborates the band. "There's a large number of disenfranchised youth and young adults who would rather live their lives in oblivion – drinking, drugs, partying etc. – than chasing any kind of future or dreams, simply because the rest of the world seems to be falling apart around them."
Stream BLACK WIZARD's Livin' Oblivion in its smoking entirety at THIS LOCATION.
View the band's performance video for "Feast Or Famine," initially premiered by Decibel Magazine, below.
For Livin' Oblivion ordering info visit THIS LOCATION.
In an advance review of the record, Team Rock hails a, "hard-hitting, late '70s heavy metal concoction of Thin Lizzy-style double lead guitar harmonic assaults alongside the elemental proto-thrash of Celtic Frost, played in the supercharged vein of High On Fire and rounded off with some satisfying '70s Sabbathy swing," furthering, "Sections of speedy Kill 'Em All and Ride The Lightning-era Metallica melodics unite with plenty of swelling feelgood groove, making for a righteous mixed bag that ditches the tried and tested stoner doom formula. From the proto-mastodon sound of 'Two Of These Nights' to 'Eternal Illusion"s ruffled psychedelia, BLACK WIZARD clearly operate as a labor of love and offer an urgency and vitality that is often lost when embracing classic rock sounds." Hellbound observes, "The title track is a solid mid-tempo stomp that successfully grafts a couple mid-tempo thrash riffs onto some classic doom (think Trouble, Candlemass et al.). In stark contrast, 'Portraits' thrashes and burns like vintage Razor or maybe even pimple-faced Metallica. You get the distinct feeling that these guys worship the '80s more than the 'stoner doom' stylings of recent years — and the result is quite refreshing." Adds Vancity Rockers, "BLACK WIZARD's fourth album is a doozy. Already one of the Lower Mainland's best metal bands, the boys have outdone themselves with this release… BLACK WIZARD pays tribute to some of the greats, right the way from Black Sabbath through the Scorpions and Metallica up to the present day. That mixture of influences prevents the album from growing stale at any point. Whatever genre the BLACK WIZARD boys channel on a particular track, they manage to make it truly their own."
In conjunction with the release of Livin' Oblivion, BLACK WIZARD will return to Europe this week on a twenty-two date tour alongside Anciients. The journey begins March 1st in Antwerp, Belgium and ends March 30th in Utrecht, Netherlands with additional live adventures in the plotting stages. See all confirmed dates below.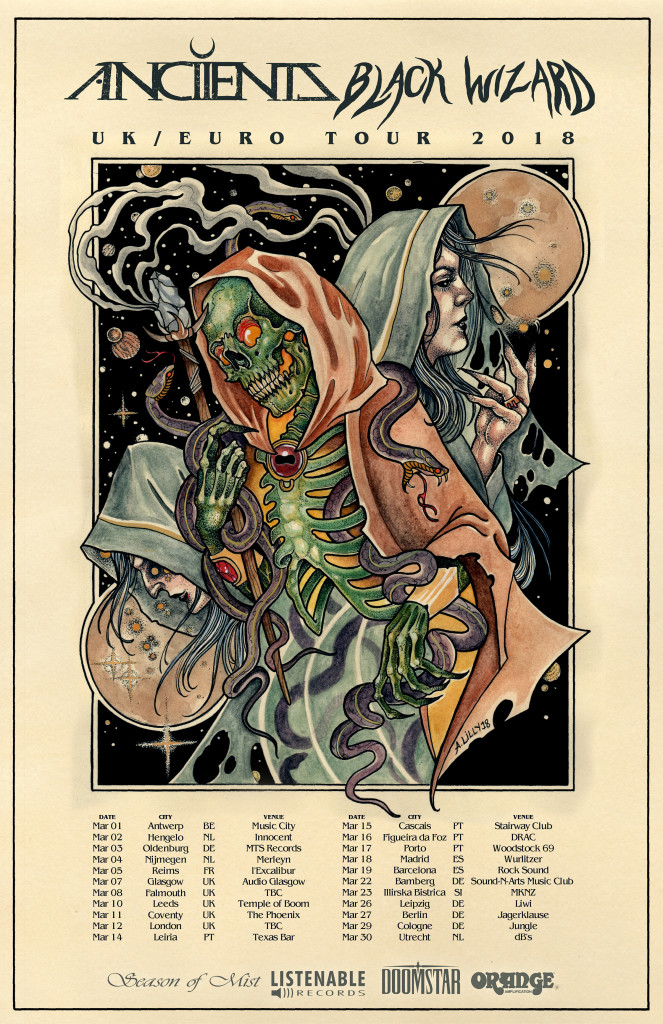 BLACK WIZARD w/ Anciients:
3/01/2018 Music City – Antwerp, BE
3/02/2018 Innocent – Hengelo, NL
3/03/2018 MTS Records – Oldenburg, DE
3/04/2018 Merleyn – Nijmegen, NL
3/05/2018 Excalibur – Reims, FR
3/07/2018 Ivory Blacks – Glasgow, UK
3/08/2018 TBC – Falmouth, UK
3/10/2018 Temple Of Boom – Leeds, UK
3/11/2018 The Phoenix – Coventy, UK
3/12/2018 The Black Heart – London, UK
3/14/2018 Texas Bar – Leiria, PT
3/15/2018 Stairway Club – Cascais, PT
3/16/2018 DRAC – Figueira da Foz, PT
3/17/2018 Woodstock 69 – Porto, PT
3/18/2018 Wurlitzer – Madrid, ES
3/19/2018 Rock Sound – Barcelona, ES
3/22/2018 Sound-N-Arts Music Club – Bamberg, DE
3/23/2018 MKNZ – Illirska Bistrica, SL
3/26/2018 Liwi – Leipzig, DE
3/27/2018 Jagerklause – Berlin, DE
3/29/2018 Jungle – Cologne, DE
3/30/2018 dB's – Utrecht, NL
Hailing from Vancouver, British Columbia, BLACK WIZARD was forged in 2009 between high school friends. Founding members vocalist/guitarist Adam Grant and drummer Eugene Parkomenko worked underwhelming construction jobs at the time, passing the days to the sounds of Thin Lizzy, Deep Purple, Witch, and Electric Wizard. Today, Parkomenko and Grant are accompanied by guitarist Danny Stokes and basisst Evan Joel. Having followed a true DIY aesthetic, the band has released three full-length LPs along with a 7″ single independently and sold over five thousand copies worldwide. In classic WIZ fashion, Livin' Oblivion has evolved from their previous efforts boasting a bigger, heavier, sharper, and louder approach than ever before. Faster thrash elements have been added, while staying true to that sultry, Thin Lizzy-esque twin lead vibe throughout.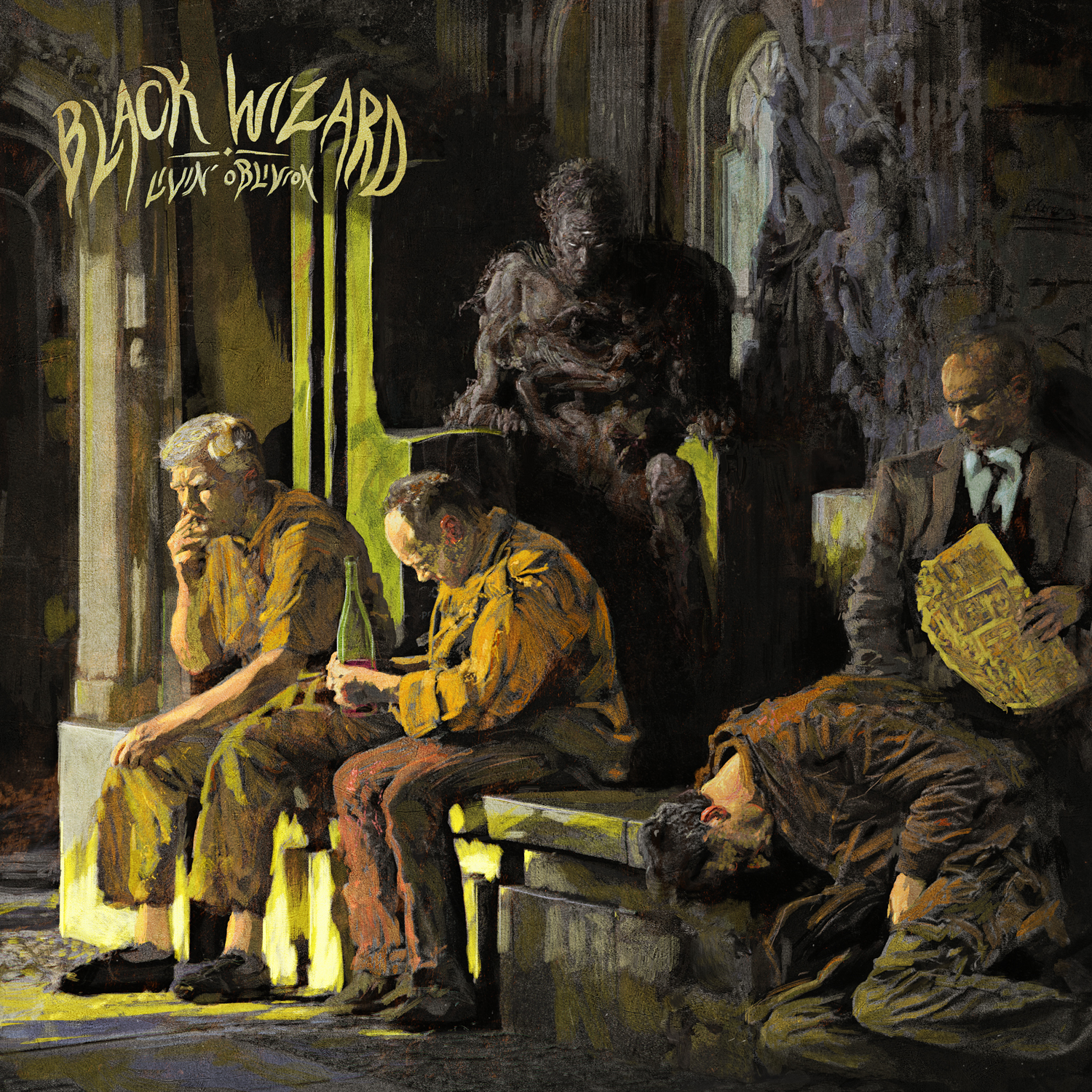 http://www.facebook.com/blackwizardband/
http://www.facebook.com/listenablerecs
http://www.listenable.net