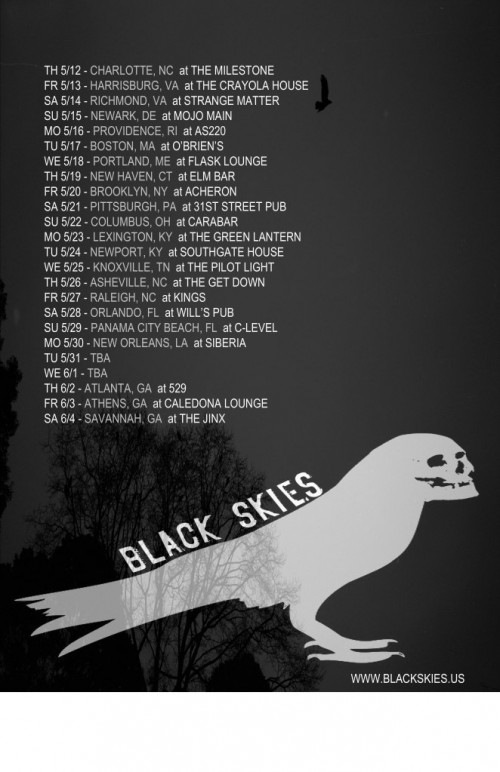 North Carolina power trio, BLACK SKIES, will kick off their near-month long U.S. tour today in Charlotte. The trek will rock its way through another 23 cities including a host of East Coast locales they've yet to play. The band will be joined by a who's who of awesome along the way including USX, Backwoods Payback, Generation of Vipers, Caltrop, Sons Of Tonatiuh and others.
In celebration of the tour commencement, the fine folks at The Obelisk are currently streaming a new track off BLACK SKIES' soon-to-be-unleashed new full length, On The Wings Of Time. Check out "Valley Of The Kings" HERE.
The follow-up to 2008's Hexagon EP, On The Wings Of Time was recorded, produced and mastered by Harvey Milk's Kyle Spence at his own RJS studios in Athens, Georgia.
he Chapel Hill natives — Clark, Tim Herzog (drums) and Michelle Temple (bass, vocals, booking) — have been tuning down and turning up since late 2005, constantly evolving their aural offerings of psychedelic sludge. With a combination of the foreboding heaviness of blues based proto-metal, the spry attitude and approach of punk, and the dynamics of progressive rock, their songs often project a dark & urgent energy.

BLACK SKIES Live – May/June 2011:
5/12/2011 The Milestone – Charlotte, NC w/ Trade, Towering Pyre
5/13/2011 The Crayola House – Harrisonburg, VA w/ Backwoods Payback, Earthling, Trade
5/14/2011 Strange Matter – Richmond, VA w/ Backwoods Payback
5/15/2011 Mojo Main – Newark, DE w/ Backwoods Payback, Holy Dirt, Bubonic Bear
5/16/2011 AS220 – Providence, RI w/ Woozy, She Rides, Villainer
5/17/2011 O'Brien's – Boston, MA w/ Phantom Glue, The Proselyte, Jack Burton vs David Lopan
5/18/2011 Flask Lounge – Portland, ME
5/19/2011 Elm Bar – New Haven, CT w/ Atrina
5/20/2011 St. Vitus – Brooklyn, NY w/ Atomic Bitchwax, Weird Owl, Mirror Queen
5/21/2011 31st Street Pub – Pittsburgh, PA w/ Rogue Vessel, Oktober
5/22/2011 Carabar – Columbus, OH w/ Prosanctus Inferi, Witchaven, Nocturnal, Locusta
5/23/2011 The Green Lantern – Lexington, KY w/ Stampede, Below
5/24/2011 Southgate House – Indianapolis, IN w/ Mala In Se, New Third Worlds
5/25/2011 The Pilot Light – Knoxville, KY w/ US Christmas, Generation of Vipers
5/26/2011 The Get Down – Asheville, NC w/ US Christmas, Generation of Vipers, Caltrop
5/27/2011 King's – Raleigh, NC w/ US Christmas, Caltrop, Royal Thunder
5/28/2011 Will's Pub – Orlando, FL w/ Caltrop, Royal Thunder, Druid Lord, Junior Bruce
5/29/2011 C-Level – Panama City Beach w/ Caltrop, Royal Thunder, Death Before Dying
5/30/2011 Siberia – NOLA w/ Caltrop, Royal Thunder
5/31/2011 Hi-Tone – Memphis, TN w/ Caltrop, Royal Thunder
6/01/2011 The Nick – Birmingham, AL w/ Caltrop, Royal Thunder
6/02/2011 529 – Atlanta, GA w/ Caltrop, Royal Thunder, Sons Of Tonatiuh
6/03/2011 Caledonia Lounge – Athens, GA w/ Caltrop
6/04/2011 The Jinx – Savannah, GA w/ Caltrop
http://www.blackskies.us
http://www.facebook.com/blackskiesnc
http://www.myspace.com/losblackskies