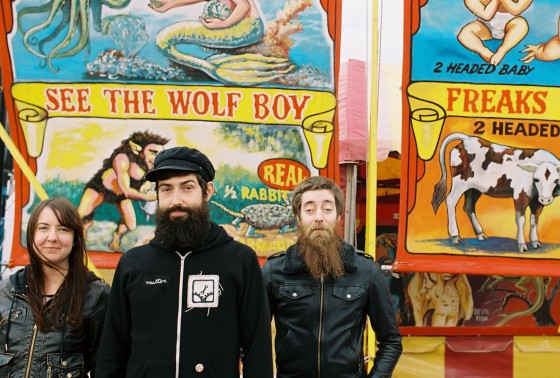 Heavy rock trio BLACK SKIES recently returned from a 16-date North American tour. Commented the band in a collective statement:
"Thanks a ton to MAKE & Vaz for joining us on parts of this last run. Getting to play with bands you enjoy not only musically, but also as people really makes the whole experience that much better. Thanks also to all the venues, promoters, and other bands for helping make this such an enjoyable time. Thanks to Mother Nature for being cooperative and allowing us and our friends to travel safely. Most importantly, thanks to all of those who came to the shows and supported us by buying merch, giving us places to stay, etc. You are the reason we can do this.
This was the last tour we'll be doing for a while, as we plan to take a break from touring over the next several months to focus on writing and other obligations not related to the band. With that in mind, having a good trip before this break was something very important to us, so thanks again to everyone who made it possible. We'll see you soon with new songs. Until then, take care and be good to each other!"

Check out some live footage of the band (courtesy of Dan Andrews of Trickledown Productions) below.
BLACK SKIES have been tuning down and turning up since late 2005, constantly evolving their aural offerings of psychedelic sludge. With a combination of the foreboding heaviness of blues based proto-metal, the spry attitude and approach of punk, and the dynamics of progressive rock, their songs often project a dark and urgent energy. The band's recently released On The Wings Of Time full-length is currently available on digital download cards included with the purchase of a limited edition, silk-screened poster. A CD version with alternate cover art is also available. Check the band's website for further info. You can also check out the record in its entirety at official BLACK SKIES BandCamp page." Said Creative Loafing of On The Wings Of Time: "BLACK SKIES play like an amped-up version of Sleep: think stoner metal on a caffeine bender. It's visceral hard rock defined by low-end, hypnotic riffing." Added The Kalidiaries: "On the Wings of Time is a head banging punk rock ear fest with a loverly heavy grunge metal tinge… It's a loud cacophony of guitars with understated vocals. It's music to lose yourself in."
http://www.blackskies.us
http://www.facebook.com/blackskiesnc
http://www.myspace.com/losblackskies