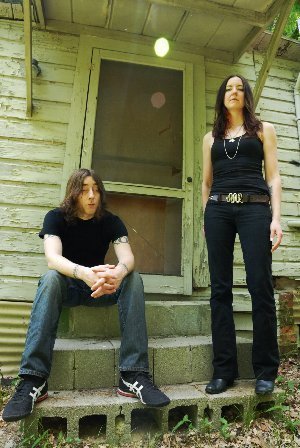 North Carolina disciples of doom, BLACK SKIES, kick off their US tour today at The Smiling Moose in Pittsburgh, Pennsylvania. The band is hitting the road with a new lineup, new songs and a high energy live display of sonic power they've built their name upon. Founding members Kevin Clark and Michelle Temple will be joined by ex-Des Ark drummer Tim Herzog.
Said guitarist Kevin Clark of the band's pre-tour kick off show this past weekend before jumping in the van this morning: "We were only able to get in a handful of rehearsals before the show, but Tim has did a fantastic job of being prepared and it showed. Playing with two amazing bands, Hog and Caltrop, we felt a good bit of pressure to step it up… first show or not. The crowd was great… supportive, complimentary…they really seemed into both the new songs and especially with how well Tim's playing fits with the band. Being that this show was in our hometown, there were a good number of people there who've seen all the different incarnations of BLACK SKIES, and it was good to hear how many of them think this is the best yet. It might still be early, but we get that feeling, too. So, we're happy to have that first show behind us and are looking forward to getting several more under our belts over the next few weeks."
Check out live footage of BLACK SKIES earlier this spring at the Milestone in Charlotte, North Carolina. (note: footage does not feature Tim Herzog):
BLACK SKIES released their Hexagon EP on vinyl last year via underground Chicago imprint I'm Better Than Everyone Records. Featuring songs made of heavy, well-thought out (and equally well-executed) riffs alongside churning organic grooves, Hexagon sports a tonal chemistry befitting of a legendary band sharing the same initials, yet with a decidedly American flavor. Through hard work and a DIY drive, BLACK SKIES continue gaining momentum with their live output.
BLACK SKIES Tour Dates – July 2010:
7/01/2010 The Smiling Moose – Pittsburgh, PA w/ Del Rios, Rogue Vessel
7/02/2010 The Summit – Columbus, OH w/ Lo-Pan,
7/03/2010 Cobra Lounge – Chicago, IL w/ Hunters, Mystery Pill (members of Minsk), Rebreather
7/05/2010 Blue Moose Tap House – Iowa City w/ Lord Green
7/07/2010 3 Kings Tavern – Denver, CO w/ Black Lamb
7/08/2010 Burt's Tiki Lounge – Salt Lake City, UT w/ Old Timer
7/09/2010 Rocky Canyon – Boise, ID w/ Beautician, Uzala
7/10/2010 The Comet – Seattle, WA w/ Triumph Of Lethargy, Baltic Cousins
7/11/2010 Rotture – Portland, OR w/ Salvador, Norska
7/12/2010 Jambalaya – Arcata, CA w/ Sean
7/13/2010 The Hemlock Tavern – San Francisco, CA w/ Prizehog, Flood
7/14/2010 The Stork Club – Oakland, CA w/ Prizehog, A Fashionable Disease
7/16/2010 Relax Bar – Los Angeles, CA w/ Music Hates You
7/17/2010 The Rogue Bar – Scottsdale, AZ w/ Via Vengeance
7/18/2010 Rio Grande Satanical Gardens – Albuquerque, NM w/ Leeches Of Lore
7/21/2010 Checkpoint Charlie's – New Orleans, LA w/ Landmine Marathon, Classhole (members of Eyehategod, Hawg Jaw, Spickle, Outlaw Order)
7/23/2010 The Buccaneer Lounge – Memphis, TN w/ Galaxicon
7/24/2010 Springwater Supper Club – Nashville, TN w/ I Am The Tower, Across Tundras
http://www.blackskies.us
http://www.myspace.com/losblackskies
BLACK SKIES Press Page:
http://www.blackskies.us/EarsplitPR