San Francisco shredders, BLACK COBRA, will kick off their latest run of tour actions this evening, Thursday, May 22nd, in their hometown, after which they'll rip through Fresno, Pacifica, Portland and Seattle over the next five days. Support will be provided on all shows by The Cutthroats 9 and Wizard Rifle, the latter of which replaces Norway's Arabrot who pulled out of the tour due to a medical emergency.
Following this run, BLACK COBRA will decimate Canada on their most intensive tour of the country yet, co-headlining alongside Anciients, with support from openers, Black Wizard. The ceremonies begin on June 20th when the tour kicks off as part of the five-day Sled Island Festival in Calgary, Alberta, joining Spiritualized, Neko Case, Rocket From The Crypt, Mission Of Burma, Bob Mould, Chelsea Wolfe, labelmates Power Trip and countless more. An additional three weeks of hardcore inundation of the Canadian population follows, before the tour closes down at the Armstrong MetalFest in Armstrong, British Columbia on July 19th.
BLACK COBRA is currently constructing highly volatile new material; stand by for additional news on the band's 2014 actions to be released in the near future.
BLACK COBRA West Coast Tour w/ The Cutthroats 9, Wizard Rifle:
5/22/2014 Slims – San Francisco, CA [tickets]
5/23/2014 Audies Olympic – Fresno, CA
5/24/2014 Winters Tavern – Pacifica, CA
5/25/2014 Rotture – Portland, OR [tickets]
5/26/2014 El Corazon – Seattle, WA [tickets]
BLACK COBRA Canadian Tour w/ Anciients, Black Wizard:
6/20/2014 Sled Island Festival – Calgary, AB
6/21/2014 Rock Bottom – Saskatoon, SK
6/22/2014 The Zoo – Winnipeg, MB
6/26/2014 Il Motore – Montreal, QC
6/27/2014 Mavericks – Ottawa, ON [tickets]
6/28/2014 Bar Le Magog – Sherbrooke, QC [tickets]
6/29/2014 Cactus Show Bar – Rimouski, QC [tickets]
6/30/2014 The Capital Winter Club – Fredericton, NB [tickets]
7/02/2014 Hunter's Ale House – Charlottetown, PEI [tickets]
7/03/2014 The Caveau – Moncton, NB [tickets]
7/04/2014 Michael's – Halifax, NS [tickets]
7/05/2014 Rock Cafe le Stage – Trois-Rivieres, QC [tickets]
7/06/2014 L'Agitee – Quebec City, QC [tickets]
7/08/2014 The Mansion – Kingston, ON [tickets]
7/10/2014 Call the Office – London, ON [tickets]
7/11/2014 El Mocambo – Toronto, ON [tickets]
7/13/2014 Canadian Nightclub – Sault Ste Marie, ON [tickets]
7/14/2014 Crocks – Thunder Bay, ON [tickets]
7/17/2014 The Exchange – Regina, SK
7/18/2014 The Pawn Shop – Edmonton, AB [tickets]
7/19/2014 Hassen Arena – Armstrong, BC @ Armstrong MetalFest [tickets]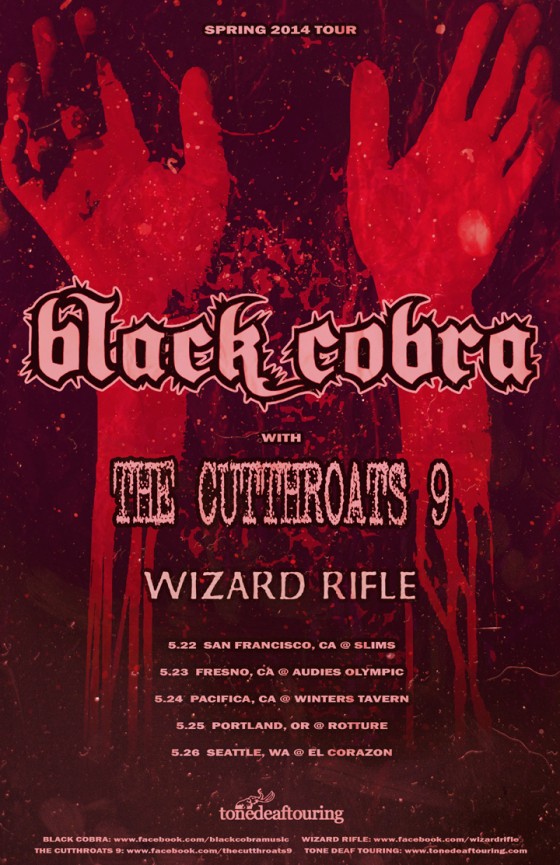 http://blackcobra.net
http://www.facebook.com/blackcobramusic
http://www.twitter.com/blackcobramusic
http://www.southernlord.com
http://southernlord.bandcamp.com