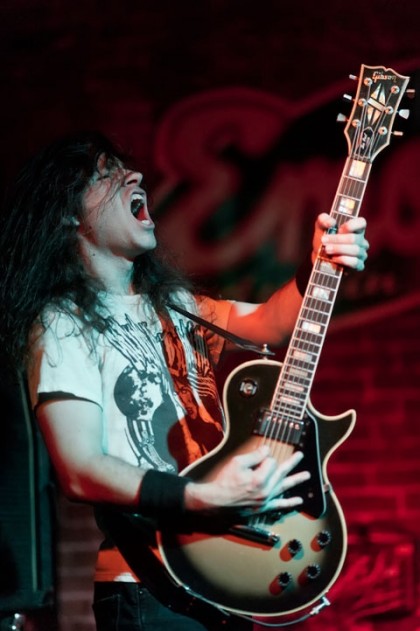 The planet's most dynamically wicked duo, BLACK COBRA, have been confirmed as one of the support acts for crossover kings Corrosion Of Conformity's June tour, the diverse lineup also including Torche and Gaza. The rampage will begin June 1st and surge clockwise through North America with 18 dates confirmed through June 23rd as of now.
This stateside trek will follow BLACK COBRA's scheduled European tour also supporting COC along with Zoroaster, the fun to begin on April 4th and leading up to the band's performance at the annual Roadburn Festival in Tilburg, Holland.
Before that mayhem goes down, BLACK COBRA are already confirmed for some massive action at SXSW next week. Wednesday will see the 'COBRA coiled on stage at the ToneDeaf Touring showcase, sharing the stage with Saviours, Rwake, A Storm of Light, Zoroaster, and headliners Corrosion Of Conformity. Then on Friday they take the stage at the massive "Death Match" event — hosted by Thrasher Magazine and Converse, curated by The Power of the Riff, Southern Lord and Brooklyn Vegan — the monolithic day show featuring OFF!, Trash Talk, Ceremony, Heartless, Code Orange Kids, Deafheaven, Full Of Hell, Balaclava, Dead In The Dirt and headliners High On Fire, of course in addition to BLACK COBRA's devastating mid-lineup appearance.
BLACK COBRA at SXSW:
3/14/2012 Dirty Dog – Austin, TX @ ToneDeaf SXSW showcase w/ COC, Saviours, Rwake, A Storm of Light, Zoroaster
3/16/2012 Scoot Inn – Austin, TX @ TPOTR/Southern Lord/Brooklyn Vegan day show w/ High On Fire, OFF!, Trash Talk, Ceremony, Heartless, Dead In The Dirt, more
BLACK COBRA European Tour w/ Corrosion of Conformity, Zoroaster:
4/04/2012 Schurr – Luzern, Switzerland
4/05/2012 Keller Club – Stuttgart, Germany
4/06/2012 Kulturfabrik – Esch-sur-Alzette, Luxemburg
4/07/2012 Trix – Antwerp, Belgium
4/08/2012 Desertfest – London, UK
4/09/2012 Matrix – Bochum, Germany
4/10/2012 Amadeus – Oldenburg, Germany
4/11/2012 Conne Island – Leipzig, Germany
4/12/2012 Arena – Wien, Austria
4/13/2012 Rock and Roll Club – Romagnano Sesia, Italy
4/14/2012 Feierwerk – Muchen, Germany
4/15/2012 Roadburn Festival – Tilburg, Holland
BLACK COBRA June Tour w/ Corrosion Of Conformity, Torche, Gaza:
6/01/2012 Amos Southend – Charlotte, NC [tickets]
6/03/2012 Exit/In – Nashville, TN [tickets]
6/05/2012 Conservatory – Oklahoma City, OK [tickets]
6/07/2012 Club 910 – Tempe, AZ [tickets]
6/08/2012 Ink-N-Iron Festival @ The Queen Mary – Long Beach, CA w/ Suicidal Tendencies, TSOL, Torche, Pennywise, COC, more [tickets]
6/09/2012 Slim's – San Francisco, CA [tickets]
6/11/2012 Studio Seven – Seattle, WA [tickets]
6/12/2012 Hawthorne Theatre – Portland, OR [tickets]
6/13/2012 Rickshaw Theatre – Vancouver, BC [tickets]
6/15/2012 Urban Lounge – Salt Lake City, UT [tickets]
6/16/2012 Summit – Denver, CO [tickets]
6/18/2012 Firebird – St. Louis, MO [tickets]
6/19/2012 The Ballroom @ The Taft Theatre – Cincinnati, OH [tickets]
6/20/2012 Machine Shop – Flint, MI [tickets]
6/21/2012 The Opera House – Toronto, ON [tickets]
6/22/2012 Foufounes Electriques – Montreal, QC [tickets]
6/23/2012 Middle East – Boston, MA [tickets]
BLACK COBRA's fourth LP — and second for Southern Lord — the thunderous Invernal was recorded in eight days last July at Converge guitarist Kurt Ballou's God City Studio and mastered by John Golden (Neurosis, Melvins, Weedeater, countless more). The theme to the entire record is based on a post-apocalyptic trek to a nuclear infested and mutated Antarctica, inspired in part by the treks of English researcher Ernest Shackleton. Music critics and fans across the globe are calling it the band's strongest and most dynamic work to date, with massive amounts of acclaim still rolling in since before the album's release in October.
"#1 Hard Rock Album of 2011" – Magnet Magazine
"Theirs is a sound of thorough desolation, and their most recent studio album, Invernal, their third full-length, is undoubtedly the best representation yet of their sophisticated brutality and mesmerizing heaviness." – The Aquarian Weekly
"…the songwriting itself finds Black Cobra at the peak of their abilities, and there isn't a false note anywhere to be found… 8/10" – Metal Injection
"…like a shotgun blast of thumb tacks, gravel and raw amphetamine – point blank to the face." – The Bone Reader
"As the band marks its 10th anniversary in 2011, they do so with their greatest achievement yet. This is what metal should be." – The Obelisk
"…a band that seems to always improve on its punishing formula." – Music Emissions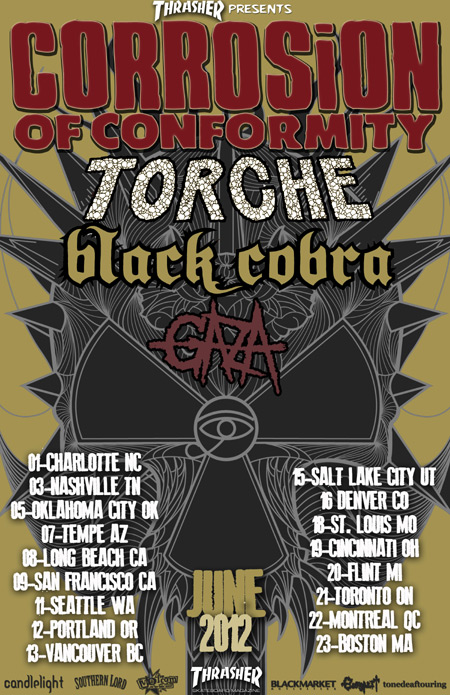 http://blackcobra.net
http://www.facebook.com/blackcobramusic
http://www.twitter.com/blackcobramusic
http://www.southernlord.com
http://blog.southernlord.com
http://twitter.com/twatterlord