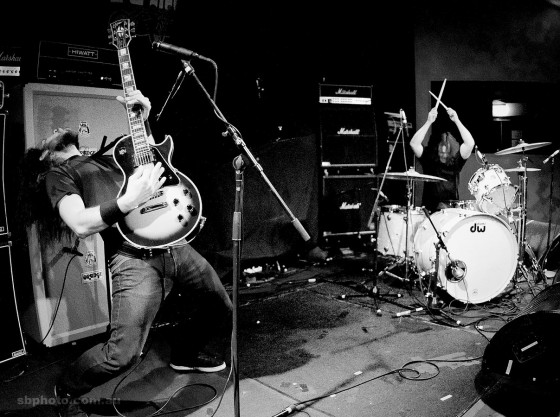 San Francisco's strenuous metal/doom duo, BLACK COBRA, has unfortunately been denied access into the United States' northern neighboring country.
While amidst their North American tour — which was nearly entirely comprised of Canadian dates, with BLACK COBRA co-headlining alongside Anciients, with opening support from Black Wizard — the band was denied entry into the country for virtually no reason. Having invested thousands of dollars into merch for the tour, they decided to tough it out and try again at a different access point, where again they were denied, with no explanation, and after thorough inspections of their vehicle and gear. This forced the band to return to California instead of performing in more than twenty cities across Canada.
BLACK COBRA today issued the following collective statement to their fans on the debacle: "As many of you already know, we were denied entry at the border of Canada. Because of the financial strain this has put on us, we were forced to cancel the remaining tour dates in the US as well. In the meantime, we will continue working on our forthcoming record and are looking into booking another tour in the US. We apologize to our fans and thank you for your continued support."
New US BLACK COBRA tour actions will be confirmed immediately and announced in the coming days; no Canadian dates will be scheduled. Stay tuned for further transmissions.
http://blackcobra.net
http://www.facebook.com/blackcobramusic
http://www.twitter.com/blackcobramusic
http://www.southernlord.com
http://southernlord.bandcamp.com