[photo by Invisible Hour]
Seattle's BLACK BREATH has completed their third LP, Slaves Beyond Death, and is preparing the album for worldwide release this September through Southern Lord Recordings. Additionally, the band has been confirmed to rage the West Coast US alongside Goatsnake, Battalion of Saints and Obliterations in September as part of a West Coast Southern Lord package tour.
Slaves Beyond Death arrives three years after BLACK BREATH's 2012-released Sentenced To Life, a revered album of morbid metal anthems laced with a deadly allure that few could resist. A foul den of thrashing potency, reanimated hardcore muscle and icy death metal, it's a record that partly sets the tone for this nefarious third chapter of the band, but it's safe to say that Slaves Beyond Death represents a harder, bleaker BLACK BREATH than ever before.
Recorded in the Winter months of 2014 at GodCity studio in Salem, Massachusetts with Kurt Ballou (Converge),Slaves Beyond Death delivers the best part of an hour of stern, unforgiving death metal that resonates with the absolute classics of the genre. The Seattle five-piece is entirely relentless in their intensity, presenting innumerable ferocious riffs across the eight songs, with wicked inventiveness at the heart of its might. Galloping, triumphant melodies reminiscent of Sweden lead in to grueling slammers that unravel at a torturer's pace, while the rasping death-rattles from vocalist Neil McAdams paint a vivid picture of unending suffering in life and beyond the grave. Devoid of self-serving technicality and bombast, Slaves Beyond Death works torrents of scorn in to lively, undeniably entertaining songwriting, an enviable quality that has been present in all of BLACK BREATH's material, and is certainly still the case now. With all of the tracks breaching the five-minute mark at least, and a storming crusade of an instrumental closer, BLACK BREATH is taking big strides forward with this album, and it is sure to be one of the highlights of the musical underworld in 2015.
Slaves Beyond Death's artwork was painted by Italy's Paolo Girardi, who most recently created stunning covers for Inquisition, Manilla Road and Bell Witch, and Southern Lord is once again the proud record label behind this monumental release, which will be available on September 25th on digital, CD and LP formats.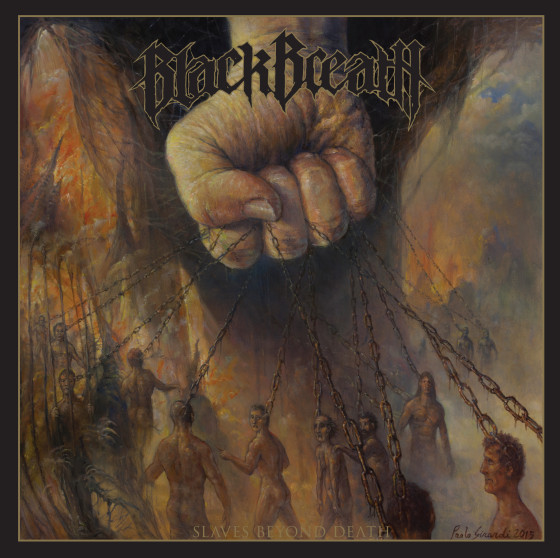 Slaves Beyond Death Track Listing:
1. Pleasure, Pain, Disease
2. Slaves Beyond Death
3. Reaping Flesh
4. Seed Of Cain
5. Arc Of Violence
6. A Place Of Insane Cruelty
7. Burning Hate
8. Chains Of The Afterlife
Following their triumphant North American tour with Goatwhore, Ringworm and Theories, BLACK BREATH will return to the road heavily in support of Slaves Beyond Death beginning with a Southern Lord West Coast tour package also including Goatsnake, Battalion of Saints and Obliterations in September. The final details on the tour are coming together this week, the trek also including a hometown Seattle record release show for Slaves Beyond Death on September 26th.
BLACK BREATH on Southern Lord Tour w/ Goatsnake, Battalion Of Saints, Obliterations:
9/16/2015 Mystery Box – Los Angeles, CA [info]
9/17/2015 Alexs' Bar – Long Beach, CA [info]
9/19/2015 Brick By Brick – San Diego, CA [info]
9/20/2015 Club Red – Mesa, AZ [info]
9/22/2015 Elbo Room – San Francisco, CA [info]
9/23/2015 Boardwalk – Sacramento, CA [info]
9/24/2015 Catalyst Atrium – Santa Cruz, CA [info]
9/26/2015 Highline – Seattle, WA **BLACK BREATH Slaves Beyond Death record release show [info]
9/27/2015 Hawthorne Theater – Portland, OR
Exhuming the classic Stockholm deathcrush of Dismember and Entombed through a merciless d-beat hardcore delivery, BLACK BREATH has dominated the media and fans alike with their recorded output tenfold with each release since their 2005 inception, having since become an American metal powerhouse and major priority for Southern Lord. The band has overthrown city after city throughout North America, UK, Europe, Japan and Australia on tour alongside the likes of Nasum, Nails, Converge, Victims, Tormented, Corrosion Of Conformity, Christian Mistress, Noothgrush, Rise and Fall, Ringworm, Yautja and Mutilation Rites, has supported Neurosis, Napalm Death, Rotten Sound, Entombed, Sunn O))), Wolves in the Throne Room, Autopsy, DRI, Amorphis, Tragedy, From Ashes Rise and other massive acts, and has performed at major festivals and events including Maryland Deathfest, Sonisphere, Hellfest, Tuska, Fluff Fest, SXSW, The New England Metal & Hardcore Festival, Roadburn, The Power Of The Riff and more.
http://www.blackbreath.com
http://www.blackbreathsl.bandcamp.com
http://www.facebook.com/BLACKBREATH.MUSIC
http://www.southernlord.com
http://www.southernlord.bandcamp.com
http://www.facebook.com/SLadmin
http://www.twitter.com/twatterlord