Seattle's barbaric wrecking crew BLACK BREATH have completed their second LP and are preparing to fire it point blank into the public's face this March. The forthcoming new platter, dubbed Sentenced to Life, is the highly-anticipated follow-up to the band's raging 2010 debut album, Heavy Breathing, which blew away fans of both hardcore-fueled rock and roll and crushing Swedish death metal internationally.
Now in 2012, BLACK BREATH's neck-snapping Sentenced To Life projects an even more vile, metallic sonic attack than its predecessor, bearing is a bit less rock and roll swagger and a showcasing more full-on crushing rage. The album is a product of furious creativity jammed into a short span of time, written in the seemingly endless Winter after returning from their November 2010 European tour.
Bearing 10 thunderous tracks in under 33 minutes, Sentenced To Life features such smashing BLACK BREATH hits as "Feast of the Damned," "Doomed," "Forced Into Possession," "Home of the Grave" and of course the title anthem "Sentenced to Life." The band once again recorded at God City Studios with Kurt Ballou, and had the finished product mastered by Alan Douches at West West Side. Easily the band's most thunderous recording to date, BLACK BREATH sentence every listener to a life of headbanging after spinning this motherfucker.
Sentenced To Life will burst into stores and distros for public armament in March 2012. A final release date, full track listing, cover art and preview of the new album will be announced in the weeks ahead.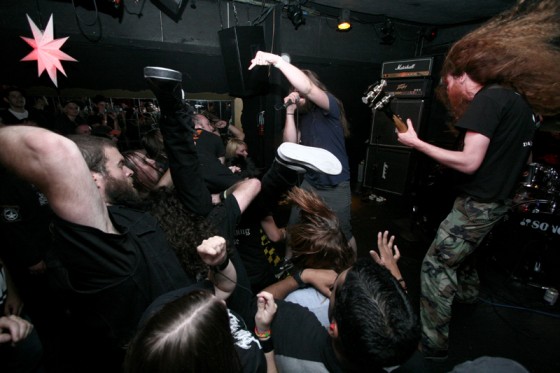 http://blackbreath.com
http://www.facebook.com/BLACKBREATH.MUSIC
http://www.myspace.com/blackbreath
http://www.southernlord.com
http://www.facebook.com/SLadmin
http://twitter.com/twatterlord