[photo by Taylor Ferguson]
The ear-bleeders in Seattle's BLACK BREATH are preparing to level the stages of over three-dozen venues throughout North America this Summer supporting headliners, Goatwhore. Slated to commence on Monday June 8th in Austin, BLACK BREATH will deafen the masses with their maniacal brand of hardcore-laced metallic wrath with additional support provided by Ringworm and Theories. Following the close of the tour on July 12th in Atlanta, the band will embark on a short run of headlining dates through Kansas, Colorado, Utah and Idaho.
BLACK BREATH w/ Goatwhore, Ringworm, Theories:
6/08/2015 Inside @ Red 7 – Austin, TX
6/09/2015 Tricky Falls – El Paso, TX
6/10/2015 Launchpad – Albuquerque, NM
6/11/2015 Club Red – Mesa, AZ
6/12/2015 Soda Bar – San Diego, CA
6/13/2015 Stummer's – Fresno, CA
6/14/2015 The Roxy Theatre – West Hollywood, CA
6/15/2015 The Catalyst Atrium – Santa Cruz, CA
6/16/2015 Oakland Metro Operahouse – Oakland, CA
6/17/2015 Duffy's Hangar – Salem, OR
6/18/2015 The Crocodile – Seattle, WA
6/19/2015 The Rickshaw Theatre – Vancouver, BC
6/20/2015 Level Upstairs – Kelowna, BC
6/21/2015 Dickens Pub – Calgary, AB
6/22/2015 The Starlite – Edmonton, AB
6/23/2015 O'Brian's Event Centre – Saskatoon, SK
6/24/2015 The Exchange – Regina, SK
6/25/2015 The Zoo Cabaret – Winnipeg, MB
6/26/2015 Triple Rock Social Club – Minneapolis, MN
6/27/2015 Reggie's Rock Club – Chicago, IL
6/28/2015 Majestic Jr. – Detroit, MI
6/29/2015 Now That's Class – Cleveland, OH
6/30/2015 The Altar Bar – Pittsburgh, PA
7/01/2015 The Lost Horizon – Syracuse, NY
7/02/2015 Hard Luck Bar – Toronto, ON
7/03/2015 Les Foufounes Electriques – Montreal, QC
7/04/2015 Mavericks – Ottawa, ON
7/05/2015 Brighton Music Hall – Allston, MA
7/06/2015 Saint Vitus Bar – Brooklyn, NY
7/08/2015 Underground Arts: Black Box – Philadelphia, PA
7/09/2015 Rock & Roll Hotel – Washington, DC
7/10/2015 The End – Nashville, TN
7/11/2015 New Brookland Tavern – West Columbia, SC
7/12/2015 The Earl – Atlanta, GA
w/ Theories:
7/13/2015 Jackpot – Lawrence, KS
7/14/2015 Moon Room – Denver, CO
7/15/2015 Kilby Courty – Salt Lake City, UT
7/16/2015 The Shredder – Boise, ID
Reinventing the classic Stockholm deathcrush of Dismember and Entombed through a merciless d-beat hardcore delivery, BLACK BREATH has dominated the media and fans alike with their recorded output tenfold with each release since their 2006 inception, having since become an American metal powerhouse and major priority for Southern Lord. The band has overthrown city after city throughout North America, Europe, Japan and Australia on tour alongside the likes of Nasum, Nails, Converge, Victims, Tormented, Corrosion Of Conformity, Christian Mistress, Noothgrush, Rise and Fall, Ringworm, Yautja and Mutilation Rites, has supported Neurosis, Napalm Death, Rotten Sound, Entombed, Sunn O))), Wolves In The Throne Room, Autopsy, DRI, Amorphis, Tragedy, From Ashes Rise and others, and has performed at major festivals and events including Maryland Deathfest, Sonisphere, Hellfest, Tuska, Fluff Fest, SXSW, The New England Metal & Hardcore Festival, The Power Of The Riff and more.
On their latest bout of live trauma, BLACK BREATH will be touting the tried and true, pit-inducing anthems from their previous releases alongside several brand new tunes from their as-yet-untitled third LP, which was tracked this Winter with Kurt Ballou (Converge) at his Godcity Studio in Salem, Massachusetts. The album's final details are being plotted for release this Fall, once again through Southern Lord Recordings. Stand by for further updates in the coming weeks.
In the meantime a live set from Brooklyn's Saint Vitus Bar at a one-off December gig following the recording sessions in Salem, is playing HERE, and a New York Times piece on the band from the same gig can be found HERE. Also stream the previous Southern Lord-released BLACK BREATH LPs – 2012's Sentenced To Life and 2010's Heavy Breathing RIGHT HERE.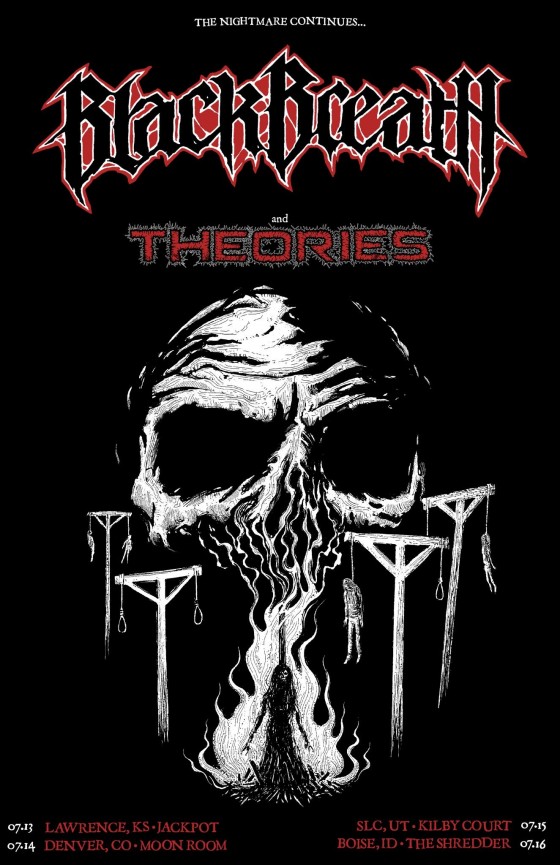 http://www.blackbreath.com
http://www.blackbreathsl.bandcamp.com
http://www.facebook.com/BLACKBREATH.MUSIC
http://www.southernlord.com
http://www.southernlord.bandcamp.com
http://www.facebook.com/SLadmin
http://www.twitter.com/twatterlord