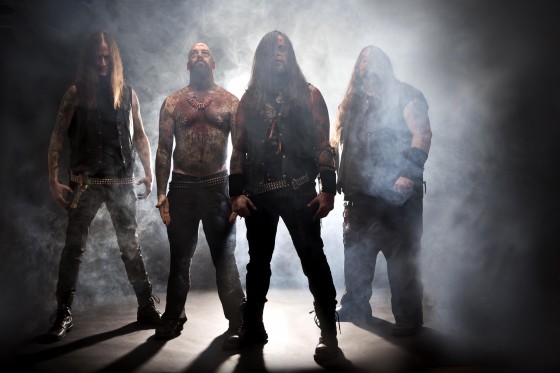 In less than two weeks, Hail Death, the long-anticipated new studio offering from New York's BLACK ANVIL, will rear its gnarled head upon the masses.
Motivated by angst, desolation and personal turmoil, the ten-track Hail Death is at once epic and predatory; an ambitious manifestation of sound that remains true to the band's roots while transcending them in a way that weaves all of their seemingly antagonistic influences into an amalgam of heavy music that's as original as it is consuming. In a recent interview, Noisey proclaims "BLACK ANVIL have written some of the most vicious and satisfying black metal laid to tape in the last few years," furthering that they, "deliver their blackened goods sans corpsepaint but with a distinct New York edge." Elsewhere, Echoes And Dust crowns Hail Death "an arresting, hate-filled, misanthropic taste of New York City and the American dialogue of black metal."
In anticipation of its final descent, today mega music portal, Stereogum, hurls forth sixth track, "Until The End." Epic, morose, ferocious and cerebral, the seven-plus minute solo-drenched number conjures images of imminent destruction. Notes Stereogum: "Where most contemporary bands who crib from late-'80s proto-metal… seem almost reverently referential, BLACK ANVIL are absolutely owning these sounds. It's a hell of an achievement – you can hear everything from Dio to Metallica to Celtic Frost to Bathory in here, but you're never left thinking, 'This is the Dio part, this is the Metallica part …' Hail Death is a pure metal album that relishes in the genre's conventions without feeling conventional: It's simply anthemic, aggressive, bombastic, thrilling, and fucking heavy."
Additionally, you can still stream "Still Reborn" at Noisey at THIS LOCATION as well as "Eventide," on Soundcloud HERE.
As anyone who's witnessed BLACK ANVIL in the live setting already knows, the band's venomous onstage sound and energy is indisputable and Hail Death manages to encapsulate that kinetic liveliness. "We really wanted to capture our live sound on this record which is one of the reasons we went with J. Robbins," drummer Raeph Glicken relays. "We didn't want it to sound perfect; we wanted it to sound like us." Bassist/vocalist Paul Delaney agrees, adding, "We bring it live and I feel confident saying that. We are black metal but we also aren't interested in doing what hundreds of bands have done before," he continues, "We're interested in doing our own thing and this album is the most self-realized expression of that to date."
Following the record's release later this month, on July 20th, 2014 BLACK ANVIL will bring their caustic compositions to the stage of Brooklyn's Saint Vitus Bar where they'll perform Hail Death in its entirety! Sponsored by Noisey, the band will be joined by Psalm Zero, Fantom Warior and Yellow Eyes with additional live infiltrations to be announced in the weeks to come.
BLACK ANVIL Live 2014:
7/20/2014 Saint Vitus – Brooklyn, NY *playing Hail Death in its entirety w/ Psalm Zero, Fantom Warior, Yellow Eyes
Hail Death, which comes festooned in the ominous cover creations of Metastazis (Behemoth, Alcest, Black Dahlia Murder), will be released via Relapse Records in North America/UK/World on May 27th, 2014 preceded by Germany/Benelux/Finland on May 24th, 2014. Recommended for iniquitous souls who worship at the altars of Celtic Frost, Metallica, Bathory, Watain, Emperor, Marduk, and Deströyer 666.
"…a bright, melodic yet venomous new effort that never stays faithful to genre, yet grabs you by the throat and won't let go." — Noisey
Preorder Hail Death today HERE. For itunes preorders, point your bowser HERE.