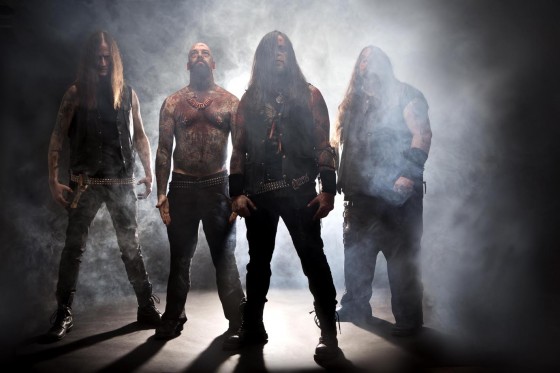 Today the gatekeepers at Loudwire offer up an official premiere of Kiss' "Under The Rose" as interpreted by New York black metal syndicate, BLACK ANVIL. The tune appears on the deluxe edition of Hail Death, released via Relapse Records earlier this year.
Comments bassist/vocalist Paul Delaney, "When I was a kid, The Elder was a hard record to get, at least at the local record stores in Queens at the time. It was the record I knew everyone talked shit about or whatever, and I was just a Kiss maniac so I didn't give a fuck, I wanted it. When I was eight years old I got a Japanese import on cassette. I loved it instantly. When it comes to choosing songs to cover for BLACK ANVIL, there has to be a connection of sorts. Obviously, there are not many songs by Kiss we can cover. We're not a band that sings about partying etc, so it was never a, 'well we should do a Kiss cover!' We were all listening to that record one day, 'Under The Rose' came on and it was unanimous. That song can be interpreted many ways lyrically, and for us, this time in life and the record Hail Death itself, it fits into this picture. So, we were able to pay homage to an important band in a very natural way."
Adds Loudwire, "BLACK ANVIL has cited Kiss as a big influence, and their rendition of 'Under The Rose' is a perfectly haunting and melodic update of the original track, bringing it to a new generation of listeners."

Applauded by Pitchfork for its "impressive balance of progressivism and putridity," and commended by Noisey for delivering some of the most "vicious and satisfying black metal laid to tape in the last few years," the sonic fury encompassing Hail Death was captured at Magpie Cage by J. Robbins of Jawbox, and continues to astound fans and critics both Stateside and beyond for its broad pallet of influences that pay homage to the nefarious likes of Celtic Frost, Metallica, Bathory, Watain and Marduk while maintaining a distinctiveness that can only be called BLACK ANVIL. In celebration of Hail Death's unveiling, the band will bring their corrosive compositions to the stage of Brooklyn's Saint Vitus this Sunday where they'll perform Hail Death in full. Sponsored by Vice's music portal, Noisey, the band will be joined by Psalm Zero, Fantom Warior and Yellow Eyes. Those who can't make it to their Brooklyn takeover will get a chance to see BLACK ANVIL this Fall as they crumble stages across the US on a seventeen-date excursion with Skeletonwitch and Ghoul. See confirmed dates below.
BLACK ANVIL Live 2014:
7/20/2014 Saint Vitus – Brooklyn, NY *playing Hail Death in its entirety w/ Psalm Zero, Fantom Warior, Yellow Eyes [info]
w/ Skeletonwitch, Ghoul:
9/05/2014 Double Door – Chicago, IL
9/06/2014 Agora Ballroom – Cleveland, OH
9/07/2014 The Waiting Room – Buffalo, NY
9/08/2014 The Sinclair – Boston, MA
9/10/2014 Underground Arts: Black Box – Philadelphia, PA
9/11/2014 Mr. Smalls – Pittsburgh, PA
9/12/2014 The Empire – Springfield, VA
9/13/2014 The Broadberry – Richmond, VA
9/15/2014 The Orpheum – Tampa, FL
9/16/2014 Masquerade – Atlanta, GA
9/17/2014 One-Eyed Jacks – New Orleans, LA
9/18/2014 Fitzgerald's – Houston, TX
9/19/2014 Trees – Dallas, TX
9/20/2014 Red 7 – Austin, TX
9/22/2014 Club Red – Phoenix, AZ
9/23/2014 Roxy Theatre – Los Angeles, CA
9/24/2014 DNA Lounge – San Francisco, CA
Order Hail Death today HERE. For iTunes orders, point your browser HERE.

"Hail Death isn't merely eclectic, it's epic – a coherent assemblage of songs that provide unanticipated rewards around every corner." – Wondering Sound
"An epic piece of black/thrash metal." – Metal Underground
"BLACK ANVIL have boiled their brand of muscular black metal down to a venomous reduction, creating a grinding, cutthroat sound that has more to do with hard concrete than the freezing moon…" – MetalSucks
"Hail Death is a pure metal album that relishes in the genre's conventions without feeling conventional: It's simply anthemic, aggressive, bombastic, thrilling, and fucking heavy." – Stereogum
"Underneath the cold, scarred and burnt skin of BLACK ANVIL beats a friendly, intelligent heart. It's that combination of frostbitten riffs, and words of wisdom that makes Hail Death different from its peers." – Mass Movement
"The scope of these songs is outrageous, eclipsing anything the band have done to date. The hatred and contempt still pulses within, though the method of distribution on Hail Death has far greater wealth to it than their approach on their first two albums." – About.com