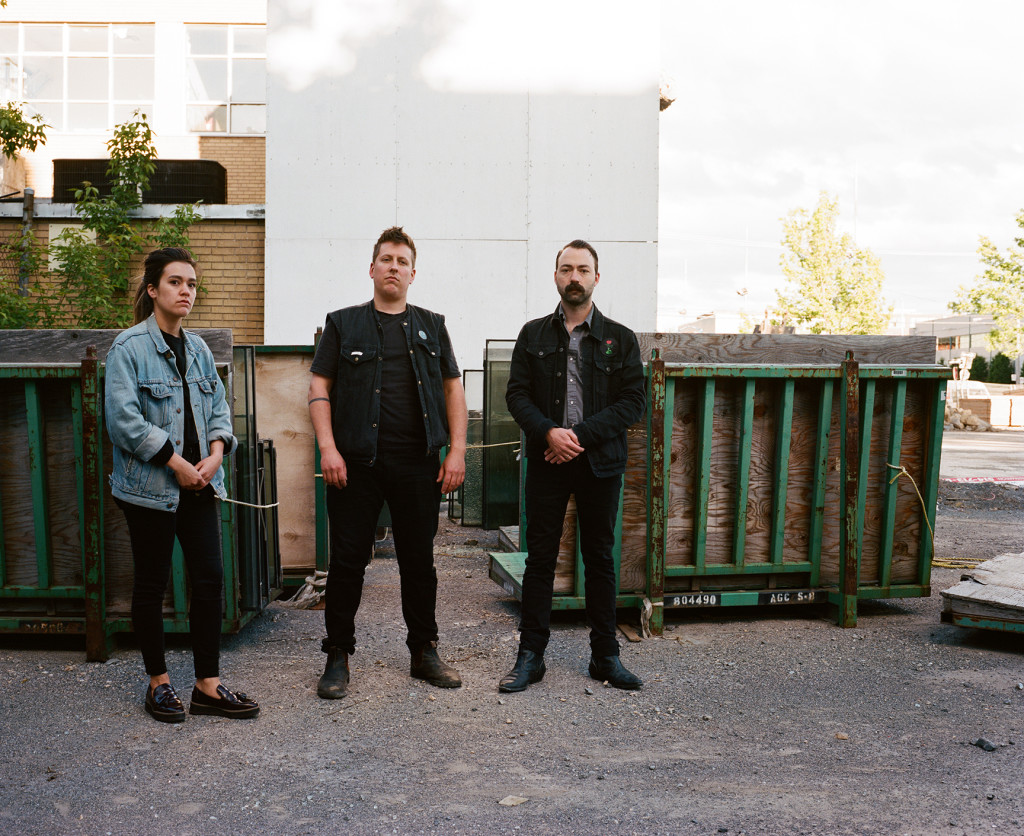 [photo by Pascha Marrow]
Since their inception in 2012, BIG|BRAVE has demonstrated the fluidity of experimental rock and put everything into their music until there's nothing left to give. Their art in musical refinement expands ever gradually, unfurling into a very heavy, strong, and elevating force. As comfortable as they are with tidal waves of sound, BIG|BRAVE is unafraid to experiment with silence, oscillating between sparse, gentle arrangements and deep swells of noise.
Swirling static, booming guitars, powerful drums – all the hallmarks that have made them one of experimental rock's most exciting acts today. The band's first wave of dates for the new year has been announced, with a Spring tour across Europe and into Russia confirmed for April and early May, which includes a set at this year's massive Roadburn Festival. Watch for more tour dates to be announced.
See BIG|BRAVE's official music video for "Sound" HERE, and hear the entire Ardor album featured with an interview at Bandcamp HERE.
BIG|BRAVE Tour Dates:
4/12/2018 Botanique – Bruxelles, BE
4/13/2018 Musikverein – Nurnberg, DE
4/15/2018 Underdogs – Prague, CZ
4/16/2018 Klub RE – Krakow, PL
4/17/2018 Protokultura – Gdansk, PL
4/18/2018 LAS – Poznan, PL
4/19/2018 Doom Over Leipzig – Leipzig, DE
4/20/2018 Hafenklang – Hamburg, DE
4/21/2018 De Kreun – Kortijk, BE
4/22/2018 Roadburn Festival – Tilburg, NL
4/23/2018 Schockoladen – Berlin, DE
4/24/2018 Pizzini – Bamberg, DE
4/25/2018 Jubez – Karlsruhe, DE
4/26/2018 Bad Bonn – Düdingen, CH
4/28/2018 Espace B – Paris, FR
5/04/2018 Zoccolo 2.0. – St. Petersburg, RU
5/05/2018 Model T – Moscow, RU
"the sound of the raw unconscious, turned up loud." – Pitchfork
"sincere, long-form out-rock that ventures into different directions their music plays out in to moon-bleached grunge where serene vocals crumble over scraping guitars bled of melody. BIG|BRAVE chooses their silences carefully, oscillating between sparse, gentle arrangements and deep swells of noise." – Cvlt Nation
"Montreal's genre-defying post-rock combo BIG|BRAVE could very well be the most noteworthy recent heavy curiosity to come out of the city in recent years." – Noisey
"…combines elements of Björk, Neurosis, The White Stripes, and Sunn O))) into a cohesive whole; but this whole is an ever evolving and challenging sonic mass." – The Quietus
"a raw, evocative mix of slow-burning post-rock and metal that is somehow both wrecking-ball heavy and feather-delicate, with ferocious, barely-controlled feedback and mountainous, lingering chords. Wattie's soprano both cuts through and lingers on the weighty sounds, with elusive vocalizations that verge on avant-pop." – Bandcamp
"Ardor bides its time and it was made by a band brave enough to create music and a track listing that allows this spectacle of a record to satisfying inch towards a riveting pitch. It's an album that evokes the ear blistering noise of Sunn O))) but it's also emotionally charged music. BIG|BRAVE have somehow made a ruthlessly loud record that is also fascinating, and consistently elegant." – Drowned In Sound
http://www.bigbrave.ca
http://www.bigbrave.bandcamp.com
http://www.facebook.com/bigbravemusic
http://www.southernlord.com
http://www.southernlord.bandcamp.com
http://www.facebook.com/SLadmin
http://www.twitter.com/twatterlord