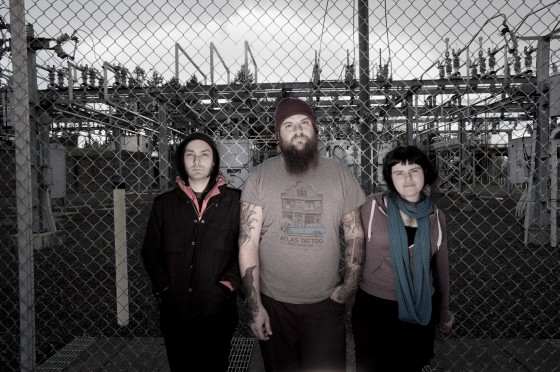 The Eolian Empire today bruises the rock world's ego with the unfurling of Lessons In Fuck You 2, the newest collection of cranked, harmful songs of non-praise yielded by Portland, Oregon's furious sci-fi punks, BIG BLACK CLOUD.
With a diverse assortment of noise and punk influences colliding head-on, the explosive Lessons In Fuck You 2 recalls elements of the Dead Kennedys, Circus Lupus, Cows, Alice Donut, Nation of Ulysses and the like. With BIG BLACK CLOUD's unhinged and manic delivery, the middle-finger-heavy vibes recorded and mixed by Andrew Grosse of Caravan Recording (Drunk Dad, Tyrants, Tiny Knives) and captured on this new EP are illustrated by Invisible Oranges' raging review of the album as, ""Arab On Radar raised on the Cramps… No, wait, a rediscovered cover of 'Stranded in the Jungle' by no-wave destroyers… Waaaaaait. A PCP dance party playing Pink Floyd's 'One of These Days' mashed-up with Pere Ubu… or the Ventures… or the Locust? Huh." Exactly.
Tap into BIG BLACK CLOUD's insensitive teachings at THIS LOCATION.
Lessons In Fuck You 2 will see parole on August 5th, a cooperative release between Portland's heavy-vibing DIY label Eolian Empire and the band's own Stankhouse Records. In conjunction with this malfunction, BIG BLACK CLOUD's eight-city run throughout California begins this week, kicking off on Thursday, August 7th and running through the 15th. Additional tour dates will be announced in the weeks following the tour.
Preorders for the cassette are available HERE and the digital version HERE.
BIG BLACK CLOUD Live:
8/07/2014 3rd Space – Davis, CA
8/08/2014 Telegraph Beach – Oakland, CA
8/09/2014 Industrial Estate – Pasadena, CA
8/10/2014 Tower Bar – San Diego, CA
8/11/2014 Pehrspace – Los Angeles, CA
8/12/2014 The Continental Room – Fullerton, CA
8/13/2014 The Knockout – San Francisco, CA
8/15/2014 The Mall – Stockton, CA
Lessons In Fuck You 2 was borne of demo sessions for the next BIG BLACK CLOUD LP, the record capturing the band in its own anxiety-fueled element. The recordings, done on location with a mobile unit in the underground lair of the The Fancy Fox, gave the ever-prolific trio a chance to work through a host of new and old ideas. Whether due to the (dis)comfort of their own space, nothing-to-lose abandon, or present states-of-mind, Lessons In Fuck You 2 finds the band in top form: frantic, pissed-off, and sinister as they further explore their own dark territory with off-balance grooves, instrumental street-race sex jams, and wild freakouts, jagged guitar and cracking drums glued together with rubbery bass overlain with can-you-hear-me-now yells.
"…a great collection of looser off-hand bits and instrumental excursions, all loud and mad and splattery, in the finest BIG BLACK CLOUD tradition." – The Portland Mercury
"…these outergalactic space punks are bringing the noise to the vacuum of your mind!" – Cvlt Nation
http://bigblackcloud.bandcamp.com
https://www.facebook.com/pages/Big-Black-Cloud/114519985242644
http://www.stankhouserecords.com
http://www.eolianempire.com
http://goods.eolianempire.com
https://www.facebook.com/eolianempire