To celebrate the ten-year anniversary of their classic album, Colors, BETWEEN THE BURIED AND ME will embark upon a special tour this September/October, which will see the band perform the record in its entirety! The Colors Ten Year Anniversary Tour features support from The Contortionist, Polyphia, and Toothgrinder.
BETWEEN THE BURIED AND ME comments: "Colors was our statement of rebellion. We were challenging how others identified us in the context of heavy metal, and ultimately, we were challenging how we identified ourselves. It was some kind of musical manifesto, in which we found new purpose and direction simply by throwing caution to the wind and purging every ounce of creative energy we had, regardless of how unhinged it may have seemed at the time. Ten years have passed and we are lucky enough to be able to play this album from front to back on stage for our amazing fans. See you all soon!"
Tickets go on sale to the public Friday, May 19th at 10:00am local time. Check local listings for details or visit @BTBAMOfficial on Facebook.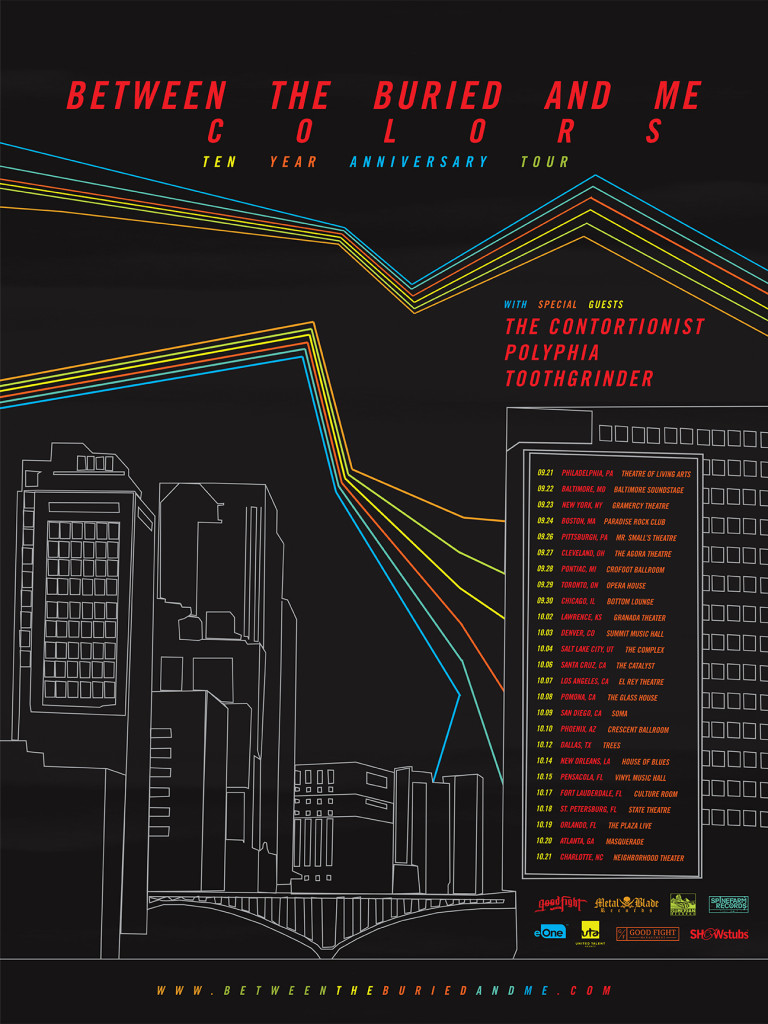 BETWEEN THE BURIED AND ME:
9/07/2017 Center Stage @ Prog Power USA XVIII – Atlanta, GA
w/ The Contortionist, Polyphia, Toothgrinder:
9/21/2017 Theatre Of Living Arts – Philadelphia, PA
9/22/2017 Baltimore Sound Stage – Baltimore, MD
9/23/2017 The Gramercy Theatre – New York, NY
9/24/2017 Paradise Rock Club – Boston, MA
9/26/2017 Mr. Small's Theatre – Pittsburgh, PA
9/27/2017 The Agora Theatre – Cleveland, OH
9/28/2017 Crofoot Ballroom – Pontiac, MI
9/29/2017 Opera House – Toronto, ON
9/30/2017 Bottom Lounge – Chicago, IL
10/02/2017 Granada Theater – Lawrence, KS
10/03/2017 Summit Music Hall – Denver, CO
10/04/2017 The Complex – Salt Lake City, UT
10/06/2017 The Catalyst – Santa Cruz, CA
10/07/2017 El Rey – Los Angeles, CA
10/08/2017 Glasshouse – Pomona, CA
10/09/2017 SOMA – San Diego, CA
10/10/2017 Crescent Ballroom – Phoenix, AZ
10/12/2017 Trees – Dallas, TX
10/14/2017 House of Blues – New Orleans, LA
10/15/2017 Vinyl Music Hall – Pensacola, FL
10/17/2017 Culture Room – Ft Lauderdale, FL
10/18/2017 State Theatre – St Petersburg, FL
10/19/2017 The Plaza Live – Orlando, FL
10/20/2017 The Masquerade (Heaven) – Atlanta, GA
10/21/2017 Neighborhood Theater – Charlotte, NC
BETWEEN THE BURIED AND ME recently released their DVD/Blu-ray, Coma Ecliptic Live, via Metal Blade Records, in association with Good Fight Entertainment. Filmed live on location October 4th, 2016 at The Observatory North Park in San Diego, California, Coma Ecliptic Live features the band performing their latest album, Coma Ecliptic, in its entirety. Hailed as a, "68-minute cosmic opera," by Rolling Stone, Coma Ecliptic was released in July 2015, debuting at #1 on the Hard Music Billboard Chart, #12 on the Billboard Top 200, as well as #1 on the iTunes Metal Chart, Vinyl Chart, Amazon Hard Rock Chart, and Amazon Metal Chart. Additionally, the album charted on the iTunes Rock chart (#2), Canada Hard Music Chart (#3), UK Rock/Metal Chart (#4), UK Independent Chart (#10), Canada Top 200 Chart (#17), Canada Top 200 Digital (#22), Germany Top 100 (#53), and UK Album Chart (#74). To preview and purchase the DVD/Blu-ray, visit: metalblade.com/btbam.
http://www.facebook.com/BTBAMofficial
http://twitter.com/btbamofficial
http://instagram.com/btbamofficial
http://www.youtube.com/user/BTBAMofficial