photos by Greg Flack
As Los Angeles straight edge hardcore outfit BERTHOLD CITY – formed by members of Strife, Internal Affairs, Allegiance, and more – prepares to release their first official full-length, When Words Are Not Enough, through WAR Records in March, BrooklynVegan is hosting the exclusive premiere of the LP's first video, "Only Truth Wins."
With twelve tracks of foundational, hard hitting, anthemic hardcore, When Words Are Not Enough will solidify BERTHOLD CITY into the forefront of modern hardcore. The album was recorded and mixed at Jet To Mars Studio by Nick Jett (Terror), mastered by Brad Boatright at Audiosiege (Integrity, Jesus Piece, God's Hate), completed with cover art and design by Jeremy Dean, and features guest vocals from Jason Mazzola (Count Me Out) on "Left With Nothing."
Founding vocalist Andrew Kline reveals with the unveiling of the "Only Truth Wins" video, which was filmed by the band's John "Eightclip" Jenkins, "'Only Truth Wins' is the first song on the record, and more or less the title track, as the line 'When Words Are Not Enough' comes from the chorus of this song. Musically, the song pushes into heavier territory than we have explored in the past. I wanted the LP to take listeners on a journey through different sounds and influences to make the album more interesting and really keep listeners engaged. This song is heavily influenced by older bands like Judge and Bold, combined with more modern influences of bands like Have Heart and Bane, and it definitely bridges the gap between BERTHOLD CITY and Strife."
Writes BrooklynVegan with the video's premiere, "You can definitely hear the influences that Andrew was talking about coming through in this song, and if you like any or all of those bands, definitely check this out. It feels both classic and modern, and it truly rips."
Check out BERTHOLD CITY's "Only Truth Wins" video first at BrooklynVegan RIGHT HERE.
When Words Are Not Enough will see release through Kline's own WAR Records on March 18th, digitally, on CD, and on multiple vinyl variants including 25 test presses, 100 Glow In The Dark with Japanese OBI Strip (WAR Records Exclusive), 200 Orange Splatter (WAR Records Exclusive), 200 Green in Ultra Clear (Merchpit Exclusive), 200 Gold (Coretex/Programme exclusive), and 300 Tricolor Swirl (RevHQ exclusive).
Find physical preorders at the label webshop HERE as well as through each specific partner, and digital preorders at Bandcamp where "With This Regret" is streaming HERE.
Watch for additional videos and more to post over the weeks ahead.
BERTHOLD CITY continues to play sporadic live gigs across California, with more extensive tour plans to follow in the months ahead.
BERTHOLD CITY Live:
2/20/2022 The Che Café – San Diego, CA w/ Headcount, Bent Blue, Godhead, In Time
Formed in 2017 by vocalist Andrew Kline (guitarist for Strife, World Be Free), BERTHOLD CITY's lineup is rounded out by guitarist Dennis McDonald (Internal Affairs), drummer Adam Galindo (Abrasian, One Choice), bassist John "Eightclip" Jenkins (Allegiance), and guitarist Dave Itow (The Mistake). The band released a three-song demo in July of 2017 and quickly followed it up with the release of both the Moment Of Truth and What Time Takes 7" EPs. Since their formation, BERTHOLD CITY hit the ground running and completed short tours on both East and West coasts with Terror, Regulate, Fireburn, Change, Scowl, Kill Your Idols, and more. Locally they have shared the stage with bands such as Sick of it All, Judge, Shelter, Agnostic Front, Youth Of Today, Dare, Drain, Take Offense, among others.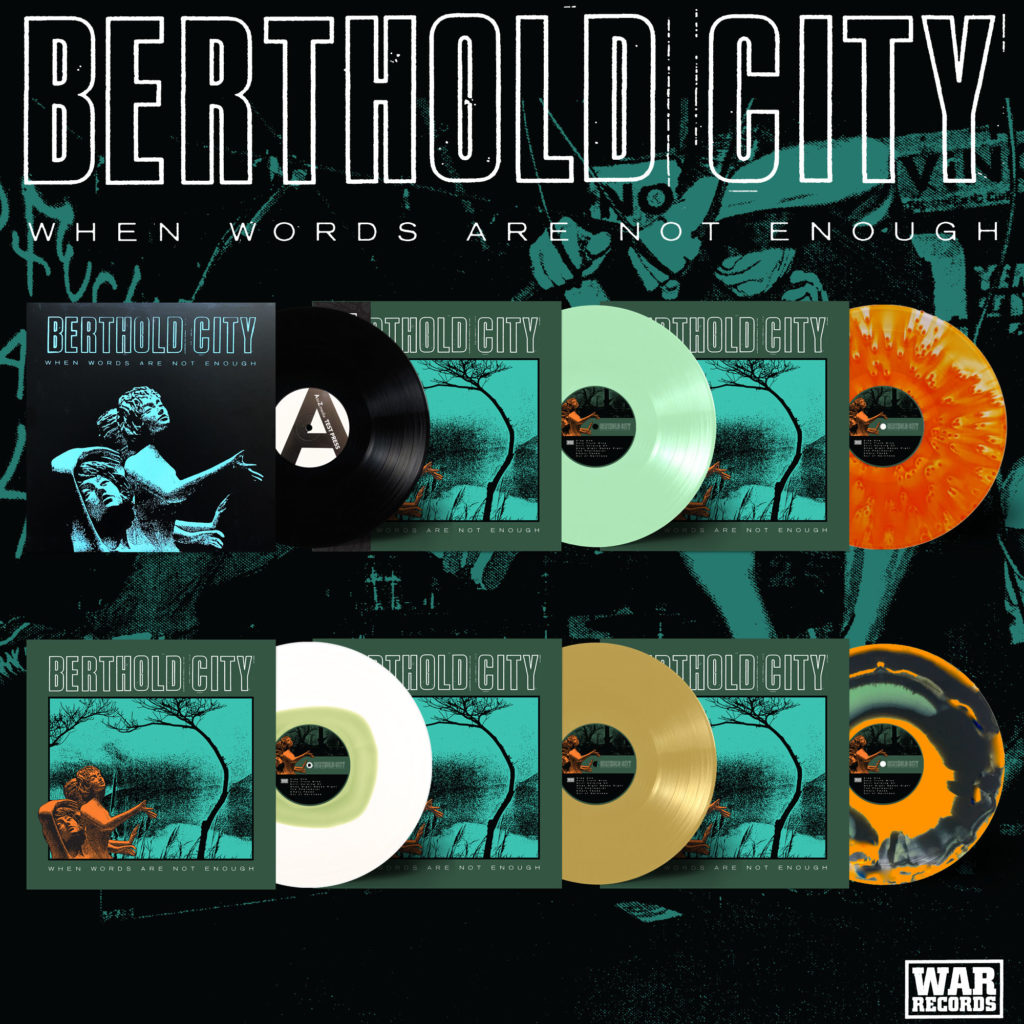 https://bertholdcityhc.bandcamp.com
https://www.facebook.com/bertholdcity
https://www.instagram.com/berthold_city
http://www.war-rec.com
http://www.facebook.com/WARRECORDS.HC
http://www.instagram.com/WARRECORDS
http://www.twitter.com/WARRECORDS1