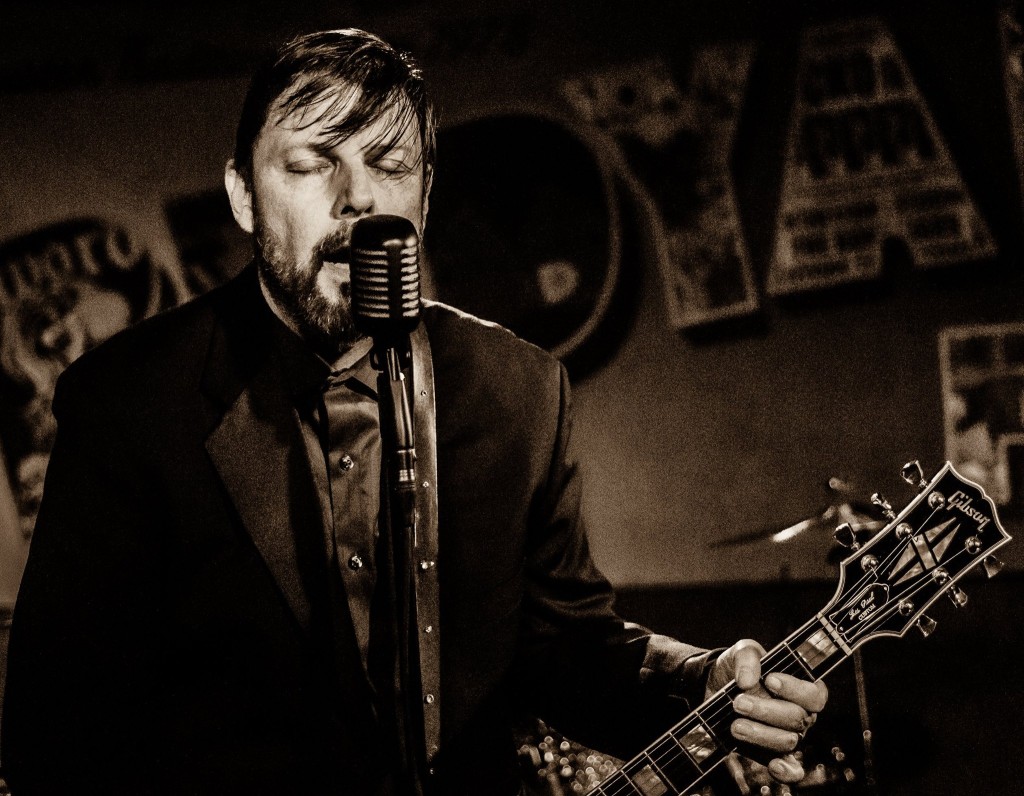 [photo by Adrian Acosta]
Austin-based BELLRINGER unloads a new video from the act's Jettison LP, which is out now. The tweaked new visual portrayal of the track sees release through a tag-team premiere through a partnership of metal portal Invisible Oranges and the more mainstream BrooklynVegan simultaneously.
The psychedelic but provocative BELLRINGER is the fleshed-out embodiment of the music created by founding guitarist/vocalist Mark Deutrom, formerly of The Melvins, Clown Alley, and more, the act set out to explore the back-alleys of psychedelic jazz/blues-infused rock with a buoyant acid-trip animation feel. The new Jettison album is a fathomlessly creative expedition into these demented lands which is an unavoidable trait in "Inner Freak," the first half of the track following one trajectory, the latter half trickling further into an opiated, weirdo lounge, parallel universe. The video for the track was created by Deutrom, extracted direct via deep cortex titanium light pipe.
Offers the write-up to the track, "It's an Elmore Leonard or Joe R. Lansdale character come to life: slinky, an air of danger, and unquantifiably cool. The last two minutes unexpectedly change things up from desert rock riffs and male/female harmonies to jazz guitar and flutes, instantly transporting the listener from some El Paso watering hole to poolside with Robert Evans in 1970 Beverly Hills. Does it work? Oh yes, yes it does."
Bring your party supplies to the edge of the galaxy with BELLRINGER's "Inner Freak" at Invisible Oranges HERE and BrooklynVegan HERE.
Stream BELLRINGER's Jettison alongside an interrogation of Deutrom at Noisey HERE.
Jettison is now available digitally as well as on limited edition LP licensed through Rock Is Hell. The LP is pressed on 180-gram black vinyl for maximum fidelity and superior quality, packed in a hand-screened cover in several variations, and includes a digital download code. Preorders are available stateside via BELLRINGER right HERE and Rock Is Hell in Europe HERE.
BELLRINGER Live:
9/09/2016 Rudyard's – Houston, TX
9/16/2016 Sunshine Bar – Arlington, TX
9/30/2016 Lola's – Fort Worth, TX
10/01/2016 Paper Tiger – San Antonio, TX
10/28/2016 Andy's – Denton, TX
In a recent review of the new BELLRINGER LP, Invisible Oranges praises, "Where Jettison pulls off the fresh/familiar axiom is in its ability to sound timeless without adhering to a certain era. A song like 'Inner Freak' might have '60s jazz flute runs, some Man's Ruin Records riffs, a male/female duet and more of the aforementioned harmonies, but as a whole it ultimately sounds unlike anything else. Josh Homme's discography is probably the closest reference point for this album, but that does Jettison a disservice because it leaves out so much of the 'other' that's going on. It's that 'other' that makes it what it is: one of the more unique rock records to come along in some time." Noisey's coverage offers in part, "BELLRINGER's Jettison sounds top notch. Grounded in a sort of psychedelic American hard rock vein, the record comes from a collective mindset that explores avenues like Deutrom's predilections towards jazz, as well as the varied interests and styles of his cabinet of collaborators, including Monique Ortiz." MetalSucks published, "Time for some delicious post-rock. Or prog-rock, or whatever we call a collection of odd noises parsed with lighters-in-the-air rock 'n' roll. There's a sweet spot between funky (too retro) and weird (too smelly). BELLRINGER nails it. Flipside: Jettison is trying very hard, and the effort is overpowering. But it's not try-hard, or some ditto version of other bullshit. If it is, then fuck it, let it ring anyhow. Former member of The Melvins." And The Obelisk has offered an incredible track-by-track dissection of the new album which includes, "[Deutrom's] will to defy expectation and change approach becomes one of the record's most satisfying aspects, and while it seems superfluous to point out again this is a debut given his pedigree, to think of Jettison as the beginning of an exploration, one can only hope that exploration will continue."
Created as the live conduit for the music of Deutrom, who performed bass in the Melvins' Prick/Stoner Witch/Stag/Honky-era, preceded by Clown Alley, was a touring member of Sunn O))) and others – BELLRINGER also embodies the contributions of musicians James Flores, Aaron Lack, Monique Ortiz, and Brian Ramirez. The outfit's Jettison LP was fully written and produced by Deutrom, the album recorded in Austin earlier this year. The six expansive tracks on this new auditory trip traverse an immense volume of genre territory with nearly forty minutes of action, fusing elements of psychedelic and exploratory rock with bluesy and jazzy jam elements, all coalescing in the signature Mark D style. Outer-cosmos radioactive dust cloud soundscapes go head-to-head with lush, organic, earthling grooves, while a quirky edge stimulates hallucinations of animated characters colonizing psychedelic parallel existences.
http://www.facebook.com/BellringerTX
http://markdeutrom.com
http://markdeutrom.bandcamp.com
http://soundcloud.com/mark-deutrom
http://rockishell.bigcartel.com