[photo by Noise Floor Photography]
Belligerent Boston-based bass and drums maniacs BEDTIMEMAGIC are preparing to rip through the Northeast on a short tour this weekend. The duo is currently wrapping-up the final specs on their impending Andrew Schneider-produced Pillow Talk LP, creeping towards release in the coming months via Nefarious Industries. A brief teaser for the gnarly LP has been issued alongside an updated tour listing.
The BEDTIMEMAGIC duo – with Nicholas Pentabona on bass and vocals, and Morgan Berns handling drums, vocals, and pedal organ – delivers a caustic style of noise rock-influenced grime-pop thunder, like elements of some of the Sub Pop and Amphetamine Reptile prime acts were boiled down into a high-volume/low-end greasebomb and fired into the listener's face through a bazooka. Their booming grooves explode on their upcoming Pillow Talk LP, having sanctioned the talents of Andrew Schneider (Cave In, Daughters, Unsane), to produce the album and adequately corral their booming riffage.
While the release date and final details are being sorted, view a brief trailer for BEDTIMEMAGIC's Pillow Talk LP at THIS LOCATION.
All details on Pillow Talk will be finalized and announced in the days ahead with audio samples, preorders, and additional assets.
In the meantime, BEDTIMEMAGIC can be witnessed raiding venues and taco trucks across the Northeastern realms of the country this weekend. The Extreme Noise Terrier mini-tour begins this Friday, August 23rd at the CT PunkFest in Wallingford, jams in Egg Harbor City on Saturday night, and closes out the beefy little run with an ask-a-punk type of joint near Allentown, Pennsylvania on Sunday. The band has also added new shows for the following weeks including a home-state show in Lowell with Meatwound and Thunderclap on September 14th, a Halloween weekend gig performing works by Pat Benetar, a November gig with GayC/DC, and more. Plenty of other weekend warrior road action is to be expected over the months ahead.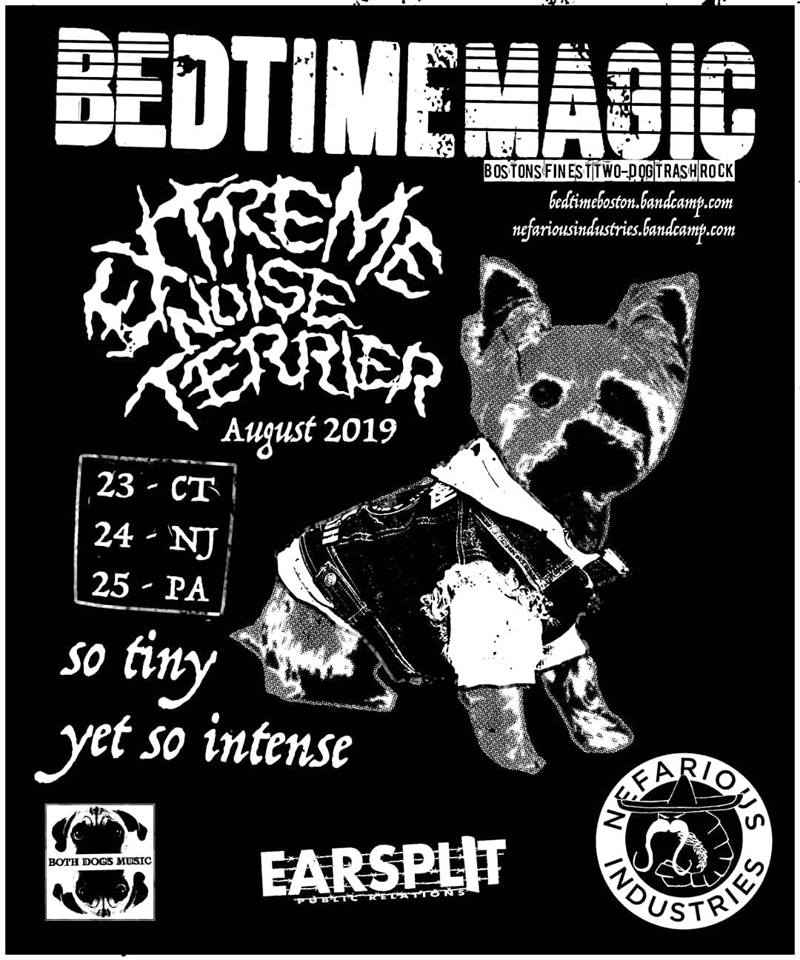 BEDTIMEMAGIC Tour Dates:
Extreme Noise Terrier Mini Tour:
8/23/2019 Cherry St Station – Wallingford, CT @ CT Punkfest [info]
8/24/2019 Friendship Mountain – Egg Harbor City, NJ w/ Alula, Lesser Light, -7- [info]
8/25/2019 The Building (ask a punk) – Allentown, PA w/ Controller, Nowhere [info]
9/14/2019 The Worthen Attic – Lowell, MA w/ Meatwound, Skytigers, Thunderclap, BirdOrgan, Pain Chain [info]
10/28/2019 Halloween Hall-Of-Dreams @ ONCE Lounge – Somerville MA *performing works by Pat Benatar [info]
11/08/2019 ONCE Ballroom – Somerville MA w/ GayC/DC, Patty Bourrée [info]
They're self-described "trash rock". They perform so loudly that you'll second guess your current life insurance policy. Their aesthetic depicts monochromatic, broken, distorted, half-man half-canine outsiders wearing glasses. But don't let those dog singlets fool you: lyrically and musically, BEDTIMEMAGIC is a serious band. The two have been a unit since 2014. Both were drawn together over their love of weird time signatures, edited pop-tendencies, funk, and of course, dogs. Typically, Pentabona is free with his speech and candor, while Berns is more reserved and thoughtful to his tongue. Both enjoy food immensely.
Their sound is majestic, caustic, plagued with feedback, lush chords, and conflicting rhythms. Sonically, they herald the early experimental days of '90s and '00s punk, angular hardcore, and noise rock. Visually, however, they're two dads in their forties wearing pug wrestling onesies, playing a larger-than-life drum kit, a foot-pedal organ straight out of Black Sabbath or Rush, and a Rickenbacker 4003 bass that's heavily modified, pumped through a wide range of toxic, custom amplification.
The whole concept ultimately doesn't make sense on paper. Yet live and on recordings, it works. Nicholas Pentabona stands six foot tall, ostensibly rotund. He barks hot breath into a black honeycomb microphone whilst whirling around more than a man of his definition rationally would. The guitar flips behind his head, over his lap, off his shoulder and into the air. Feet tap dance along a thick effects board revealing nothing more than a line of cables drawing more and thicker distortion. Low end frequencies jostle the listener's precious teeth around, clearing even the most impacted sinuses.
https://bedtimeboston.bandcamp.com
https://www.instagram.com/BEDTIMEMAGIC69
https://www.facebook.com/REALBEDTIMEMAGIC
http://nefariousindustries.com
http://www.facebook.com/NefariousIndustries
http://www.twitter.com/NefariousInd
https://www.instagram.com/nefarious_industries