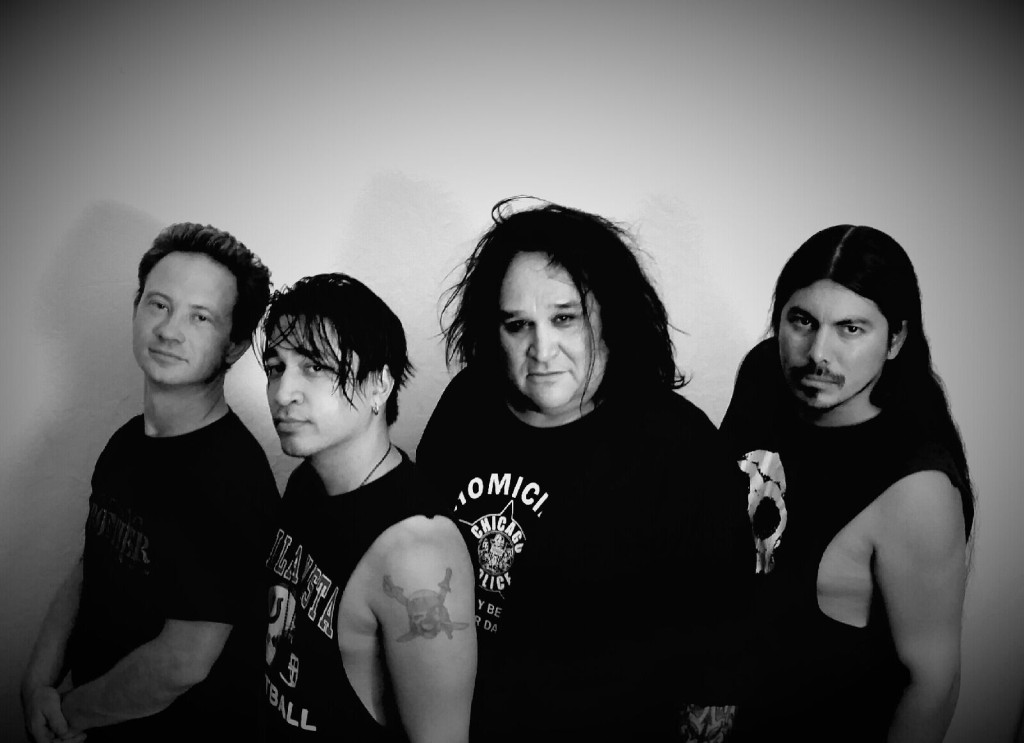 [photo credit Cheryl Cole]
Notorious West Coast punk icons, BATTALION OF SAINTS, this week announce an upcoming headlining US tour this March, as the band prepares to hit the West Coast on a separate headlining run this weekend.
Following their recent participation in the Southern Lord West Coast Tour with Obliterations, Black Breath and Goatsnake, in conjunction with the release of their self-titled 7″ EP through the label, BATTALION OF SAINTS will return to the road with a six-city tour beginning in Bakersfield this Saturday, January 9th. From there the band will roll through Santa Cruz, Eugene, Seattle, Portland and Sacramento, coming to a halt on January 14th, with San Francisco hardcore outfit Scalped supplying support for the venture.
BATTALION OF SAINTS will also take their damaging tunes out to audiences across the country on a wider scale in the coming weeks, as a newly-booked headlining tour is announced today. Consuming nearly the entire month of March, from the 1st through the 24th the band will storm across the country on a counter-clockwise warpath, the band to be joined by Orange County grindcore pack, Phobia, and Los Angeles punks, Nomads.
Additional international tour dates for BATTALION OF SAINTS will also be announced in the coming weeks.
BATTALION OF SAINTS was a major catalyst in accelerating the transition from the already upbeat, adrenaline-charged punk of the early 1980s in to feral, snarling hardcore punk of the highest quality and intensity. Led by founding vocalist George Anthony, the newest savage lineup includes drummer Mike Vega of Hirax, and bassist Matt Vicknair and guitarist Nate Javier, both of Angry Samoans. The band's new self-titled 7″ dispatches three ripping new tracks seeping of the same energetic venom as their legacy releases.
Battalion Of Saints is available through Southern Lord on 7″ wax, available HERE, and digital download HERE.
BATTALION OF SAINTS Tour Dates:
w/ Scalped:
1/09/2015 Babylon – Bakersfield, CA
1/10/2016 Catalyst Atrium – Santa Cruz, CA
1/11/2016 Old Nicks – Eugene, OR
1/12/2016 Highline – Seattle, WA
1/13/2016 Ash St – Portland, OR
1/14/2016 Press Club – Sacramento, CA
w/ Phobia, Nomads:
3/01/2016 The Echo – Los Angeles, CA
3/02/2016 Til Two Club – San Diego, CA
3/03/2016 The Nile – Mesa, AZ
3/05/2016 Red Blood Club – Dallas, TX
3/06/2016 Sidewinders – Austin, TX
3/07/2016 Walters – Houston, TX
3/08/2016 Siberia – New Orleans, LA
3/09/2016 Masquerade – Atlanta, GA
3/10/2016 Crowbar – Tampa, FL
3/11/2016 Churchills – Miami, FL
3/12/2016 Burro Bar – Jacksonville, FL
3/14/2016 Strange Matter – Richmond, VA
3/15/2016 The Acheron – Brooklyn, NY
3/16/2016 Great Scott – Boston, MA
3/17/2016 Boot And Saddle – Philadelphia, PA
3/18/2016 Now That's Class – Cleveland, OH
3/19/2016 Reggies – Chicago, IL
3/20/2016 Triple Rock Social Club – Minneapolis, MN
3/22/2016 Moon Room – Denver, CO
3/23/2016 Metro Bar – Salt Lake City, UT
3/24/2016 Divebar – Las Vegas, NV
http://www.facebook.com/battalionofsaints
http://www.southernlord.com
http://www.southernlord.bandcamp.com
http://www.facebook.com/SLadmin
http://www.twitter.com/twatterlord