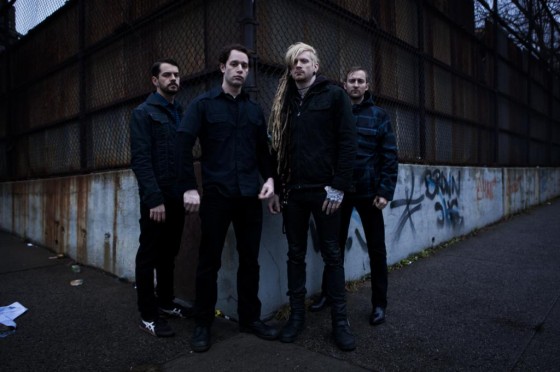 Today esteemed sound portal Pitchfork offers up an exclusive premiere of "Concrete," from exploratory industrial doomsmiths BATILLUS. "Concrete" is the opening track to the band's forthcoming new full-length entitled Concrete Sustain. Co-produced by sound wizard Sanford Parker at Sound Generation in Manhattan and Hypercube in Chicago and mastered by Collin Jordan at the Boiler Room, Concrete Sustain coheres the extremes of heavy music into a surge of massive riffing, rolling over and descending on the listener with the force and intensity of a sudden storm. "At the risk of sounding sensationalist," relays Pitchfork of the tune, "the lead track from Concrete Sustain…is best summarized by one unlikely phrase: funky doom."
Comments the band of the tune in a collective statement: "The song, and the record as a whole, represent the ubiquity of concrete and structure in our modern lives and how they weigh down on our souls."
Feel the sonic crush of "Concrete" at THIS LOCATION.
Originally conceived in 2007 as an instrumental trio, the BATILLUS lineup expanded in 2009 to add vocals, synthesizer, and samples to the dynamic range of their music. Once described by The New Yorker as "[a] sludgy four-piece that slows monstrous Black Sabbath riffs to a crawl to produce highly textured compositions of droning doom-metal," and commended for their meticulous weave of "searing feedback and blistering riffs" by NPR, the tight and focused songs on Concrete Sustain reflect this expanded palette, which has had a profound effect on the band's writing process.
Concrete Sustain will be released via Seventh Rule Recordings on March 19, 2013.
In related news, BATILLUS will bring their sonic severity to the stage with a month-long run of live rituals set to commence February 28th at Ultra Lounge in Chicago. Confirmed dates thus far are listed below with additional shows to be announced in the coming weeks.
BATILLUS Concrete Sustain Tour 2013
2/28/2013 Ultra Lounge – Chicago, IL w/ Himalayan, Dead Level
3/01/2013 WISCO – Madison, WI w/ Lungs, Mercian, Subjugation
3/02/2013 Medusa – Minneapolis, MN w/ Lungs, Bellow
3/03/2013 The Railyard – Billings, MT
3/05/2013 The Know – Portland, OR w/ Megaton Leviathan
3/06/2013 Highline – Seattle, WA w/ Atriarch, Addaura
3/08/2013 The Swamp – Oakland, CA w/ Kowloon Walled City, Monuments Collapse, Amarok
3/09/2013 5 Star Bar – Los Angeles, CA w/ Kowloon Walled City, Suffering Luna, Destroy Judas
3/10/2013 Trunkspace – Phoenix, AZ
3/12 – 3/16 SXSW TBA
3/17/2013 Mud & Water – Baton Rouge, LA w/ Grave Robbers
3/18/2013 The Feed & Seed – Lafayette, LA w/ Before the Eyewall, Guiltless
3/20/2013 Hidden Hand – Tallahassee, FL w/ Attack Culture, Praying, Rovagug
3/22/2013 Chapel Hill Underground – Chapel Hill, NC w/ Backwoods Payback, Bitter Resolve
3/23/2013 Strange Matter – Richmond, VA
http://www.batillusdoom.com
http://www.facebook.com/batillus
http://www.seventhrule.com
http://www.facebook.com/seventhrulerec
http://seventhrule.bandcamp.com