Today the metal miscreants at MetalSucks are streaming Concrete Sustain from industrial doomsayers BATILLUS. Co-produced by audio sage Sanford Parker at Sound Generation in Manhattan and Hypercube in Chicago and mastered by Collin Jordan at the Boiler Room, Concrete Sustain encapsulates auditory devastation. Details MetalSucks: "These NYC doom-bringers… have been pedaling their thunderous industrio-sludge since 2009, but Concrete Sustain is their most cohesive release yet. It's also their most unique; the band has finally found a seamless way to blend their doom foundation with the industrial element that vocalist Fade Kainer brings to the band, and they've done it by writing their catchiest songs to date. That it's their best sounding release from a sonic perspective …doesn't hurt things one bit."
Witness sonic destruction RIGHT NOW at THIS LOCATION.
Currently in the midst of a month-long run of live assaults, BATILLUS will be laying waste to Austin next week at this year's edition of the SXSW Music Conference. In addition to their previously announced slot on Pitchfork's Show No Mercy showcase, BATILLUS will appear on the 2nd Annual Heavy Metal BBQ, Invisible Oranges Day Party and the second stage of Metal At The Music Ranch! See further info below.
BATILLUS Concrete Sustain Tour 2013 [remaining dates]:
3/08/2013 The Swamp – Oakland, CA w/ Kowloon Walled City, Monuments Collapse, Amarok
3/09/2013 5 Star Bar – Los Angeles, CA w/ Kowloon Walled City, Suffering Luna, Destroy Judas
3/10/2013 Trunkspace – Phoenix, AZ w/ Sorxe, Ladybird, Goya
3/12/2013 2nd Annual Heavy Metal BBQ at SXSW – 1502 S. 1st Street – Austin, TX w/ Mondo Generator, Batillus, Marching Teeth, Sweat Lodge, Old and Ill
3/13/2013 Pitchfork SXSW Showcase @ Mohawk – Austin, TX w/ Skeletonwitch, Pallbearer, Trash Talk, Royal Thunder, Power Trip, Mutilation Rites, Vattnet Viskar, Pinkish Black, Inter Arma, Wet Lungs, Encrust
3/15/2013 Invisible Oranges Day Party @ Old Emo's – Austin w/ Today is the Day, Pallbearer, KEN Mode, Royal Thunder, Inter Arma, Baptists
3/16/2013 Metal At The Music Ranch – Austin, TX [more info] w/ A Life Once Lost, Repaid in Blood, Casket of Cassandra, A Day of Bloodshed Brink of Disaster, Outlaws to Kings Witch Diaries, Perish the Land Immerse Archetyped…(BATILLUS 10:45pm; second stage)
3/17/2013 Mud & Water – Baton Rouge, LA w/ Grave Robbers
3/18/2013 The Feed & Seed – Lafayette, LA w/ Before the Eyewall, Guiltless
3/20/2013 Hidden Hand – Tallahassee, FL w/ Attack Culture, Praying, Rovagug
3/21/2013 Little Kings – Athens, GA w/ Pale Prophet
3/22/2013 Chapel Hill Underground – Chapel Hill, NC w/ Backwoods Payback, Bitter Resolve
3/23/2013 Strange Matter – Richmond, VA w/ Sinister Haze, Backwoods Payback, Men's Room
Concrete Sustain will be released via Seventh Rule Recordings on March 19, 2013. Please your preorders HERE.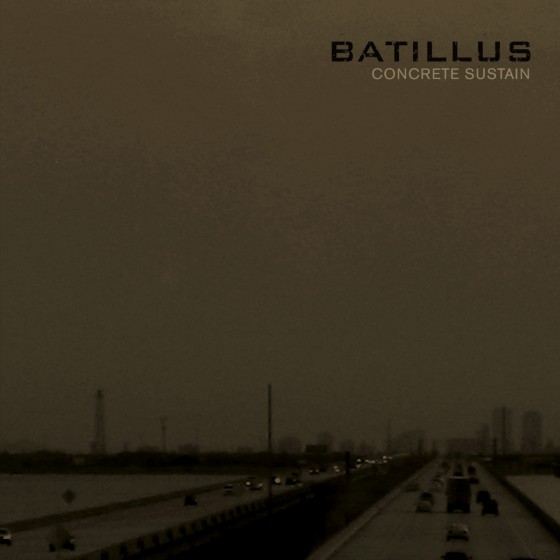 "Concrete Sustain is the sound of modern doom and each track here holds dear to its heart the essence and core of the doom genre, yet BATILLUS twist it and turn it onto something new and different and a marvel to experience." – Cvlt Nation
"Sounds and noises come at you from nowhere in the vast darkness BATILLUS have offer on here. Concrete Sustain is an album that is truly alive. They have added a dark demented soul to their music and it is not a pretty sight. BATILLUS have taken another almighty step towards greatness…" – The SludgeLord
"For many metal acts the word 'industrial' is simply an adjective to throw around. For BATILLUS, who hail from the home of skyscrapers and 24-hour Starbucks known as New York City, this workman-like take on pressurized doom metal is not just another sonic layer, but a sense of being." – Invisible Oranges
"BATILLUS have excelled on Concrete Sustain creating their best work and to my ears a faultless album." – Echoes And Dust
"…a 2013 must-listen for fans of doom, especially those who might want to do more than stand in place and nod dreamily at the floor." – No Clean Singing
"…my first reaction to Concrete when I listened to it on Pitchfork was that it sounded a lot like Godflesh, and overall the album has a much more industrial feel to it than Furnace did (though there were certainly industrial elements on that album). It really comes to the fore on tracks like "Cast" and "Rust," which sound in places like they're channeling the aforementioned Godflesh or The Land of Rape and Honey­-era Ministry." — IronHops
http://www.batillusdoom.com
http://www.facebook.com/batillus
http://www.seventhrule.com
http://www.facebook.com/seventhrulerec
http://seventhrule.bandcamp.com