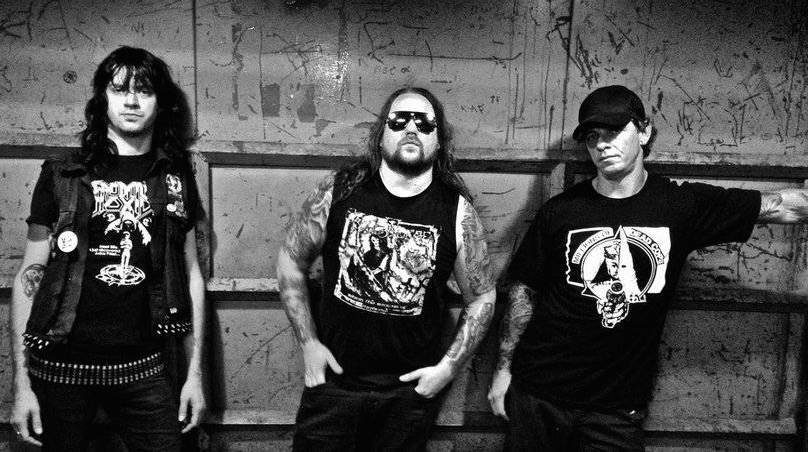 Tankcrimes is pleased to unveil a limited edition vinyl reissue of Wings Of Chains, the debut full-length from Richmond, Virginia speed metal cult, BAT.
BAT's esteemed membership on Wings Of Chains is well known featuring vocalist/bassist Ryan Waste (Municipal Waste, Volture), guitarist Nick Poulos (Volture,) and drummer Felix Griffin (D.R.I.) and their collective experience bleeds through every gnarled note of the record.
Initially released in 2016 via Hells Headbangers, the twelve-track production is an unapologetic firestorm of filth and fury. But more than that, such hard-charging and immediately headbanging speed metal can only come from total diehards who intimately know the secret of steel. From the opening "Bloodhounds" on down to the band's titular theme song, BAT barrels forth like filth hounds of Hades, pounding metal with violence and force, leaving "Total Wreckage" in their wake.
BAT's Wings Of Chains is available in three color variants – Splatter, Black "DJ Variant," and Purple. Secure your copy before they're gone at the Tankcrimes webshop HERE.
Wings Of Chains Track Listing:
Bloodhounds
Code Rude
Master Of The Skies
Primitive Age
Condemner
Ritual Fool
Wings Of Chains
Total Wreckage
Rule Of The Beast
You Die
Cruel Discipline
BAT
http://www.facebook.com/bewareofthebat
http://bewareofthebat.bandcamp.com
http://www.tankcrimes.com
http://www.facebook.com/tankcrimes
http://twitter.com/tankcrimes
http://www.instagram.com/tankcrimes