[photo by Alexandre Souêtre]
The expansive Obsidion LP by Los Angeles-based BARROWS will be unveiled through Germany's Tonzonen Records this Friday, and New Noise Magazine is now hosting an early stream of the entire record. The band's cinematic, instrumental rock organically and seamlessly blends elements of prog, space, kraut, and psych, citing influences of early King Crimson and Pink Floyd to John Carpenter and Goblin.
Explore the boundaries of BARROWS' lush Obsidion LP now streaming via New Noise Magazine at THIS LOCATION.
Obsidion was recorded and mixed by Sean Foye, Jim Leonard, and Richy Epolito, mastered by Eroc from the legendary Krautrock band Grobschnitt, and features artwork and photography by Alexandre Souêtre. The record will be released this Friday, May 26th, digitally and on deluxe 2xLP via Tonzonen Records. Find preorders for the vinyl RIGHT HERE.
On Monday, BARROWS will perform their fifth and final hometown residency show at The Echo, which also doubles as the official release show for Obsidion. The next day, the band begins a sprawling US tour in support of the album, which will see them traversing most of the country playing at least thirty shows through July 1st.
BARROWS Tour Dates:
5/29/2017 The Echo – Los Angeles, CA * Obsidion release show w/ Hex Horizontal, Starving Daughters, Clear
5/30/2017 The Casbah – San Diego, CA w/ Deep Sea Thunder Beast, Bleak Skies
5/31/2017 The Rebel Lounge – Phoenix, AZ w/ Moons Eat Stars, The Idiot Mars, The Living Receiver [info]
6/01/2017 Sister Bar – Albuquerque, NM w/ Votives, Distances, Chess At Breakfast [info]
6/02/2017 Hole In The Wall – Austin, TX w/ Gold Leather [info]
6/03/2017 The Parlor Tattoo – North Little Rock, AR w/ Mainland Divide, The Light in the Woods [info]
6/04/2017 The East Room – Nashville, TN w/ Tape Deck Mountain, International Friendly [info]
6/05/2017 Galaxy Hut – Arlington, VA w/ The Orchid [info ]
6/06/2017 The Fire – Philadelphia, PA w/ This City Called Earth, I See Demons in the Wood Grain [info]
6/07/2017 Golden Sounds Bar – Brooklyn, NY w/ Hannibal Montana, Zevious [info]
6/08/2017 Cafe Nine – New Haven, CT w/ Mid Atlantic Title, Western Estates [info]
6/09/2017 O'Brien's – Boston, MA w/ Sea, 28 Degrees Taurus, Voidgod [info]
6/10/2017 Monkey House – Winooski, VT w/ Dr. No, Gnomedad [info]
6/11/2017 Pauley's Hotel – Albany, NY w/ Yoma, Grimer [info]
6/12/2017 Dinosaur BBQ – Syracuse, NY w/ Formidable Duke, The Magnetic Pull [info]
6/14/2017 Cobra Lounge – Chicago, IL w/ Coyote Man [info]
6/15/2017 Triple Rock Social Club – Minneapolis, MN w/ Hardcore Crayons, Nomia, Goodnight Gorillas [info]
6/16/2017 O'Leaver's Pub – Omaha, NE w/ Low Long Signal, Towering Rogue [info]
6/17/2017 Electric Funeral Fest – Denver, CO [info]
6/19/2017 The Underground – Salt Lake City, UT w/ Yeti Warlord, Toxic Dose [info]
6/20/2017 The Olympic – Boise, ID w/ Desert Graves, Preakedness, Wall Of Ears [info]
6/21/2017 The Valley – Tacoma, WA w/ Fang Chia [info]
6/22/2017 Lytle Beach – Bainbridge Island, WA w/ Weeed [info]
6/23/2017 Victory Lounge – Seattle, WA w/ You May Die In The Desert, Chrome Lakes, Slumberbox [info]
6/24/2017 Turn, Turn, Turn Records – Portland, OR w/ U Sco, Stars' Blood [info]
6/25/2017 Old Nick's Pub – Eugene, OR w/ Cambrian Explosion, Paleons [info]
6/27/2017 Jub Jub's Thirst Parlour – Reno, NV w/ Weight Of The Tide [info]
6/28/2017 Starlite Lounge – Sacramento, CA w/ (Waning), Axiom [info]
6/29/2017 The Night Light – Oakland, CA w/ Wander, Dokoe, Voidtripper [info]
6/30/2017 Davenport Ditch – Santa Cruz, CA w/ Cosmic Reef Temple, Oort Cloud
7/01/2017 Hemlock Tavern – San Francisco, CA w/ Floral, Wander [info]
Formed in Syracuse by Jim Leonard and Richy Epolito, before the two relocated to Los Angeles, BARROWS recruited guitarist Ryo Higuchi and bassist Brock Haltiwanger to flesh out the live lineup. Having proven themselves to be a formidable force in the realm of exploratory rock through two prior albums – 2011's Imprecari Island, and 2014's Red Giant – BARROWS reaches further into the depths of consciousness on Obsidion. Boasting driving passages amidst massive expanses of powerful cosmic and atmospheric exploration, Obsidion bears an indescribable energy at its core, though the final product is implemented with a calculated coolness.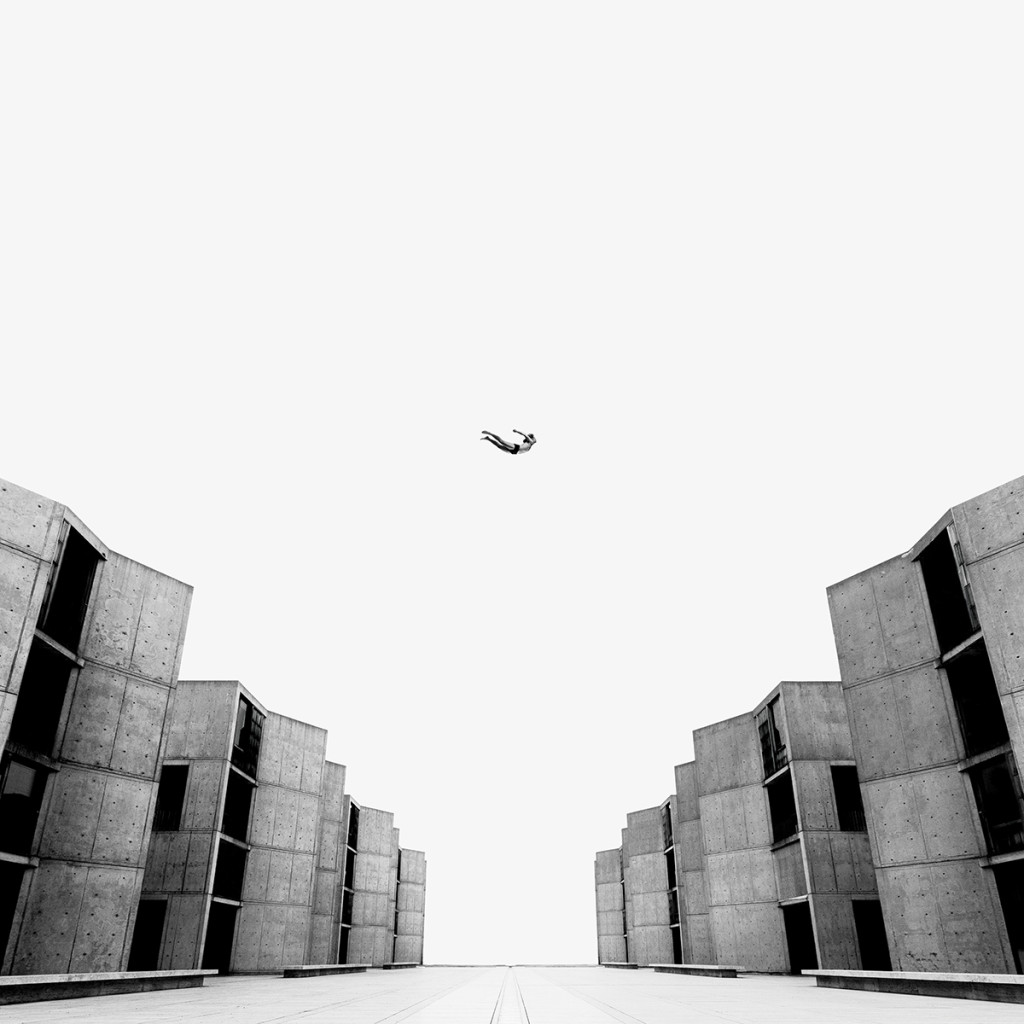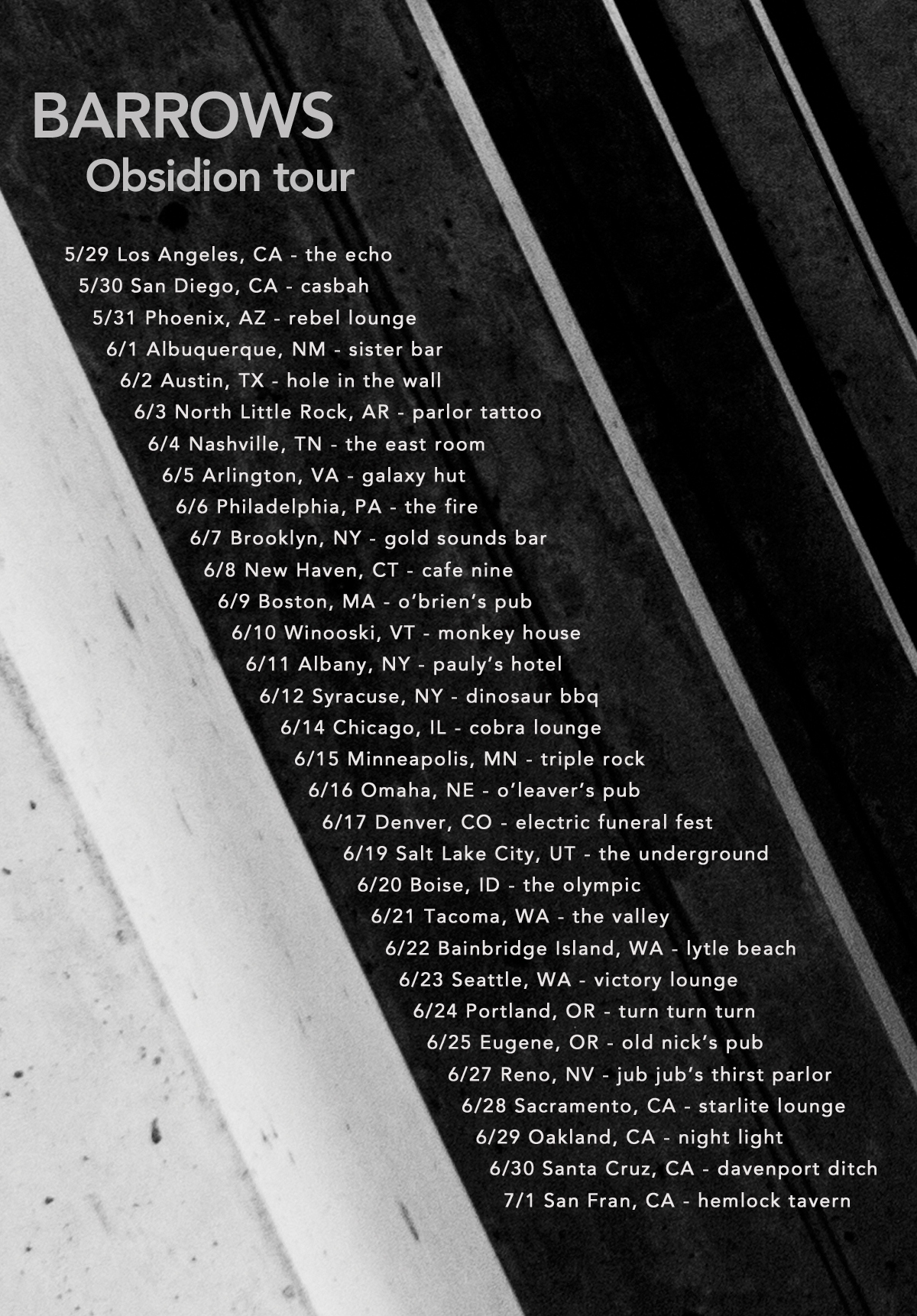 http://www.barrowstheband.com
https://barrowstheband.bandcamp.com
https://www.facebook.com/BarrowsTheBand
https://www.instagram.com/barrowstheband
https://www.tonzonen.de
https://www.facebook.com/Tonzonen
https://www.instagram.com/tonzonenrecords