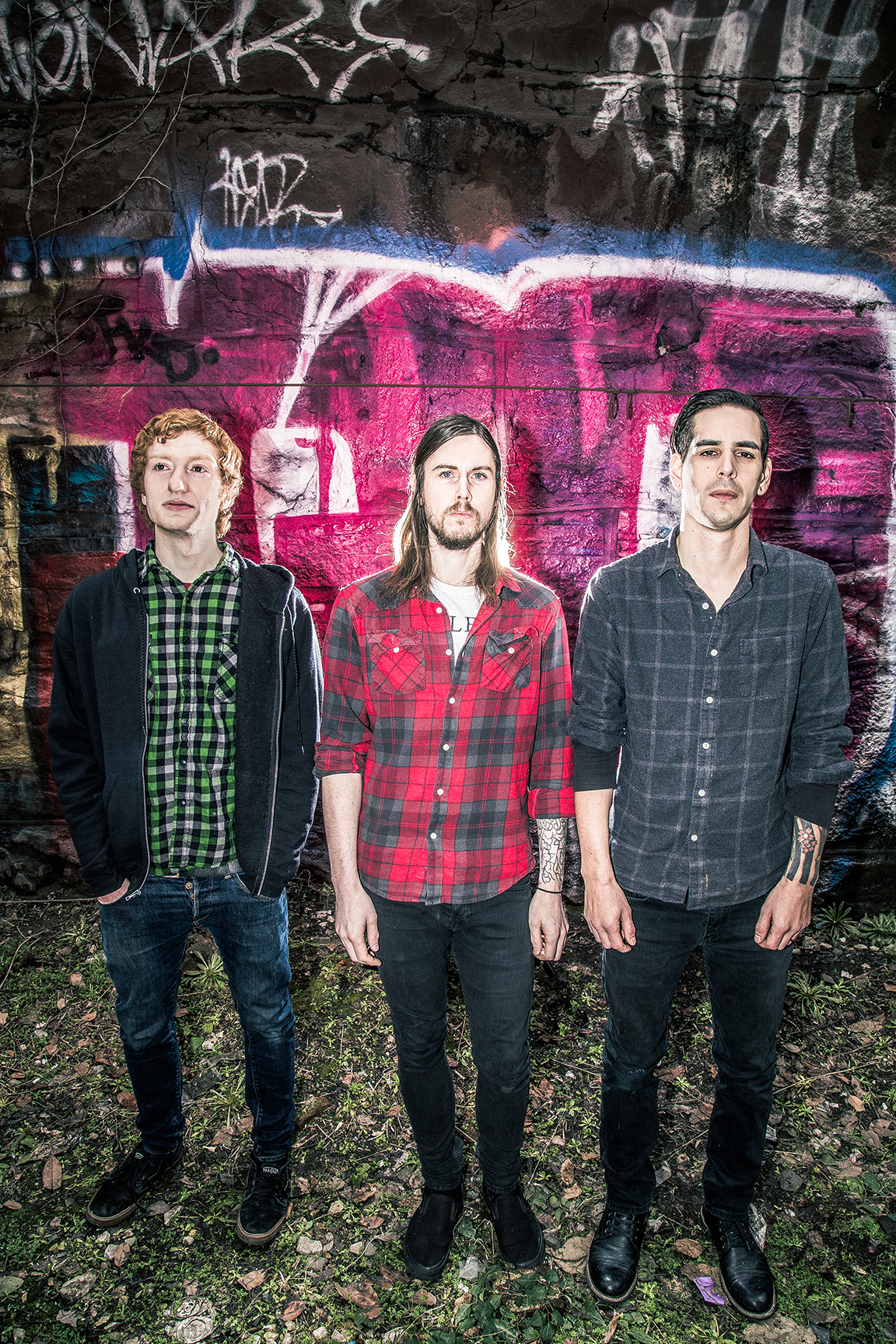 [photo by Eli Reeder]
Philly sludge/noise metal trio, BARDUS, unapologetically gives the public a taste of what's going on with their impending Solar Flare Records-bound Stella Porta album, with the help of the crew at MetalSucks, this week giving up the record's "Smoke Bath."
Offering a mixed bag of psychedelic tactics, parts of Stella Porta meander off into the cosmos in no rush to get anywhere, while others are much more direct in their delivery; it's rampaging opening track "Smoke Bath" is one of these movements. MetalSucks, who has already backed BARDUS with prior premieres, making them part of their Converse Rubber Tracks series and more, delivers the exclusive debut of the song, calling it, "a Stella Porta track we're only too happy to be debuting on MetalSucks today. As you may have guessed from the Stella Porta album art, 'Smoke Bath' is druggy, unsettling, and multifaceted; as you may have guessed from the song's title, it also goes great with weed. How anyone could not love 'Smoke Bath" is totally beyond us.'
Take a "Smoke Bath" on BARDUS at MetalSucks RIGHT HERE.
Following their debut full-length, Solus, self-released in 2013, BARDUS continues to challenge listeners with their output. Continued touring and support has brought them to where they're at today, and BARDUS has continued to develop a sound of their own, as proven on their newest album, Stella Porta. The album's seven ripping tunes bring on nearly a half-hour of downtuned but jacked-up, mood-altering thunder, merging heavy, groove-drenched sludge, cosmically-intoxicated psychedelia, and throat-clenching noise rock riffage, which will more than appropriately fit in well on the roster of the band's new label home, Clermont-Ferrand noisemerchants Solar Flare Records – also the sanctuary for Pigs, Sofy Major, American Heritage, Fashion Week, The Great Sabatini, and other noncompliant riff-ragers.
Solar Flare Records will issue Stella Porta on CD and digitally on April 1st, and preorder packages have been posted HERE.
BARDUS will embark on The Cosmic Oddity tour March 2nd through 6th with Grizzlor. They have also set up a more extensive stretch with The Glorious Rebellion, running March 31st through April 10th. Additional tour dates will continue to be announced in the weeks ahead.
BARDUS Tour Dates:
3/02/2016 Spacebar – Columbus, OH w/ Grizzlor
3/04/2016 Quenchers – Chicago, IL w/ Grizzlor
3/05/2016 Gooski's – Pittsburgh, PA w/ Grizzlor
3/06/2016 Sandpiper House – Shepherdstown, WV w/ Grizzlor
3/31/2016 New Brookland Tavern – Columbia, SC
4/01/2016 Midtown Speakeasy – Tallahassee, FL w/ The Glorious Rebellion
4/02/2016 Drunken Unicorn – Atlanta, GA w/ The Glorious Rebellion
4/03/2016 Tallgary's Cantina – Asheville, NC w/ The Glorious Rebellion
4/04/2016 The Golden Pony – Harrisonburg, VA w/ The Glorious Rebellion
4/05/2016 The Sidebar – Baltimore, MD w/ The Glorious Rebellion
4/06/2016 The Waiting Room – Philadelphia, PA w/ The Glorious Rebellion
4/07/2016 The Hook Up – Virginia Beach, VA w/ The Glorious Rebellion
4/08/2016 Wonderland – Richmond, VA w/ The Glorious Rebellion
4/09/2016 Scrap Iron Gallery – Wilmington, NC w/ The Glorious Rebellion
4/10/2016 HBGB – Brunswick, GA w/ The Glorious Rebellion
http://www.bardus.bandcamp.com
http://www.facebook.com/BardusMusic
http://www.solarflarerds.blogspot.com
http://www.facebook.com/solarflarerecords
http://www.solarflarerds.bigcartel.com